Random Reviews: "Dead Men on TV" by Pat Murphy
Random Reviews: "Dead Men on TV" by Pat Murphy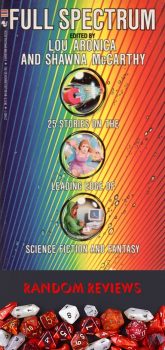 Pat Murphy is best known for her 1986 Nebula Award winning novel The Falling Woman or her 1987 Nebula Award winning novelette "Rachel in Love." The following year, she published the short story "Dead Men on TV" in the debut volume of Full Spectrum, edited by Lou Aronica and Shawna McCarthy.
The unnamed narrator of "Dead Men on TV" spends her nights watching old movies on television, specifically films in which her late father appeared. Through the story, she reveals that her family life had not been great. Her mother was not prepared for the lifestyle that being married to a Hollywood actor entailed and committed suicide when the narrator was young. Her father, who had ignored her mother before she killed herself, shifted his efforts to ignoring his daughter after he was widowed, focusing on his career and living the lifestyle of a star.
Watching television, therefore, is her way of attempting to reconnect with her father's memory and build an ersatz relationship with him. Her need, however, to watch his films when they are on, no matter the time of day, is clearly unhealthy. Although she has videotaped many of his movies, she feels closer to him when watching them at a time that other people could be watching them as well, leading to many late nights in front of the screen.
The story offers a pleasant nostalgic look at old movies, entwined with the need for a father's approval. When the television goes on the fritz, Murphy's main character calls a television repairman, who warns her that a house call on a Sunday is not the most effective use of her money. Despite his honesty about his pricing, she insists and he manages to fix the television in time for her to catch the end of the film with her father.
Although Murphy has established the character's solitude, she hasn't shown any sign that the character feels the need for any sort of emotional attachment to anyone who isn't her father. Pete, the repairman who stops by, is not built up to be a surrogate or a father figure, so the protagonist's impulse to strike up a relationship with him on the spur of the moment, whether only physical or more emotional, comes at the reader from left field.
While the character's relationship with Pete seems to come out of the blue, it makes sense when looking at the story as a whole. Her need to watch her father's films is clearly driving a sense of loneliness in her, as she notes that she enjoys rewatching them at the same time as the rest of the world, even if she has no interconnection with the rest of the viewers. Pete's presence fills the void that she is feeling and neither of her parents were able to prepare her for building healthy relationships.
"Dead Men on TV" highlights one of the interesting aspects of science fiction. Despite popularly being seen as a literature that looks to the future, a lot of science fiction (as well as science fiction fandom) has a strong sense of nostalgia. This series of articles, along with others I've written for Black Gate over the past several years, is demonstrative of that. In "Dead Men on TV," Murphy's narrator is simultaneously seeking out the relationship with her father that she never had and wallowing in a sense of nostalgia brought about by watching her father's old films.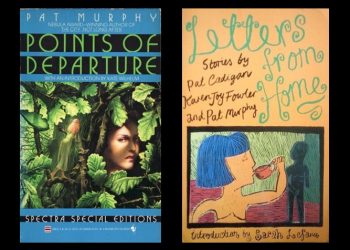 I didn't entirely buy into Murphy's character's lifestyle or the choices she made, but Murphy story has heart as it looks as a woman who has clearly been damaged by life and her upbringing. Reading the story, it isn't until considering it retrospectively that the realization comes that despite being written by an SF author and appearing in an anthology of science fiction and fantasy, there are no speculative elements to the story, which could as easily been published in a mainstream anthology of fiction.
---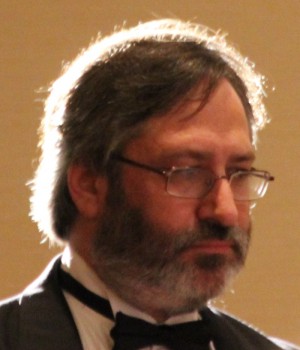 Steven H Silver is an eighteen-time Hugo Award nominee and was the publisher of the Hugo-nominated fanzine Argentus as well as the editor and publisher of ISFiC Press for 8 years. He has also edited books for DAW, NESFA Press, and ZNB. His most recent anthology is Alternate Peace and his novel After Hastings was published in 2020. Steven has chaired the first Midwest Construction, Windycon three times, and the SFWA Nebula Conference 6 times. He was programming chair for Chicon 2000 and Vice Chair of Chicon 7.