Random Reviews: "Dead Men on TV" by Pat Murphy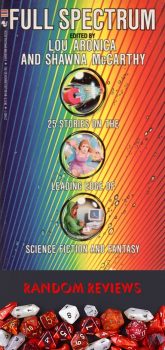 Pat Murphy is best known for her 1986 Nebula Award winning novel The Falling Woman or her 1987 Nebula Award winning novelette "Rachel in Love." The following year, she published the short story "Dead Men on TV" in the debut volume of Full Spectrum, edited by Lou Aronica and Shawna McCarthy.
The unnamed narrator of "Dead Men on TV" spends her nights watching old movies on television, specifically films in which her late father appeared. Through the story, she reveals that her family life had not been great. Her mother was not prepared for the lifestyle that being married to a Hollywood actor entailed and committed suicide when the narrator was young. Her father, who had ignored her mother before she killed herself, shifted his efforts to ignoring his daughter after he was widowed, focusing on his career and living the lifestyle of a star.
Watching television, therefore, is her way of attempting to reconnect with her father's memory and build an ersatz relationship with him. Her need, however, to watch his films when they are on, no matter the time of day, is clearly unhealthy. Although she has videotaped many of his movies, she feels closer to him when watching them at a time that other people could be watching them as well, leading to many late nights in front of the screen.