Birthday Reviews: Pat Murphy's "On a Hot Summer Night in a Place Far Away"
Birthday Reviews: Pat Murphy's "On a Hot Summer Night in a Place Far Away"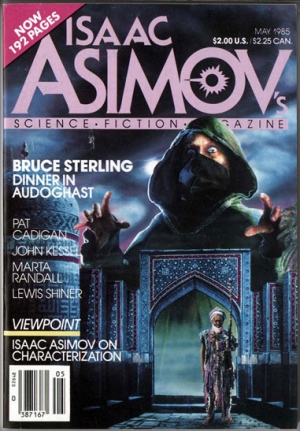 Pat Murphy was born on March 9, 1955.
In 1988, Murphy won a Nebula Award for her story "Rachel in Love" and her novel The Falling Woman.  "Rachel in Love" was also nominated for a Hugo Award and won the Theodore Sturrgeon Memorial Award.  She won a World Fantasy Award for her novella "Bones," and a Philip K. Dick Award for Points of Departure. Murphy's There and Back Again, by Max Merriwell, a science fictional retelling of Tolkien's The Hobbit, received the Seiun Award in 2002.
"On a Hot Summer Night in a Place Far Away" was first published by Shawny McCarthy in the May 1985 issue of Isaac Asimov's Science Fiction Magazine. It was included by Murphy's collection Points of Departure. The Women's Press included the story in the anthology Letters from Home, which reprinted six stories each by Murphy, Karen Joy Fowler, and Pat Cadigan. The story appeared in Mike Resnick's Future Earths: Under South American Skies.  It was translated for the German edition of Isaac Asimov's Science Fiction Magazine.
Murphy's story "On a Hot Summer Night in a Place Far Away" is set Merida, Mexico where Gregorio sells hammocks to the tourists. He lives there because after his divorce, his wife remarried and he no longer feels welcome in his home village.  When a strange looking American tourist rejects both his advances and his sales pitch, he determines that he will both sell her a hammock and find his way into her bed.
He is only marginally successful, selling her an hammock, but only managing to talk to her. He learns that just as he is living in exile from his home village, having made a home for himself in Merida, but without roots, so, too, she is living in exile, looking forward to the day she is able to return to her home, which she claims is among the stars.  Although she makes him forget the details of the conversation, Gregorio manages to bring her some relief from her homesickness as she waits to be returned to the stars.
There is a relaxed and bittersweet sensation that runs throughout "On a Hot Summer Night in a Place Far Away." The parallel between the tourist and Gregorio  is not overdone and serves to strengthen their bond and gives Gregorio a reason for seeing the woman more than just a conquest, either sexually or for his sale.
Reprint reviewed in  the anthology Future Earths: Under South African Skies, edited by Mike Resnick, DAW Books, 1993.
---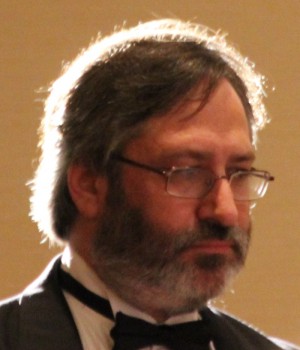 Steven H Silver is a fifteen-time Hugo Award nominee and was the publisher of the Hugo-nominated fanzine Argentus as well as the editor and publisher of ISFiC Press for 8 years. He has also edited books for DAW and NESFA Press. He began publishing short fiction in 2008 and his most recently published story is "Big White Men—Attack!" in Little Green Men—Attack! Steven has chaired the first Midwest Construction, Windycon three times, and the SFWA Nebula Conference 5 times, as well as serving as the Event Coordinator for SFWA. He was programming chair for Chicon 2000 and Vice Chair of Chicon 7. He has been the news editor for SF Site since 2002.