John DeNardo on the Best Science Fiction/Fantasy Reads for April
John DeNardo on the Best Science Fiction/Fantasy Reads for April
One thing about a global pandemic… at least it doesn't interfere with my reading time. Book stores may be closed and book sales may be down, but books continue to be published, and I continue to enjoy them. And the always dependable John DeNardo at Kirkus Reviews showed up on time (as always) to give us his read on the best SF and Fantasy for April, making sure I'm kept abreast of the month's top releases. Here's a few of his recommendations.
Chosen Ones by Veronica Roth (John Joseph Adams/Houghton Mifflin Harcourt, 438 pages, $26.99 hardcover/$14.99 digital, April 7)
WHAT IT'S ABOUT: Ten years after a group of ordinary teenagers, the Chosen Ones, were trained by the government to fulfill a prophecy of killing an all-powerful entity called the Dark One who was decimating entire cities, things are far from normal. While the world has largely moved on, the five heroes — still the world's most popular celebrities — are having a rough time. One of them, Sloane, suffers from PTSD, and is harboring secrets. When one of the Chosen Ones dies and the others gather for the funeral, they discover that the Dark One's ultimate goal was perhaps more sinister than they or the government could ever have imagined.

WHY YOU MIGHT LIKE IT: YA author Roth's first adult novel looks behind the usual superhero tropes and examines the psychological impacts of fading fame and having served one's purpose.
I'm a sucker for a good superhero tale. Veronica Roth is the author of the international bestselling Divergent Series and Carve the Mark.
[Click the images to embiggen.]
The Last Emperox by John Scalzi (Tor Books, 320 pages, $26.99 in hardcover/$13.99 digital, April 14, 2020)
The collapse of The Flow, the interstellar pathway between the planets of the Interdependency, has accelerated. Entire star systems ― and billions of people ― are becoming cut off from the rest of human civilization. This collapse was foretold through scientific prediction… and yet, even as the evidence is obvious and insurmountable, many still try to rationalize, delay and profit from, these final days of one of the greatest empires humanity has ever known.

Emperox Grayland II has finally wrested control of her empire from those who oppose her and who deny the reality of this collapse. But "control" is a slippery thing, and even as Grayland strives to save as many of her people form impoverished isolation, the forces opposing her rule will make a final, desperate push to topple her from her throne and power, by any means necessary. Grayland and her thinning list of allies must use every tool at their disposal to save themselves, and all of humanity. And yet it may not be enough.

Will Grayland become the savior of her civilization… or the last emperox to wear the crown?
The Last Emperox is the third book in The Interdependency space opera trilogy. All space operas should be trilogies, in my opinion.
Creeping Jenny by Jeff Noon (Angry Robot, 400 pages, $14.99 in trade paperback/$8.99 digital, March 23, 2020)
The third book in Jeff Noon's widely acclaimed Nyquest Mysteries find our protagonist caught up in a new mystery that delves into nightmares, Saints and the answer to his father's disappearance

In the winter of 1959, private eye John Nyquist arrives in the village of Hoxley-on-the-Hale with only a package of cryptic photographs, and the frail hope of finding an answer to a question he's been asking since his childhood.

But the villagers offer little help, as each day brings a twisted new rule in the name of a different Saint that they, and Nyquist, must follow. And there are whispers of the return of the Tolly Man, an avatar of chaos in a terrible mask…

As Nyquist struggles to distinguish friend from foe, and the Tolly Man draws nearer, he must race to finally settle the one mystery he has never been able to solve: the disappearance of his father.

From the singular imagination of Jeff Noon comes this dark tale of folk horror in the Philip K. Dick Award-nominated John Nyquist series.
We covered the first two books in the Nyquist Mysteries, A Man of Shadows and The Body Library, here.
The Book of Koli by M. R. Carey (Orbit, 416 pages, $16.99 in trade paperback/$11.99 digital, April 14, 2020)
WHAT IT'S ABOUT: It's humankind vs. genetically engineered plants in earth's far future, or at least that's what the Ramparts want you think. They're the ruling family of the small, walled village of Mythen Rood in what was once England. The Ramparts control ancient, solar powered tech to combat the ever-encroaching choker trees and their deadly seeds. When young Koli finds an artificial intelligence, he tries to use it to join the elite Ramparts and find his place in this stratified society. They're not having it.

WHY YOU MIGHT LIKE IT: Like Kirkus' review says, Carey's postapocalyptic fable is captivating.
The Book of Koli is the opening novel in The Rampart Trilogy. M. R. Carey is the author of The Girl With All the Gifts.
Ghost Money by Stephen Blackmoore (DAW, 304 pages, $7.99 mass market paperback and digital formats, April 28, 2020)
The fifth book of this dark urban fantasy series follows necromancer Eric Carter through a world of vengeful gods and goddesses, mysterious murders, and restless ghosts.

The Los Angeles Firestorm killed over a hundred thousand people, set in revenge against necromancer Eric Carter for defying the Aztec god Quetzalcoatl. Carter feels every drop of that blood on his hands. But now there's a new problem.

Too many ghosts in one spot and the barrier separating them from the living cracks. And when they cross it, they feed off all the life they can get hold of. People die. L.A. suddenly has a lot more ghosts.

But it's not just one or two ghosts breaking through: it's dozens. Another mage is pulling them through the cracks and turning them into deadly weapons. Eric follows a trail that takes him through the world of the Chinese Triads, old associates, old crimes. And a past that he thought he was done with.

Carter needs to find out how to get things under control, because if more ghosts break through, there's going to be even more blood on his hands.
I haven't read any of the previous four Eric Carter, but I was intrigued enough to cover the first two, Dead Things and Broken Souls. How did the series get up to five already??
Warhammer: Inferno! Volume 5 (Games Workshop/Black Library, 384 pages, $16.99 in trade paperback/$9.99 digital, April 14, 2020)
Discover tales from across the worlds of Warhammer in a new instalment of the action-packed short fiction anthology!

Experience a collection of incredible tales from across the many Warhammer settings, including the latest instalment of Guy Haley's Shyish-set tale of terror, and the start of a brand-new serialised story.

Inferno! Volume 5 showcases some of the best new fiction from across Warhammer's many universes: from the unending darkness of the war-torn 41st Millennium, to the gang-infested Underhive of Necromunda, through to the tumultuous lands of the Chaos-ravaged Mortal Realms.
Here's the complete table of contents:
"Watchers of Battle" by Ben Counter
"No Quarter" by Rob J Hayes
"Mournclaw" by Ben Galley
"The Last Knight: Part One" by Gavin G Smith
"River of Death" by Anna Stephens
"Respite's End" by Marc Collins
"No Matter the Cost" by Michael R Fletcher
"Curse of the Lucky" by Gary Kloster
"Best Death Wins" by Sean Grigsby
"Trail of Ash" by Graeme Lyon
"Castle of the Exile" by Gareth Hanrahan
"At the Sign of the Brazen Claw: Part Five – The Hounds of Nagash" by Guy Haley
Our previous Warhammer coverage is here.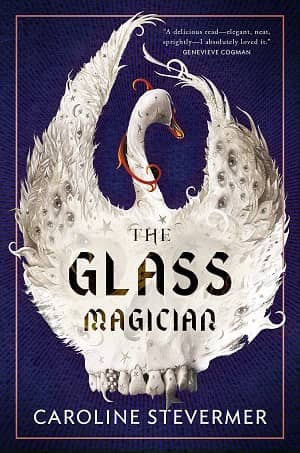 The Glass Magician by Caroline Stevermer (Tor Books, 282 pages, $26.99 hardcover/$13.99 digital, April 7, 2020)
WHAT IT'S ABOUT: In 1905 New York, Thalia Cutler is an accomplished stage magician. She may not compare to the people who know true magic, but she is nevertheless adept. When one of Thalia's tricks goes horribly wrong, she learns that she is indeed one of the magical beings that walk the streets of this romantic Gilded Age. Even with her latent talent, Thalia's ability to shapeshift allows her to rub elbows with New York's rich and powerful. But she will first have to tame her uncontrolled power and contend with real monsters who would consume her newfound magic.

WHY YOU MIGHT LIKE IT: Come for the magical flavor, stay for the clever world building and realistic characters.
See John's complete April list here.
We last sampled John's monthly rec column in December. Our recent coverage of John's Kirkus articles includes:
John DeNardo on the 7 Best Science Fiction/Fantasy Books of March (2020)
John DeNardo on the Best Science Fiction, Fantasy, and Horror Books for December (2019)
A Wide Range of Stories: John DeNardo on the Best Science Fiction & Fantasy Books in October (2019)
You're Gonna Need a Bigger Bookshelf: John DeNardo on the Best June Science Fiction & Fantasy (2019)
John DeNardo on Terrific Science Fiction & Fantasy for Every Kind of Reader in March (2019)
John DeNardo on 31 Science Fiction & Fantasy Books You Should Read in July (2018)
John DeNardo on the Best Science Fiction, Fantasy & Horror in May (2018)
John DeNardo on the Best SF and Fantasy in November (2017)
John DeNardo on August's Must-Read Science Fiction, Fantasy & Horror Books (2017)
John DeNardo on Your Best Bets for Science Fiction, Fantasy and Horror in July (2017)
John DeNardo on The Science Fiction & Fantasy Books Everyone Will be Talking About in April (2017)
John DeNardo on the Definitive List of 2017's Best Science Fiction and Fantasy (2017)
See all our coverage of the best new book releases here.