Vintage Treasures: Wondermakers, edited by Robert Hoskins
Vintage Treasures: Wondermakers, edited by Robert Hoskins
Cover art: uncredited (left) and FMA (right)
Robert Hoskins was a pretty familiar name on paperback racks in the 1970s. He was a senior editor at Lancer Books from 1969-1972, and during that time published and edited five volumes of the prestigious Infinity SF anthology series. Overall he edited over a dozen science fiction anthologies, including First Step Outward (1969), Swords Against Tomorrow (1970), and Against Tomorrow (1979). He also wrote ten novels, including three for Roger Elwood's Laser imprint.
Between 1969-1979 he produced roughly 30 paperbacks, an extraordinary period of output. After 1979 he vanished, and frankly I don't blame him. If I had to write and package 30 books in 10 years, I'd probably avoid the publishing industry for the rest of my life too. Hoskins died in 1993, and his eyes were probably still bloodshot. His entry in the Science Fiction Encyclopedia says "Hoskins's books made no claims to be anything more than entertaining action adventures," which I think is a fair assessment.
In 1972 and 1974 he produced two odd reprint anthologies, Wondermakers: An Anthology of Classic Science Fiction and Wondermakers 2. My best guess is that these were aimed at the academic market; a big clue is the ad on the back page encouraging Teachers, Librarians and School administrators to "Send for your free Fawcett catalog today!" The rather stiff intro by Robin Scott Wilson opens with "It has become commonplace for students of science fiction to assert the antiquity of the genre," and that's as far as I got before I dozed off. The text on the back covers (see scans below) drones on about "Science Fiction's development" and something about "Man's questioning, searching beyond the boundaries of his immediate present and into the future." I've never seen books that sound so much like my high school English teacher in my entire life.
But setting aside the dull packaging, these are actually pretty interesting. How many anthologies do you know include Edgar Allan Poe, H. G. Wells, Rudyard Kipling, Arthur Conan Doyle, Theodore Sturgeon, and James Blish under one cover? That's just the first one; Wondermakers 2 is even more intriguing.
[Click the images for world-sized versions.]
Back covers for Wondermakers and Wondermakers 2
The stories in both volumes are arranged chronologically and (I think) intended to present a broad view of the development of science fiction to bright-eyed young students. Volume One spans 1844 to 1951, Edgar Allan Poe to James Blish; Volume Two covers 1954-1972, Ward Moore to Robert Silverberg,
Wondermakers: An Anthology of Classic Science Fiction contains a Professor Challenger tale by Arthur Conan Doyle, two excerpts from Edwin A. Abbott's novel Flatland, Theodore Sturgeon's famous novella "Killdozer!" and tales by Edgar Allan Poe, Ambrose Bierce, H. G. Wells, E. M. Forster, Jack London, James Blish, and others. Here's the complete TOC.
Something New Under the Sun, by Robin Scott Wilson
The Prize of Wonder, by Robert Hoskins
"The Balloon-Hoax" by Edgar Allan Poe (The Sun, Extra, April 13, 1844)
Flatland: Two Excerpts, by Edwin A. Abbott (1884)
"Moxon's Master" by Ambrose Bierce (The San Francisco Examiner, April 16, 1899)
"The Land Ironclads" by H. G. Wells (The Strand Magazine, December 1903)
"With the Night Mail" by Rudyard Kipling (McClure's, November 1905)
"The Machine Stops" by E. M. Forster (The Oxford and Cambridge Review, Michaelmas Term 1909)
"The Unparalleled Invasion" by Jack London (McClure's, July 1910)
"The Disintegration Machine" by Arthur Conan Doyle (The Strand Magazine, January 1929)
Metropolitan Nightmare, by Stephen Vincent Benét (1927) — poem
Nightmare Number Three, by Stephen Vincent Benét (1935) — poem
"Killdozer!" by Theodore Sturgeon (Astounding Science Fiction, November 1944)
"Surface Tension" by James Blish (Galaxy Science Fiction, August 1952)
Wondermakers 2 contains a Sherlock Holmes Versus Mars story by Manly Wade Wellman and his son Wade Wellman, a Hainish novelette by Ursula K. Le Guin, and stories by Isaac Asimov, Robert Sheckley, Frederik Pohl, William F. Nolan, John Brunner, Poul Anderson, Roger Zelazny, Dean R. Koontz, Samuel R. Delany, and many more. Here's the complete table of contents.
Reaching Out of Tomorrow by Robert Hoskins
"Dominions Beyond" by Ward Moore (The Saturday Evening Post, August 28, 1954)
"Living Space" by Isaac Asimov (Science Fiction Stories, May 1956)
"The Gun Without a Bang" by Robert Sheckley (Galaxy Science Fiction, June 1958)
"We Never Mention Aunt Nora" by Frederik Pohl (Galaxy Science Fiction, July 1958)
"And Miles to Go Before I Sleep" by William F. Nolan (Infinity Science Fiction, August 1958)
"Eastward Ho!" by William Tenn (The Magazine of Fantasy and Science Fiction, October 1958)
"Report on the Nature of the Lunar Surface" by John Brunner (Astounding/Analog Science Fact & Fiction, August 1960)
"The Horn of Time the Hunter" by Poul Anderson (Amazing Stories, September 1963)
"The Monster and the Maiden" by Roger Zelazny (Galaxy Magazine, December 1964)
"Computers Don't Argue" by Gordon R. Dickson (Analog Science Fiction/Science Fact, September 1965)
"I Have My Vigil" by Harry Harrison (The Magazine of Fantasy and Science Fiction, February 1968)
"The Twelfth Bed" by Dean R. Koontz (The Magazine of Fantasy and Science Fiction, August 1968)
"High Weir" by Samuel R. Delany (If, October 1968)
"The Adventure of the Martian Client" by Manly Wade Wellman and Wade Wellman (The Magazine of Fantasy and Science Fiction, December 1969)
"The Falcon and the Falconeer" by Barry N. Malzberg (The Magazine of Fantasy and Science Fiction, December 1969)
"The Evergreen Library" by Bill Pronzini and Jeffrey M. Wallmann (Venture Science Fiction Magazine, May 1970)
"Xong of Xuxan" by Ray Russell (Playboy, October 1970)
"Vaster Than Empires and More Slow" by Ursula K. Le Guin (New Dimensions 1: Fourteen Original Science Fiction Stories, 1971)
"Caught in the Organ Draft" by Robert Silverberg (And Walk Now Gently Through the Fire and Other Science Fiction Stories, 1972)
Neither book has even been reprinted, and there are no digital editions. As usual for most paperback SF anthologies, copies are available for considerably less than the cost of a new paperback. In February I bought a copy of Wondermakers on eBay for $14, and got 18 other anthologies thrown in for free.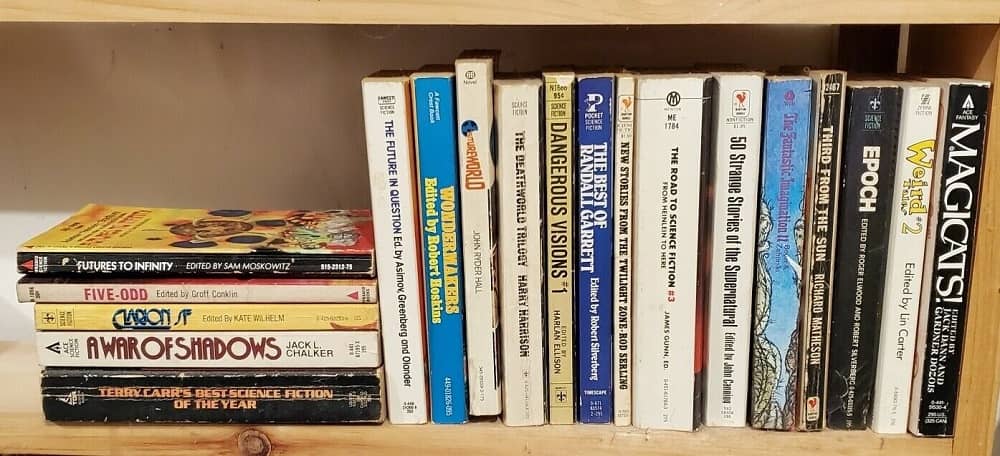 A collection of 19 vintage paperback anthologies purchased for $14 on eBay
There was some great stuff in that set; I'll probably get at least 1-2 more Vintage Treasures posts out of it. Not bad at all for 14 bucks.
Both Wondermakers volumes were published by Fawcett Crest. Here's the complete publishing details.
Worldmakers: An Anthology of Classic Science Fiction (351 pages, 95 cents in paperback, May 1972)
Worldmakers 2 (320 pages, $1.25 in paperback, April 1974)
See all our recent Vintage Treasures here.