New Treasures: The Girl With All the Gifts by M.R. Carey
New Treasures: The Girl With All the Gifts by M.R. Carey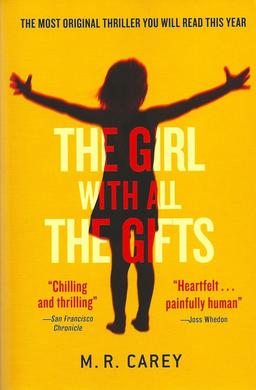 I like knowing the premise of a book before I start reading it. I think that's fairly normal. But what happens when knowing the premise is a spoiler, and the publisher won't tell you?
That seems to be the case with the trade paperback reprint of M.R. Carey's The Girl With All the Gifts, which I found on the New Releases table at Barnes and Noble last Saturday. The front and back cover reveal almost nothing about the book, beyond calling it "The Most Original Thriller You Will Read This Year," and this cryptic text on the back:
Every morning, Melanie waits in her cell to be collected for class.

When they come for her, Sergeant Parks keeps his gun pointing at her while two of his people strap her into the wheelchair. She thinks they don't like her. She jokes that she won't bite. But they don't laugh.
Instead of a plot synopsis, the book is plastered with blurbs… lots and lots of them. Joss Whedon says "So surprising, so warm and yet so chilling… as fresh as it is terrifying." Vogue calls it "Haunting, heart-breaking," Marie Claire says it's "Tense and fast-paced with a heartwarming tenderness," and Reader's Guide gushes with "Propulsive, imaginative."
Wait a minute. Vogue? Marie Claire? Last time I picked up something Marie Claire called "heartwarming," I ended up reading Eat, Pray, Love. I don't want that to happen again.
A little investigation (I have sources) reveals that The Girl With All the Gifts is, in fact, a genre novel. It's (mild spoiler!) some kind of future dystopia. Revealing more than that would be telling, but suffice to say that I'm very intrigued indeed.
This is M.R. Carey's first novel. The Girl With All the Gifts was published by Orbit Books on April 28. It is 435 pages, priced at $15 in trade paperback.