Allen Koszowski's Inhuman Magazine #6 Now on Sale
Allen Koszowski's Inhuman Magazine #6 Now on Sale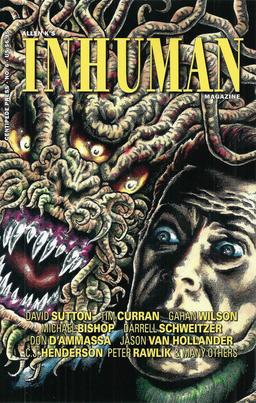 Well here's an unexpected bit of good news. Allen Koszowski's Inhuman Magazine, which I had listed as defunct in our mid-May Fantasy Magazine Rack, has just released a new issue.
Allen Koszowski is a terrifically talented guy. I hired him to illustrate our reprint of Edmond Hamilton's first story, "The Monster-God of Mamurth," and he delivered three marvelous pieces that appeared in Black Gate 2. Since 2004 he's been involved in the most noble and selfless act of creation known to humankind — publishing his own magazine. Allen K's Inhuman Magazine is a monster magazine that consistently features the top names in dark fantasy and horror, and Allen handles the art for each story personally.
Centipede Press took over production with issue #5, and the magazine looks better than ever. Issue #6 is the first in four years, and it features original stories by Tim Curran, Peter Rawlik (two stories), Don D'Ammassa, Lee Weinstein, C. J. Henderson, J. F. Gonzalez, Marilyn "Mattie" Brahen, Weston Osche, and Randall D. Larson, plus reprints from Michael Bishop, Darrell Schweitzer, Gahan Wilson, Jason Van Hollander, and Chad Hensley and W. H. Pugmire. The magazine also includes verse and art from David Sutton, Kurt Newton, Justin Gustainis, Jill Bauman, Cullen Bunn, Gene O'Neill, William C. Rassmussen, Stephen Jones, Bob Eggleton, Augie Weidemann, Robert H. Knox, Nick Gucker, Chris Kuchta, Steve Gilberts, Alex Lakhtarnik, and Allen Koszowski. The artists this issue are all part of a special gallery section dedicated to The Thing from Another World.
The magazine is huge — 208 pages! — and copiously illustrated. It is perfect bound for the criminally low price of just $6.99. Copies of the latest issue can be hard to come by, but at least two eBay vendors are currently stocking it at cover price. Check it out — I think you'll enjoy it.
We last covered Inhuman Magazine with Issue #5. See all of our recent magazine coverage here.