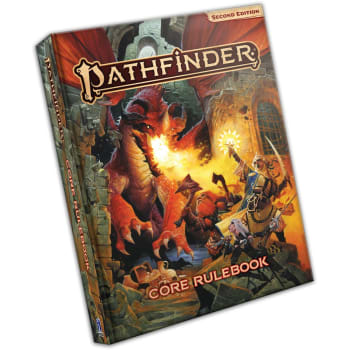 As has been the case for the last few years, this year's big Gen Con release was from the folks at Paizo. Two years ago we got the release of Starfinder. Last year was the release of the Pathfinder Playtest. And this year the Pathfinder Playtest reaches its fruition with the release of Pathfinder Second Edition, released into the wild at the beginning of August.
The gamer fanatics that we are here at Black Gate, we've been interested in this since Pathfinder Second Edition was first announced.  Last fall, I covered the Pathfinder Playtest, and most of the basic game mechanics introduced in the playtest stayed constant in the Second Edition release, even if some of the specifics changed.
The pacing is one of the best aspects of Pathfinder Second Edition. The action economy of having three actions each turn, and different tasks taking different numbers of those actions, helps keep players and the gamemaster moving smoothly through the turns. Each character can track their most common actions, based upon their character build, so that they can easily keep track of their options in the action economy.
The character design in Pathfinder Second Edition is around accumulating feats – ancestry & heritage feats, class feats, general feats, and skill feats – that allow for a wide range of diversity. Some of these feats also unlock uncommon task types, which players without those feats aren't able to access. This keeps the distinctive customization that has really become the hallmark of the Pathfinder RPG over the last decade.
---