The Golden Age of Science Fiction: Donald M. Grant
The Golden Age of Science Fiction: Donald M. Grant
The World Fantasy Awards are presented during the World Fantasy Convention and are selected by a mix of nominations from members of the convention and a panel of judges. The awards were established in 1975 and presented at the 1st World Fantasy Convention in Providence, Rhode Island. Traditionally, the awards took the form of a bust of H.P. Lovecraft sculpted by Gahan Wilson, however in recent years the trophy became controversial in light of Lovecraft's more problematic beliefs. The Professional Special Award has been part of the award since its founding. In 1980, the year Grant received the award for his work on Fantasy Newsletter, the convention was held in Baltimore, Maryland. Grant had previously received the award in 1976 and would receive the award again in 1983. In addition, Grant received A World Fantasy Con Special Convention Award in 1984 and was named a Grand Master in 2003.
Donald M. Grant became interested in reading science fiction and fantasy when he was 10 years old. He co-founded his first publishing company, Grant-Hadley, with Thomas Hadley in 1945 and they published Rhode Island on Lovecraft. The next year, Kenneth Krueger joined the company and Grant was inducted into the military. The company changed its name to The Buffalo Book Company and they published The Time Stream, by John Taine and the first edition of The Skylark of Space, by E.E. "Doc" Smith. Grant and Krueger wound up leading the company, which took on the name The Hadley Publishing Company, which published four more volumes over the next three years.
In 1949, Grant founded Grandon Books with James J. Donahue, which published five books between 1949 and 1958, including novels by Otis Adelbert Kline, A. Merrit, Howard Browne, and H. Warner Munn. He also published 333: A Bibliography of the Science-Fantasy Novel, written by Joseph H. Crawford, Jr., James J. Donahue, and himself. In 1969, he co-founded Centaur Books with Charles M. Collins. The published a variety of pulp and fantasy novels in paperback through 1981.
Grant's most successful publishing venture was Donald M. Grant, Publisher, which he founded in 1964. His first book was A Golden Anniversary Bibliography of Edgar Rice Burroughs, written by Henry Hardy Heins. Throughout the 1960s and 70s, he reprinted numerous works by Robert E. Howard, as well as books by Mike Resnick, H. Warner Munne, H. P. Lovecraft, and an artbook by Virgil Finlay. Donald M. Grant, Publisher also published bibliographies and other non-fiction books. In 1979, the year before he was awarded the World Fantasy Professional Award, DMG published Acts of Providence, The Road of Azrael, Lack Colossus, The Black Wolf, Tales of the Werewolf Clan, Jewels of Gwahlur, Lovecraft's Providence and Adjacent Parts, Mayhem on Bear Creek, and Hawks of Outremer.
The year after Grant won the award, Stephen King approached him with the rights to publish the first edition of any and all books in the Dark Tower series. King didn't believe they would have a wide appeal among his general audience.
Grant maintained a publication schedule through 2005, with books being published more irregularly since then. His most recent publications were issued in 2016, with two books by Roger Zelazny and one by Christina Rossetti.
In 1980, other nominees for the Professional Award including Pat LoBrutto for his work at Doubleday, James Turner at Arkham House, Donald A. Wollheim at DAW, and Lester del Rey at Ballantine Del Rey. Wollheim would win the award in 1981, LoBrutto in 1986, and Turner in 1999.
---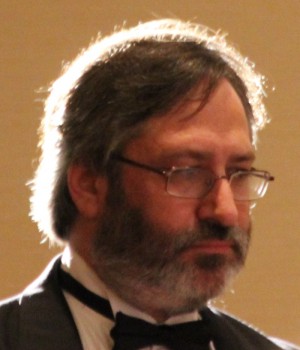 Steven H Silver is a sixteen-time Hugo Award nominee and was the publisher of the Hugo-nominated fanzine Argentus as well as the editor and publisher of ISFiC Press for 8 years. He has also edited books for DAW, NESFA Press, and ZNB. He began publishing short fiction in 2008 and his most recently published story is "Webinar: Web Sites" in The Tangled Web. His most recent anthology, Alternate Peace was published in June. Steven has chaired the first Midwest Construction, Windycon three times, and the SFWA Nebula Conference 6 times, as well as serving as the Event Coordinator for SFWA. He was programming chair for Chicon 2000 and Vice Chair of Chicon 7.