The Golden Age of Science Fiction: Amazons!, edited by Jessica Amanda Salmonson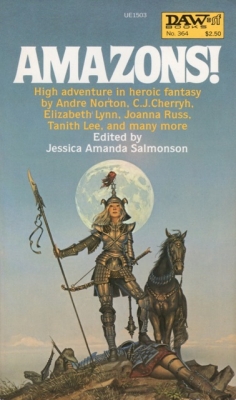 The World Fantasy Award was established in 1975 as part of the World Fantasy Convention. Seen as a fantasy version of the Hugo and the Nebula Awards (neither of which are strictly for science fiction), the nominees and winners are selected by a panel of judges, although currently, two positions on the ballot are opened up to nominations from members of the World Fantasy Convention. The Anthology/Collection Award was presented from 1977, when it was won by Kirby McCauley for Frights, through 1987 when James Tiptree, Jr. won it for Tales of the Quintana Roo.  For two years prior to the award's establishment, a Best Collection Award was presented. In 1988, Best Collection and Best Anthology were each split out into their own categories and remain so until this day. Originally, the trophy was a Gahan Wilson created grotesque bust of H.P. Lovecraft. In recent years as more and more authors, fans, and winners of the award spoke out against Lovecraft's misogyny and racism, the trophy was replaced by a sculpture of a tree created by Vincent Villafranca. In 1980, the award was won by Jessica Amanda Salmons for the anthology Amazons!
Salmonson's introductions to each of the stories are lengthy and provide insight not only into the stories that follow, but also her process in creating the anthology. She discusses her motives for putting the book together, her reasons for selecting the specific stories, related anecdotes about how the stories came to her and, in the case of Charles Saunders' story, addresses the fact that only one story by a male writer appears in the anthology.
Following the general introduction by Salmonson, in which she discusses both historical and mythological warrior women, the book presents the short story "The Dreamstone," by C.J. Cherryh, which the author would eventually combine with her novella "Ealdwood" and publish as the novel The Dreamstone in 1983.