The Golden Age of Science Fiction: Stephen King
The Golden Age of Science Fiction: Stephen King
The World Fantasy Awards are presented during the World Fantasy Convention and are selected by a mix of nominations from members of the convention and a panel of judges. The awards were established in 1975 and presented at the 1st World Fantasy Convention in Providence, Rhode Island. Traditionally, the awards took the form of a bust of H.P. Lovecraft sculpted by Gahan Wilson, however in recent years the trophy became controversial in light of Lovecraft's more problematic beliefs. The first Special Convention Award was presented in 1978 to Glenn Lord. Two years later, Stephen King received the award when the convention was held in Baltimore, Maryland.
Stephen King's first professional sale was the story "The Glass Floor," which appeared in the Fall 1967 issue of Startling Mystery Stories, edited by Robert A.W. Lowndes. He continued publishing short fiction and his first novel sale was Carrie, which originally was meant to be a short story, but which he lengthened. It was published in 1974 and turned into a movie in 1976, establishing a long-running collaboration between King and Hollywood. To date more than 200 films and television shows have been based on King's work.
King followed Carrie with 'Salem's Lot, a novel length expansion of his short story "Jerusalem's Lot," as well as The Shining and The Stand. During this time, he also took some of his earlier works which had not been sold and began to publish them under the pseudonym "Richard Bachmann." He used this name on five novels before a bookstore clerk realized the link between the authors. Even before his identity was revealed, the Bachmann novel The Running Man had been turned into a film.
Most closely associated with the horror field, King has also written fantasy novels, although often with a dark tinge to them. His novel The Gunslinger, which began as a fix-up combining five short stories, led to the eight volume The Dark Tower series, at the time King won the Special Convention Award, he had published the first short story in the series, "The Gunslinger," in the October 1978 issue of The Magazine of Fantasy and Science Fiction.
In fact, when King was recognized by the World Fantasy Award, he had only published six novels and one short story collection, and one of the novels was under his pseudonym. When he was recognized in November 1980, only two of his works had been adapted for film, Carrie in 1976 and Stanley Kubrick's adaptation of The Shining, which had been released in June of 1980. Carrie had done a lot to bring the author to nationwide attention, garnering Academy Award nominations for Sissy Spacek and Piper Laurie and a Golden Globe nomination for Laurie. It also was nominated for the Saturn, Hugo, and Edgar Allan Poe Awards, but none of those are known for increasing the audience beyond its base.
Of course, since 1980, King has only become a bigger name in literature, becoming one of the bestselling authors in the world. In addition, his wife, Tabitha, and his sons, Joe Hill and Owen King, are also successful authors.
---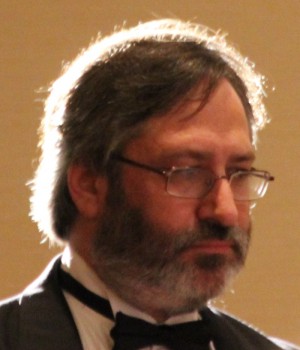 Steven H Silver is a sixteen-time Hugo Award nominee and was the publisher of the Hugo-nominated fanzine Argentus as well as the editor and publisher of ISFiC Press for 8 years. He has also edited books for DAW, NESFA Press, and ZNB. He began publishing short fiction in 2008 and his most recently published story is "Webinar: Web Sites" in The Tangled Web. His most recent anthology, Alternate Peace was published in June. Steven has chaired the first Midwest Construction, Windycon three times, and the SFWA Nebula Conference 6 times, as well as serving as the Event Coordinator for SFWA. He was programming chair for Chicon 2000 and Vice Chair of Chicon 7.