The Cost of Becoming Royalty: Crown of Coral and Pearl by Mara Rutherford
The Cost of Becoming Royalty: Crown of Coral and Pearl by Mara Rutherford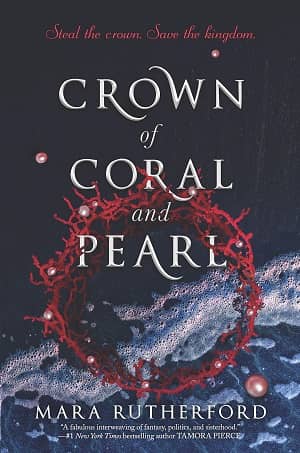 Twins Nor (coral) and Zadie (pearl) live in Varenia, a world built on stilts above the ocean. The floating village makes a living diving for and collecting rare pearls that have healing capabilities and trading them to Ilara, a distant kingdom.
In addition to pearls, Ilara also barters for queens. Once every generation, the most beautiful woman in Varenia is sent to land to become Ilara's next lady sovereign.
Nor and Zadie have been preparing their entire lives to become royalty: protecting their skin and hair with ointments and treatments; not playing too hard to avoid accidents that might mar their complexions; and learning the etiquette expected of queens. Unfortunately, accidents aren't entirely avoidable, and Nor's cheek is ultimately scarred for life in a struggle with a fishing net while diving. After the accident any hope of being chosen as queen is smashed. Ironically, Nor is the more adventurous of the twins, and she has always yearned for more than what her tiny village can offer. Zadie is content in her small, floating world, in love with a local boy Sami and happy to live a life of the familiar.
However, a grave and tragic encounter with a sea jelly leaves Zadie unable to make the journey even after she's chosen as the royal successor. In a dangerous plot, Nor disguises her scar and takes her twin's place. The king doesn't take kindly to imposters, and Nor is aware that Varenia's entire fresh water supply was once cut off when a different woman was sent in place of the chosen one due to illness. Knowing the risk, Nor sets off on an adventure full of intrigue, politics and romance.
I could not put this book down and finished it in about a day. Rutherford has created a really interesting setting, and the world building is polished and sure. The floating world of Varenia is described incredibly well, and you're immediately immersed in the salty sea breezes and vibrant colors of Nor and Zadie's world — and, in contrast, the cold and dark of New Castle, where Nor settles into her new life on land. Nor is a fantastic protagonist with a very well-developed character – she's everything you want a fierce female to be, yet with a soft and complex relationship with her sister. I enjoyed Nor's story arc immensely.
The one weakness to the story was the romance between Nor and Talin. We don't learn anything about this man, beyond the fact that he's handsome and somewhat brooding. There's no real reason why Nor, such a strong, fierce character, should be drawn to him, except that he's quite handsome. Sigh.
Rutherford took more time developing the villain, Talin's brother and future king, Ceren. We know so much about his past and what drives him that I wish the author could have given us the same detail in the love interest of our beloved Nor.
It appears that there may be a sequel coming, and I'm not sure what Rutherford left for a second book. She neatly wraps up every angle and didn't leave much in the way of open story lines. There were plenty of opportunities for cliff hangers, but each of the plot threads comes to a somewhat abrupt and quick end. Another opportunity for this first-time novelist to learn to leave a bit of story unfinished so her readers are compelled to wait for the next installment. I'm not sure I want to read any further installments, as I feel I know where all of the characters and stories are going.
That being said, this is a fun, interesting read with plenty of intrigue to keep you engaged from cover-to-cover.
---
Caitlin is the Executive Director of Catapult Chicago, the only non-profit, peer-selected community for startups with business traction. With the bulk of her career based in hospitality at luxury-level resorts, her path to running a tech hub is an interesting one! No matter where that path has led, building great teams has always been at the core. In her current role, she helps 90+ startup founders do just that. Caitlin acquired a multicultural perspective through her many experiences traveling and living abroad in the United States, Europe and South America. Her last review for us was The Beast's Heart by Leife Shallcross.