Magic that Enchants the Reader: The Beast's Heart: A Novel of Beauty and the Beast by Leife Shallcross
Magic that Enchants the Reader: The Beast's Heart: A Novel of Beauty and the Beast by Leife Shallcross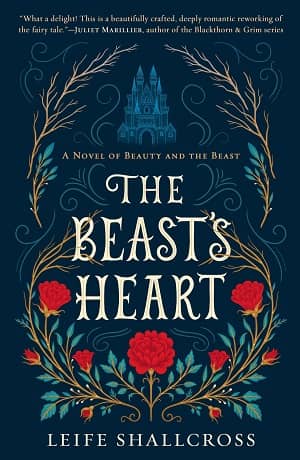 The Beast's Heart: A Novel of Beauty & the Beast
Ace Books (416 pages, $15 trade paperback/$11.99 digital, February 12, 2019)
Cover by Lisa Perrin
This beautifully simplistic retelling of a "tale as old as time," is pure magic. The story sparkles at every turn and enchants the reader with a new perspective: it's the beast that narrates his own story in this version of the familiar fairytale.
For over a century Beast has roamed wild over the land he once ruled, driving away anything or anyone that lives there, his humanity essentially stripped away. He has little memory of what his life once was until he encounters a strange woman who leads him back to his previous domain, a castle in the heart of the forest. Suddenly he begins to have flashes of what was lost. As memories return, so too does some of the splendor that once saturated the castle: a roaring fire in the hearth, one luxurious velvet chair, corners of the garden sodden with out-of-season blooms.
As life returns to the castle, Beast slowly regains his humanity. He relearns to stand on two legs, his paws begin to look more like hands, and he realizes he can read! When a weary traveler wanders onto his land, he also realizes his isolation. Curious about the man, Beast allows his castle to lure the traveler in and care for him. Through the magical abilities of his abode, Beast is able to see the man's dreams, and in them the man's daughters. The youngest, Isabeau, immediately captures Beast's heart.
Thus begins Beast's plot to bring Isabeau to the castle and her eventual agreement to stay for a year. What unfolds is a beautiful relationship that examines what it means to love someone. Through the use of a magical mirror, the reader also gets to be a voyeur in the lives of Isabeau's family left behind. Their experiences also lend to the theme of human connection and illustrate an idyllic country existence full of color and substance. Just as we root for Beast and Isabeau, so too are we cheering for them to find love and compassion.
A wonderful read from cover to cover, I highly recommend!
---
Caitlin is the Executive Director of Catapult Chicago, the only non-profit, peer-selected community for startups with business traction. With the bulk of her career based in hospitality at luxury-level resorts, her path to running a tech hub is an interesting one! No matter where that path has led, building great teams has always been at the core. In her current role, she helps 90+ startup founders do just that. Caitlin acquired a multicultural perspective through her many experiences traveling and living abroad in the United States, Europe and South America. Her last review for us was Green Valley by David Quantick.