The Golden Age of Science Fiction: Don Maitz
The Golden Age of Science Fiction: Don Maitz
The World Fantasy Awards are presented during the World Fantasy Convention and are selected by a mix of nominations from members of the convention and a panel of judges. The awards were established in 1975 and presented at the 1st World Fantasy Convention in Providence, Rhode Island. Traditionally, the awards took the form of a bust of H.P. Lovecraft sculpted by Gahan Wilson, however in recent years the trophy became controversial in light of Lovecraft's more problematic beliefs. The Best Artist Award has been part of the award since its founding, when it was won by Lee Brown Coye. In 1980, the year Maitz received the award for his work, the convention was held in Baltimore, Maryland. The judges were Stephen R. Donaldson, Frank Belknap Long, andrew j. offutt, Ted White, and Susan Wood.
After graduating from the Paier School of Art in 1975, Don Maitz broke into the field with a black and white illustration for and ad that appeared in Marvel's Kull and the Barbarians. In 1976, he provided the cover for the Science Fiction Book Club edition of Leigh Brackett's The Book of Skaith: The Adventures of Eric Stark as well as books by L. Sprague de Camp, Lin Carter, and Lloyd Alexander.
Over the next couple of years, Maitz continued to paint cover art for a growing range of books as well as create interior illustrations which were used in a variety of books. His composition tends to focus on individuals rather than presenting landscapes or structures, although his backgrounds are as detailed as his characters.
In 1979, Maitz painted the covers for at least eleven sf books, with authors ranging from A. Bertram Chandler to Tanith Lee and titles including Richard Cowper's The Road to Corlay, C. J. Cherry's Hestia, and Barry Malzberg's Beyond Apollo. Seven of his covers appeared on book released by DAW Books, with three issued by Pocket Books, and one from E.P. Dutton.
All of the covers released that year have a central figure, although not always a human one, with the background existent, but downplayed. The backgrounds of his covers for Brian M. Stableford's Balance of Power and Theodore Sturgeon's The Cosmic Rape are similar to each other and seem to pay homage to the works of Richard Powers in their abstract quality. The backgrounds of his covers for .Chandler's and Cherryh's books also mirror each other, showing the central figure (a spaceship and a felinoid, respectively) standing in front of a the walls of a chasm. Perhaps the piece of art which seems most atypical for Maitz from this period is his cover for Cowper's book.
Maitz would eventually go on to win two Hugo Awards for best artist, 10 Chesley awards in 6 different categories, a Locus Award, a Readercon Award, and a Worldcon Special Convention Award. He is married to artist and author Janny Wurts and Maitz provided the cover art for the Kelewan Empire trilogy Wurts wrote with Raymond Feist. Outside of science fiction fandom, Maitz is perhaps best known as the artist who created the eponymous character for Captain Morgan Rum.
While Maitz won the award, he had to overcome competition from Boris Vallejo, Stephen Fabian, and Michael Whelan. Whelan would win the award each of the next three years. Vallejo and Fabian would never win the award, although Fabian won a lifetime achievement award in 2006.
---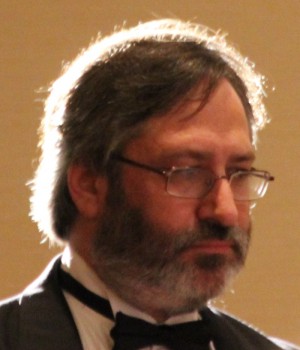 Steven H Silver is a sixteen-time Hugo Award nominee and was the publisher of the Hugo-nominated fanzine Argentus as well as the editor and publisher of ISFiC Press for 8 years. He has also edited books for DAW and NESFA Press. He began publishing short fiction in 2008 and his most recently published story is "Webinar: Web Sites" in The Tangled Web. Steven has chaired the first Midwest Construction, Windycon three times, and the SFWA Nebula Conference 6 times, as well as serving as the Event Coordinator for SFWA. He was programming chair for Chicon 2000 and Vice Chair of Chicon 7.