The Golden Age of Science Fiction: Manly Wade Wellman
The Golden Age of Science Fiction: Manly Wade Wellman
The World Fantasy Awards are presented during the World Fantasy Convention and are selected by a mix of nominations from members of the convention and a panel of judges. The awards were established in 1975 and presented at the 1st World Fantasy Convention in Providence, Rhode Island. Traditionally, the awards took the form of a bust of H.P. Lovecraft sculpted by Gahan Wilson, however in recent years the trophy became controversial in light of Lovecraft's more problematic beliefs and has been replaced with a trophy of a tree with a full moon. The Lifetime Achievement Award has been part of the award since its founding, with the first one being presented to Robert Bloch. In 1980, the year Wellman was recognized, the convention was held in Baltimore, Maryland. Judges were Stephen R. Donaldson, Frank Belknap Long, andrew j. offutt, Ted White, and Susan Wood.
Manly Wade Wellman was born in Kamundongo in Portuguese West Africa (now part of Angola) on May 21, 1903, where his father was serving as a medical officer. When he was six years old, his family moved back to the United States and Wellman attended school in Washington, DC and prep school in Salt Lake City before going to Wichita Municipal University to earn a BA in English.
His first professional sale was "Back to the Beast," published by Farnsworth Wright in the November 1927 issue of Weird Tales, although his story "When the Lion Roared" appeared in Thrilling Tales in May of that same year. Wellman's early work was mostly at the short fiction length and as it was beginning to appear, he became friends with folklorist Vance Randolph, who invited Wellman to accompany him throughout the Ozarks as he met with rural Americans and recorded their stories. This sparked an interest in folklore that led to Wellman becoming the Assistant Director of the WPA New York Folklore Project in 1934 and also influenced Wellman's own fiction.
In 1936, Wellman's story "Outlaws on Callisto" earned the cover of Astounding and Julius Schwartz began to represent Wellman, getting him frequent appearances in the magazines published by Better Publications. Another side effect of Schwartz's representation was that Wellman wound up writing for comics, including the first issue of Captain Marvel Adventures, which led to him being called as a witness for National Comics in their plagiarism lawsuit against Fawcett. Wellman admitted that the Fawcett editors had encouraged their writers to use Superman as a model for Captain Marvel.
In the 1960s, Wellman created the character John the Balladeer, who became his most famous creation, who featured in five novels and several additional short stories. The stories about a loner with a guitar strung with silver strings draws heavily from Wellman's time touring Appalachia, offering a setting and characters which are rare in science fiction.
By his own estimate, Wellman claims that he wrote more than 500 works of fiction, fewer than 16% of which were in the science fiction and fantasy genres. He won the Ellery Queen Mystery Award for Best Short Story for "A Star for a Warrior" in 1946 and in 1956 won the Edgar Award for Best Fact Crime Story for "Dead and Gone."
Wellman won his first World Fantasy Award in 1975 for his collection Worse Things Waiting. Strangely enough, that was the only award he ever won for a particular work of science fiction fiction. All of the other awards Wellman won, the Phoenix Award in 1976, the World Fantasy Award Lifetime Achievement Award in 1980, the First Fandom Hall of Fame induction in 1983, and the British Fantasy Special Award in 1985 were all for either his body of work or his influence in a particular area of the science fiction genre or fandom. In 1983, Wellman was also one of the guests of honor at the World Fantasy Con in Chicago.
A fall in 1985 left Wellman an invalid and also caused him to lose his legs after gangrene set in. He died on April 5, 1986.
In 1980, the contenders for the World Fantasy Lifetime Achievement Award included Wellman, Jack Vance, H. Warner Munn, L. Sprague de Camp, and Avram Davidson. De Camp, Vance, and Davidson would all go on to win the award in subsequent years.
---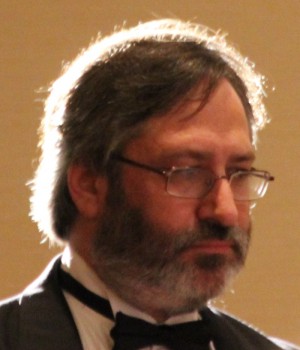 Steven H Silver is a sixteen-time Hugo Award nominee and was the publisher of the Hugo-nominated fanzine Argentus as well as the editor and publisher of ISFiC Press for 8 years. He has also edited books for DAW and NESFA Press. He began publishing short fiction in 2008 and his most recently published story is "Webinar: Web Sites" in The Tangled Web. Steven has chaired the first Midwest Construction, Windycon three times, and the SFWA Nebula Conference 6 times, as well as serving as the Event Coordinator for SFWA. He was programming chair for Chicon 2000 and Vice Chair of Chicon 7.