Future Treasures: The Book of Magic, edited by Gardner Dozois
Future Treasures: The Book of Magic, edited by Gardner Dozois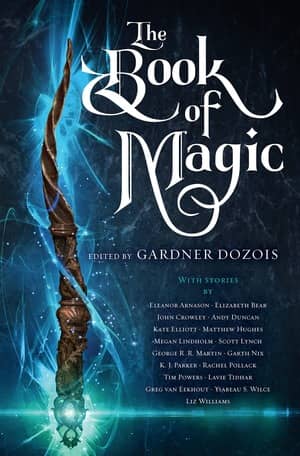 We lost Gardner Dozois unexpectedly in May of this year. Certainly there were bigger names, but somehow Gardner always seemed to be the heart of science fiction to me. Fan, historian, gifted writer and brilliant editor — indeed, perhaps the greatest editor science fiction has ever seen — Gardner had his finger on the pulse of the field better than anyone I knew.
It was a terrible blow to lose him. But I took some consolation in the fact that his career was not over — not yet, anyway. He still had three major books in the pipeline. The Year's Best Science Fiction: Thirty-Fifth Annual Collection appeared in July; the final volume in what may be the greatest anthology series in genre history. And The Very Best of the Best: 35 Years of The Year's Best Science Fiction, a fitting cap to an amazing career, will arrive in February of next year.
But the one I'm really looking forward to is The Book of Magic, a big 576-page hardcover collecting brand new fiction from many of the top fantasy writers we have. It's a companion book to his 2017 sword & sorcery anthology The Book of Swords, and it arrives from Bantam in two weeks. Here's the description.
A new anthology celebrating the witches and sorcerers of epic fantasy — featuring stories by George R. R. Martin, Scott Lynch, Megan Lindholm, and many others!

Hot on the heels of Gardner Dozois's acclaimed anthology The Book of Swords comes this companion volume devoted to magic. How could it be otherwise? For every Frodo, there is a Gandalf… and a Saruman. For every Dorothy, a Glinda… and a Wicked Witch of the West. What would Harry Potter be without Albus Dumbledore… and Severus Snape? Figures of wisdom and power, possessing arcane, often forbidden knowledge, wizards and sorcerers are shaped — or misshaped — by the potent magic they seek to wield. Yet though their abilities may be godlike, these men and women remain human — some might say all too human. Such is their curse. And their glory.

In these pages, seventeen of today's top fantasy writers — including award-winners Elizabeth Bear, John Crowley, Kate Elliott, K. J. Parker, Tim Powers, and Liz Williams — cast wondrous spells that thrillingly evoke the mysterious, awesome, and at times downright terrifying worlds where magic reigns supreme: worlds as far away as forever, and as near as next door.
And here's the stellar table of contents, including sixteen all new stories and a reprint novelette by George R. R. Martin.
[Click the images for fantasy-sized versions.]
Introduction by Gardner Dozois
"The Return of the Pig" by K. J. Parker
"Community Service" by Megan Lindholm
"Flint and Mirror" by John Crowley
"The Friends of Masquelayne the Incomparable" by Matthew Hughes
"The Biography of a Bouncing Boy Terror: Chapter Two: Jumping Jack in Love" by Ysabeau S. Wilce
"Song of Fire" by Rachel Pollack
"Loft the Sorcerer" by Eleanor Arnason
"The Governoer" by Tim Powers
"Sungrazer" by Liz Williams
"The Staff in the Stone" by Garth Nix
"No Work of Mine" by Elizabeth Bear
"Widow Maker" by Lavie Tidhar
"The Wolf and the Manticore" by Greg Van Eekhout
"The Devil's Whatever" by Andy Duncan
"Bloom" by Kate Elliott
"The Fall and Rise of the House of the Wizard Malkuril" by Scott Lynch
"A Night at the Tarn House" by George R. R. Martin (Songs of the Dying Earth, 2009)
The Martin story originally appeared in the Jack Vance tribute anthology Songs of the Dying Earth, edited by George R.R. Martin and Gardner.
If you enjoy this one, keep your eye out for The Very Best of the Best in February.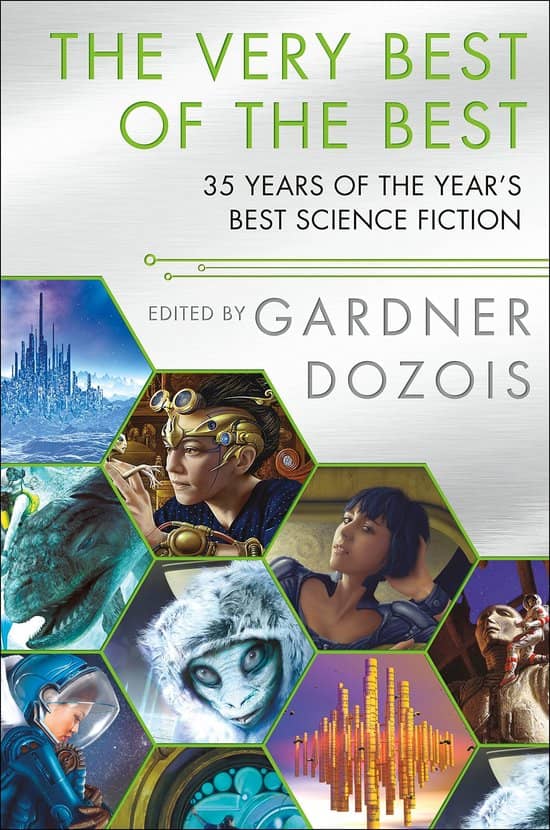 Our previous coverage of Gardner's many books and articles includes:
Jack Dann & Gardner Dozois' 40-Volume Reprint Library
The Book of Swords
A Book That Makes You Yearn to be Stranded on a Desert Island: Modern Classics of Fantasy
The End of an Era: The Year's Best Science Fiction: Thirty-Fifth Annual Collection
Gardner Dozois on the New Sword & Sorcery
Worldmakers and Supermen
Explorers and The Furthest Horizon
The Good Stuff
Multiverse: Exploring the Worlds of Poul Anderson, edited by Greg Bear and Gardner Dozois
Gardner Dozois on the 2013 Hugo Nominations
Gardner also produced a number of massive best-selling anthologies co-edited with George R.R. Martin. They include:
Old Venus
Old Mars
Rogues
Warriors, reviewed by Jason M. Waltz
Songs of the Dying Earth
The Book of Magic will be published by Bantam on October 16, 2018. It is 576 pages, priced at $30 in hardcover and $14.99 for the digital edition.
See all our recent coverage of Gardner's work here.