Vintage Treasures: Jack Dann & Gardner Dozois' 40-Volume Reprint Library
Vintage Treasures: Jack Dann & Gardner Dozois' 40-Volume Reprint Library
The impending release of Gardner Dozois' 35th and final Year's Best anthology next month brings us to the end of an era. Hard as it is to believe, after his final books are released in the next few months, there will be no more magazines, stories or anthologies from one of the most gifted editors the field has ever seen.
Many readers are unaware that, as prolific as Gardner was as a magazine and Year's Best editor — 17 years at the helm of Isaac Asimov's Science Fiction Magazine, and 35 years as the editor of the annual Year's Best Science Fiction — his greatest contribution to the field, at least in terms of raw numbers, was as an editor of standalone anthologies. He produced many dozens, including 21 volumes collecting stories from Asimov's, such as Isaac Asimov's Detectives (1998) and Isaac Asimov's Halloween (2001), most co-edited with Sheila Williams.
But his most fruitful partnership was with Jack Dann, which whom he co-edited some 40 themed science fiction and fantasy anthologies between 1976 and 2009, almost all paperback originals with Ace Books. These included 22 volumes in the Exclamatory Series, called that because the anthologies had one-word titles with an exclamation point, like Magicats! (1984), Bestiary! (1985), and Invaders! (1993), and an additional 18 themed reprint volumes, such as Armageddons (1999), Aliens Among Us (2000), and A.I.s (2004).
[Click the images for future-sized versions.]
These slender anthologies collect some terrific fiction, and they've a great way to sample some of the best short fiction of the last 40 years. In fact, they make a marvelous short fiction library for anyone with a general interest in modern SF and fantasy.
A lot of these books were fairly light hearted, which made them a welcome addition to bookstore shelves weighted down with space opera and post-apocalyptic nightmares. They're still highly readable and quite collectible today.
Cover by Chris Moore
Perhaps my favorite is Future War (1999), which contains some of the finest SF war stories ever written, including Tony Daniel's brilliant "A Dry Quiet War," Lucius Shepard's Locus Award-winning "Salvador," Ian McDonald's BSFA nominee "Floating Dogs," and Gardner Dozois's Hugo & Nebula nominee "A Special Kind of Morning." Here's what I said about Tony Daniel's story when I reviewed it in his Golden Gryphon collection The Robot's Twilight Companion at SF Site back in 1999.
The jewels of the collection are the longer pieces, including especially "A Dry, Quiet War," "Mystery Box," and the dense and enigmatic "Grist." While they're not all linked, most share a powerful connecting vision of a gradually transformed humanity — an ambitious, baffling, and (how to say this delicately?) only partially comprehensible vision of a human race radically changed by nanotechnology and collective consciousness. This is what a trip to the future should feel like: packed with strange wonders, only a handful of which are easily grasped, but all of which hint at a vast, unfolding destiny for the human race…

In "A Dry, Quiet War," Henry Bone returns from the War at the end of Time to live his final years on his rural home planet of Ferro. But he's not the only veteran to return to this timeline: a group of cybernetically enhanced soldiers — some human, some not — have made the billion-year journey as well, only they're not looking for peace and quiet. Like a classic western, "A Dry, Quiet War" is filled with the tension of the inevitable confrontation. But the stakes are far higher than anyone on Ferro could imagine, for the War at the end of Time breeds peculiar veterans indeed, and the mysterious Henry Bone may be much more than he appears.
Here's the complete TOC for Future War.
Preface
"Second Variety" by Philip K. Dick (Space Science Fiction, May 1953)
"Salvador" by Lucius Shepard (The Magazine of Fantasy & Science Fiction, April 1984) — Locus Award, Hugo & Nebula nominee
"Floating Dogs" by Ian McDonald (New Worlds 1, 1991) — BSFA nominee
"The Private War of Private Jacob" by Joe Haldeman (Galaxy, June 1974)
"Spirey and the Queen" by Alastair Reynolds (Interzone #108, June 1996)
"A Dry, Quiet War" by Tony Daniel (Asimov's Science Fiction, June 1996)
"Rorvik's War" by Geoffrey A. Landis (New Legends, 1995)
"Second Skin" by Paul J. McAuley (Asimov's Science Fiction, April 1997)
"The War Memorial" by Allen Steele (Asimov's Science Fiction, September 1995)
"A Special Kind of Morning" by Gardner Dozois (New Dimensions 1, 1971) — Hugo & Nebula nominee
Ace did a fine job with the cover art on most of the books. Here's another of my favorite examples, Seaserpents! from 1989 (cover by Hiro Kimura).
Here's the compete list of titles in The Exclamatory Series.
Aliens! (1980)
Unicorns! (1982)
Magicats! (1984)
Mermaids! (1985)
Bestiary! (1985)
Sorcerers! (1986)
Demons! (1987)
Dogtales! (1988)
Seaserpents! (1989)
Dinosaurs! (1990)
Little People! (1991)
Magicats II (1991)
Unicorns II (1992)
Dragons! (1993)
Invaders! (1993)
Horses! (1994)
Angels! (1995)
Dinosaurs II (1995)
Timegates (1997)
Nanotech (1998)
Clones! (1998)
Immortals (1998)
Futures Past (2006). Cover by AXB Group.
And here's the complete list of independent Dann/Dozois anthologies, most also from Ace.
Future Power (1976)
Hackers (1996)
Armageddons (1999)
Future War (1999)
Aliens Among Us (2000)
Genometry (2001)
Space Soldiers (2001)
Beyond Flesh (2002)
Future Sports (2002)
Future Crimes (2003)
A.I.s (2004)
Robots (2005)
Beyond Singularity (2005)
Escape from Earth: New Adventures in Space (2006)
Futures Past (2006)
Dangerous Games (2007)
Wizards: Magical Tales from the Masters of Modern Fantasy (2007)
The Dragon Book (2009)
You can find these anthologies pretty easily in used bookstores and the like. I'm not aware of any that have become expensive on the collector's market. Expect to pay a few bucks each — well worth it. Future War, for example, was part of a collection of 32 vintage SF paperback I bought on eBay for $33 back in February.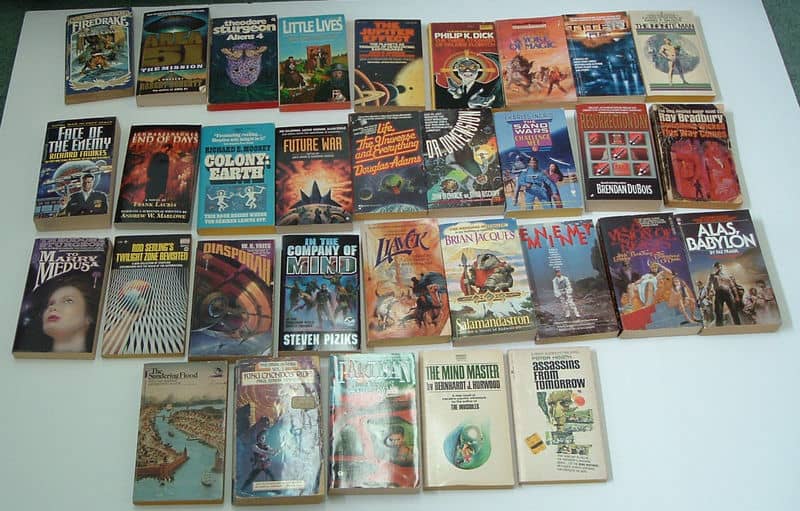 Future War was published by Ace Books in August 1989. It is 261 pages, priced at $5.99 in paperback. The cover is by Chris Moore.
Virtually all of these books were paperback originals, and have not been reprinted. In 2013 Baen began to make them available in digital editions, priced at $4.99 each.
See all our recent Vintage Treasures here.