Birthday Reviews: Charles Sheffield's "Marconi, Mattin, Maxwell"
Birthday Reviews: Charles Sheffield's "Marconi, Mattin, Maxwell"
Cover by Bonnie Dalzell
Charles Sheffield was born on June 25, 1935 and died on November 2, 2002. On two occasions, he published fiction under the name James Kirkwood when he had multiple stories appearing in a single issue of a magazine.
In 1979 Sheffield was a nominee for the John W. Campbell Award for Best New Writer. He went on to win the Hugo and Nebula Award for his novelette "Georgia on My Mind." His novel Brother to Dragons won the John W. Campbell Memorial Award and his novel The McAndrew Chronicles received the Seiun Award. In 1998 Sheffield served as Toastmaster at Bucconeer, the Worldcon in Baltimore. From 1998 until his death, Sheffield was married to author Nancy Kress.
"Marconi, Mattin, Maxwell" was first published in the May 1977 issue of Galaxy, edited by James Baen. Sheffield included it in his 1979 collection Vectors. The story kicked off a series of ten short stories featuring Henry Carver and Waldo Burmeister, two lawyers in the future. In 2001, Sheffield collected all of the stories in Space Suits: Being the Selected Legal Papers of Waldo Burmeister and Henry Carver, Attorneys-at-Law, as Transcribed and Edited by Henry Carver, LL.B., and With a Special Introduction by Waldo P. Burmeister, LL.B. The story was also translated into German in 1980 for an appearance in Science-Fiction-Stories 80, edited by Walter Spiegl.
In "Marconi, Mattin, Maxwell," Henry Carver is relating his relationship with the great inventor Gerald Mattin. The story is set up as a letter to an editor who is including a chapter about Mattin in a book about great scientists. Carver indicates that the letter provides the editor with the true story of Mattin rather than the sanitized version that Carver wrote for the book.
Carver's association with Mattin began when Mattin showed up at his office asking for assistance finding backers for a means of instantaneous transportation. Mattin's demeanor and insistence that he didn't want to file for patents raised alarms for Carver, but the 50 million credit carrot that Mattin dangled in front of him was too much to ignore. Carver set the wheels in motion for the funding and eventual test of the device.
Things didn't go as smoothly as possible and eventually Mattin's backers began threatening the men if the system didn't work. Carver had to think fast to ensure his own survival and Mattin finally made the system work, although in a way that would leave the backers unhappy. Unfortunately, Sheffield doesn't explain how Carver is able to avoid the vengeance of the angry backers which has been set up throughout the story, thereby giving the tale an unfinished feel, although any actual action on their part would not have fit in with the generally light-hearted feeling of the story.
Reviewed in its original publication in the magazine Galaxy, edited by James Baen, May 1977.
---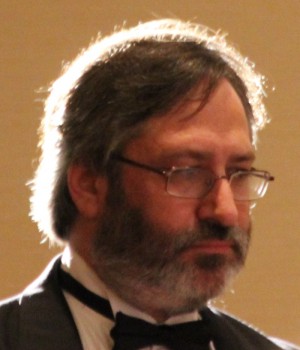 Steven H Silver is a sixteen-time Hugo Award nominee and was the publisher of the Hugo-nominated fanzine Argentus as well as the editor and publisher of ISFiC Press for 8 years. He has also edited books for DAW and NESFA Press. He began publishing short fiction in 2008 and his most recently published story is "Doing Business at Hodputt's Emporium" in Galaxy's Edge. Steven has chaired the first Midwest Construction, Windycon three times, and the SFWA Nebula Conference 6 times, as well as serving as the Event Coordinator for SFWA. He was programming chair for Chicon 2000 and Vice Chair of Chicon 7. He has been the news editor for SF Site since 2002.