io9 on 28 New Sci-fi and Fantasy Books to Add to Your Shelves in May
io9 on 28 New Sci-fi and Fantasy Books to Add to Your Shelves in May
Cheryl Eddy at io9 has a gift for you folks who've run out of things to read already this month (Seriously, how does that happen?? Whatever, we don't judge.) A tidy list of 28 New Sci-fi and Fantasy Books to Add to Your Shelves.
28! How does she do that, and with astonishingly little overlap with John DeNardo's list of the Best Science Fiction, Fantasy & Horror in May? I have no idea, but perhaps dark magics were involved, and maybe we shouldn't question it. Let's just dive into the list, and see what grabs us.
The Glory of the Empress by Sean Danker (Ace, 352 pages, $4.99 digital, May 1, 2018)
Amid a raging interstellar war, a group of soldiers develops a new weapon they hope will turn the tide in their side's favor — not realizing their test runs in a far-off pocket of the galaxy will have unexpectedly towering consequences.
The Glory of the Empress is the third book in the series that began with Admiral (2016), which was selected by Amazon as one of the Best Books of 2016, and continued with Free Space (2017). While the first two were published in print and digital formats, this one is only available digitally.
Eeep! Is that a thing now? Hope that doesn't frustrate too many old school readers… I'm frustrated, and I haven't even read the first one yet.
[Click the images for mega-sized versions.]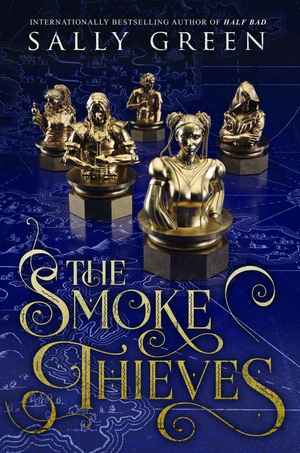 The Smoke Thieves by Sally Green (Viking Books for Young Readers, 544 pages, $18.99 in hardcover/$10.99 digital, May 1, 2018) — excerpt
The complicated lives of five very different characters (a princess, a soldier, a hunter, a thief, and a servant) intertwine in a magical land on the brink of war in this first installment in a new fantasy series.
Sally Green is the author of the Half-Bad Trilogy. Booklist calls The Smoke Thieves "A YA Game of Thrones," which kinda cranked my head around a little bit. Isn't that like a Disney remake of Debbie Does Dallas? Okay, okay, we don't judge, I forgot. Just go with it.
Compulsory Games by Robert Aickman, edited by Victoria Nelson (New York Review Books Classics, 368 pages, $17.95 paperback/$14.99 digital, May 8, 2018)
A collection of supernatural tales from the late World Fantasy Award-winning author of "weird stories."
This is a nice thick collection of "The best and most interesting stories by Robert Aickman, a master of the supernatural tale, the uncanny, and the truly weird."
If you've missed out on Aickman's profound impact on the modern ghost story until now, shame on you. It's not because we haven't tried — our previous coverage of Robert Aickman includes:
The Late Breakfasters and Other Strange Stories
Aickman's Heirs, edited by Simon Strantzas
Dark Entries
Collect the Complete Faber & Faber Editions of Robert Aickman's Classic Ghost Stories
Wrath of Empire by Brian McClellan (Orbit, 656 pages, $27 in hardcover/$13.99 digital, May 15, 2018) — cover by Thom Tenery
The Gods of Blood and Powder epic fantasy series continues with this second entry, which picks up amid war-torn turmoil for both soldiers (and those who would raise their own armies with the help of some ancient magic) and refugees (and those who are desperately trying to help them).
The Gods of Blood and Powder began with Sins of Empire, which Brandon Crilly reviewed for us here. He was pretty darn enthusiastic, too:
To my amazement I think it's one of my favorite books this year… Honestly, it's rare these days that an epic fantasy can hold my attention for this kind of length without boring me with the usual tropes or too much description or too many sideline stories. Sins of Empire is like the best parts of an action movie and a game of Dungeons and Dragons
See the complete article by Cheryl Eddy at io9 here.
io9's been pretty good to you lot recently.
io9 on Seven Princes
io9 Looks at the Megadungeon
io9 on The 20 Most WTF Magical Items in Dungeons & Dragons
io9 on All the New Scifi and Fantasy Books You Absolutely Must Read This Fall (2016)
io9 on January's Must-Read Science Fiction and Fantasy (2017)
io9 on the Must-Read Science Fiction and Fantasy Books for March (2017)
io9 on 20 Amazing New SF and Fantasy Books in May (2017)
io9 on the Must-Read Science Fiction and Fantasy of July (2017)
See all our recent New Treasures coverage here.