Future Treasures: Aickman's Heirs, edited by Simon Strantzas
Future Treasures: Aickman's Heirs, edited by Simon Strantzas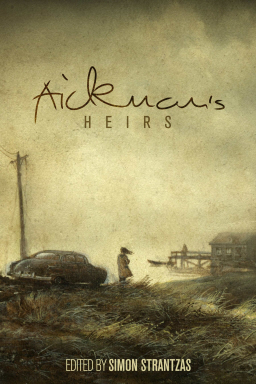 I admit that I'd never heard of Undertow books before March of this year, when they announced they'd be publishing the first volume of a new Year's Best collection, Year's Best Weird Fiction, edited by Laird Barron.
I've heard about them a great deal in the last few months, however. While I was at the World Fantasy Convention in November, I heard a lot of good things about their annual journal of the fantastic, Shadows & Tall Trees, edited by Michael Kelly; the sixth volume, Shadows & Tall Trees 2014, was released in trade paperback in June. And back in October, Undertow made the following announcement on their website:
Coming Spring of 2015, Aickman's Heirs, edited by Simon Strantzas, an anthology of strange, weird tales by modern masters of weird fiction, in the milieu of Robert Aickman, the master of strange and ambiguous stories. Editor and author Strantzas, an important figure in Weird fiction, has been hailed as the heir to Aickman's oeuvre, and is ideally suited to edit this exciting volume. Cover art by Yaroslav Gerzhedovich. Cover design by Vince Haig.
This is great news. Robert Aickman is one of the most revered ghost story writers of the past 50 years. In October I reported on the beautiful new Faber & Faber editions of his classic ghost story collections, Dark Entries, The Unsettled Dust, The Wine Dark Sea, and Cold Hand in Mine. Aickman's Heirs's will contain stories by Nina Allan, Michael Cisco, Brian Evenson, John Langan, Helen Marshall, David Nickle, Lisa Tuttle, and many others.
Undertow is an imprint of the highly regarded ChiZine Publications (whom we examined in detail just last week.) We discussed Simon Strantzas's fourth collection, Burnt Black Suns, in November.
See all our recent coverage of upcoming books here.