Vintage Treasures: Razored Saddles, edited by Joe R. Lansdale and Pat LoBrutto
Vintage Treasures: Razored Saddles, edited by Joe R. Lansdale and Pat LoBrutto
Razored Saddles is the first Weird Western anthology I can recall. It was published as a limited edition hardcover from Dark Harvest in September 1989; I don't usually buy limited edition hardcovers, but for this I made an exception.
I wasn't even aware there was a paperback edition until I came across a copy three years ago at the Windy City Pulp and Paper Show. I loved the spooky new Avon cover by Lee MacLeod, but that copy was priced at $25 — more than I paid for the hardcover! I'm pretty good at tracking down paperbacks though, and now that I knew it existed, I figured I could find one at a reasonable price. And sure enough, I did, although it took longer than I expected. With the help of an eBay Saved Search, I finally found the unread copy above in March… priced at $7, less than a brand new paperback.
Razored Saddles had two co-editors. Joe R. Lansdale needs no introduction; these days he's best known as the author of the Hap and Leonard series, crime novels made into the highly regarded series on SundanceTV. But he's also the author of over 50 novels and 26 collections, including The Nightrunners (1987), By Bizarre Hands (1989), and The Bottoms (2000). He has won ten Bram Stoker Awards. Pat LoBrutto began working with a summer job in the mailroom of Ace Books, and soon graduated to editing the US editions of Perry Rhodan with Forrest J. Ackerman in 1974. He won the World Fantasy Award for editing in 1986, and co-edited Full Spectrum 2 (1989). He is currently an acquiring editor for Tor Books.
[Click the images for saddle-sized versions.]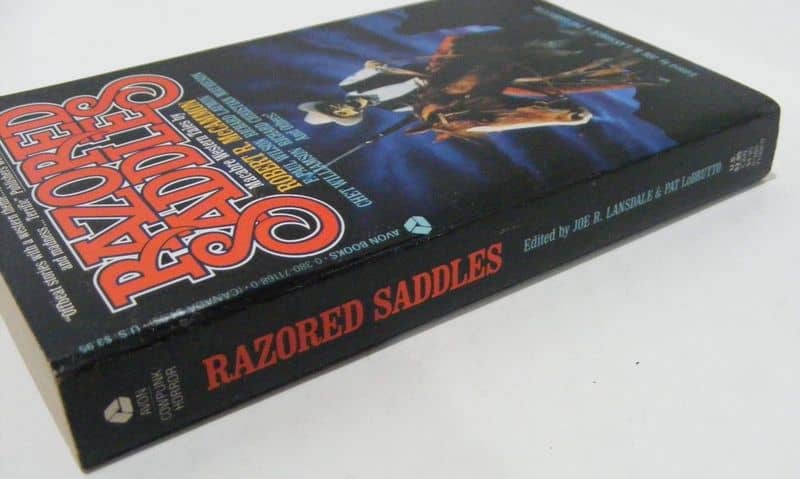 Razored Saddles was nominated for both the Locus Award and World Fantasy Award for Best Anthology.
It contains stories by Robert R. McCammon, Lewis Shiner, F. Paul Wilson, David J. Schow, Richard Laymon, Neal Barrett, Jr., Howard Waldrop, Joe R. Lansdale, and Richard Christian Matheson. It's most acclaimed story was Chet Williamson's "'Yore Skin's Jes's Soft 'N Purty…' He Said," which was nominated for the Stoker, Locus, and World Fantasy Awards.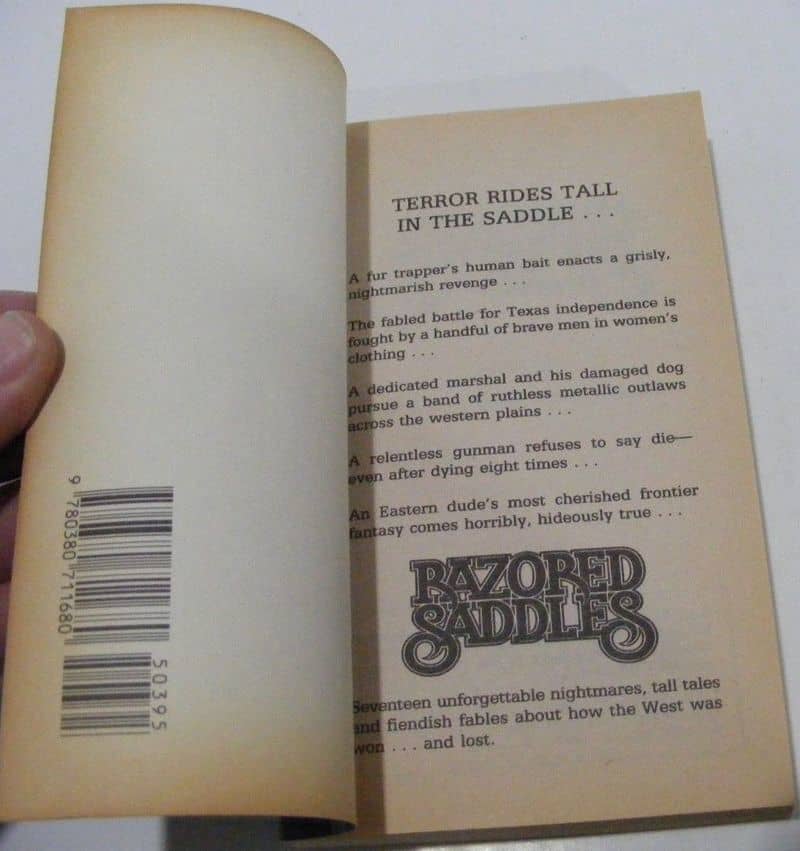 Here's the complete Table of Contents.
Introduction: The Cowpunk Anthology, by Joe R. Lansdale and Pat LoBrutto
"Black Boots" by Robert R. McCammon
"Thirteen Days of Glory" by Scott A. Cupp
"Gold" by Lewis Shiner
"The Tenth Toe" by F. Paul Wilson
"Sedalia" by David J. Schow
"Trapline" by Ardath Mayhar
"Trail of the Chromium Bandits" by Al Sarrantonio
"Dinker's Pond" by Richard Laymon
"Stampede" by Melissa Mia Hall
"Razored Saddles" by Robert Petitt
"Empty Places" by Gary L. Raisor
"Tony Red Dog" by Neal Barrett, Jr.
"The Passing of the Western" by Howard Waldrop
"Eldon's Penitente" by Lenore Carroll
"The Job" by Joe R. Lansdale
"I'm Always Here" by Richard Christian Matheson
"Yore Skin's Jes's Soft 'N Purty…" He Said" by Chet Williamson
Razored Saddles was published by Avon Books in October 1990. It is 285 pages, priced at $3.95. The cover is by Lee MacLeod. It has been out of print since 1990, and there is no digital edition.
See all our Weird Western coverage here.