Goth Chick News: Just When You Think There Is No Originality Left in Hollywood…
Goth Chick News: Just When You Think There Is No Originality Left in Hollywood…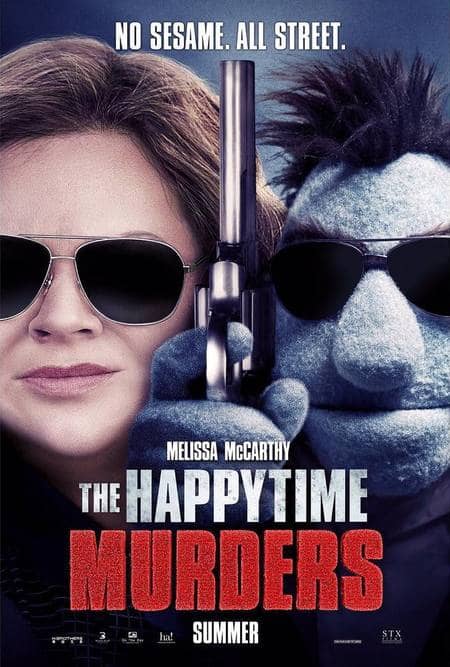 This may be the greatest movie news I have had so far this year.
I'm a tad embarrassed to admit this one completely snuck up on me but I recently got a link to the red band trailer (aka: too naughty for the average viewer) for the movie The Happytime Murders. Thinking this might be some sort of serial killer bloodbath, I skeptically had a look only to discover the greatest thing ever.
Per its logline, The Happytime Murders is a "filthy comedy set in the underbelly of Los Angeles where puppets and humans coexist."
Directed by Brian Henson, puppeteer, son of Muppets creator and master puppeteer Jim Henson and current chair of The Jim Henson Company, The Happytime Murders tells the story of two detectives with a shared secret. The human detective, played by Melissa McCarthy and her puppet colleague are forced to work together to solve the brutal murders of the former cast of a beloved classic puppet television show.
So, two things before you watch this.
First, I warn you this trailer is "red band" for a reason. Don't watch this at work without a screen protector and headphones. Second, in spite of the fact the level of humor here is so gutter that I feel I now need a hot shower, I laughed hard enough to cause the people in the upstairs offices to think there was something wrong with me.
Frankly, laughing that hard at this probably does constitute something being wrong with me.
Whatever… Judge for yourself.
In addition to Melissa McCarthy, The Happytime Murders stars Maya Rudolph, Joel McHale and Elizabeth Banks. Henson, McCarthy, Jeffrey Hayes and Ben Falcone serve as producers, though I seriously wonder what Papa Jim would think of his beloved puppets being put to this use. We're definitely not in the Labyrinth anymore…
The Happytime Murders hits theaters August 17.
Hysterically funny (assuming we didn't just see the best bits) or raunchy, don't-waste-your-time trash? Post a comment or drop a line to sue@blackgate.com. And PS to NOLAbert: I'll get around to telling you about A Quiet Place…promise.