io9 on Seven Princes
io9 on Seven Princes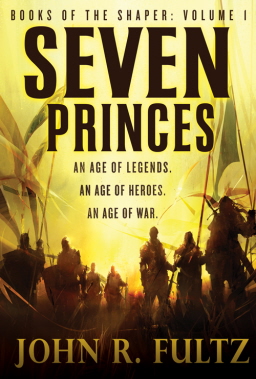 Nihilism got you down? Can't stomach yet another scene of rape and torture? Need a break from learning your eleventeenth language and living abroad? If so, then io9 has the prescription for your burning fever:
These days, fantasy novels seem to be all about realism. Or at least, semi-realism. … So it's a pleasure to read an unabashed over-the-top fantasy epic like John R. Fultz's Seven Princes, in which totally batshit stuff happens every few pages and the wonders aren't rationed at all. Fultz writes at a frenetic pace, as if worried he'll run out of pages before he throws in all the cool stuff he's thought up. It's kind of amazing.

…

What Seven Princes does have to offer, though, is breakneck pacing and nonstop insanity. Every few pages, foxes are turning into naked ladies or giants are going off to talk to the mermaid queen, or a long-lost race of blue giants is randomly discovered, or evil dark spirits are destroying entire kingdoms. It's epic with a capital EPIC.
And judging by the majority of comments, vitamin Fultz is the tonic lots of folks are craving.