Old Empires and Armored Planets: Rich Horton on The Sun Smasher by Edmond Hamilton and Starhaven by Ivar Jorgenson
Old Empires and Armored Planets: Rich Horton on The Sun Smasher by Edmond Hamilton and Starhaven by Ivar Jorgenson
Rich Horton has been reading through the Ace Double library over at his blog Strange at Ecbatan. His last few selections have been duds, but I'm optimistic about Edmond Hamilton's The Sun Smasher and Ivar Jorgenson's Starhaven, Double #D351, published in 1959. Edmond Hamilton was my favorite pulp SF writer, and "Ivar Jorgenson" was a pen name for none other than Robert Silverberg.  Here's Rich.
Each of these novels was published earlier in a single issue of a magazine, possibly (especially in the case of the Jorgenson novel) in shorter versions. The Sun Smasher appeared as "Starman Come Home" in the September 1954 Universe Science Fiction, while Starhaven appeared as "Thunder Over Starhaven" in Science Fiction Adventures for October 1957. (I suspect the Hamilton novel, which is the shorter of the two at about 30,000 words, probably is the same version as appeared in the magazine, but the "Jorgenson" story, some 40,000 words long or more, is expanded, as Silverberg discusses below.)

The covers of the magazine editions of these stories are something of a real delight, so I've reproduced them here.
I always enjoy Rich's reviews of classic SF. But when he starts throwing in vintage magazine covers, you know he's really speaking my language.
[Click the images. You know you want to.]
Universe Science Fiction isn't one of the vintage SF magazines I collect. Okay, that's a lie, I collect all of them. But I really don't pay much attention to that one, because it was only published for three years, from 1953-55. After the tenth issue, it changed names to Other Worlds.
However, Universe did have some terrific covers, from artists like Virgil Finlay, Robert Gibson Jones, H. W. McCauley, and others. The cover of the September 1954 issue was by Malcolm H. Smith.
Here's a peek at the contents of the rest of the issue.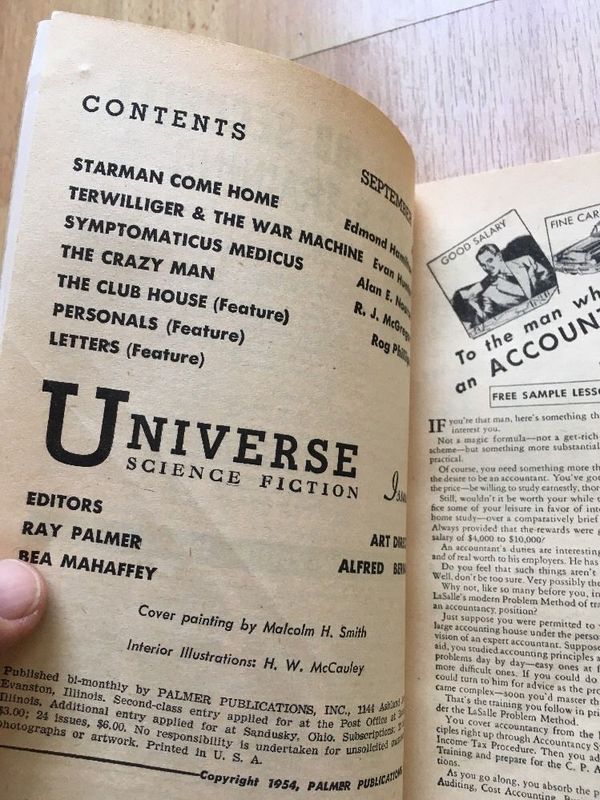 And the interior art for "Starman Come Home!" by Harold W. McCauley.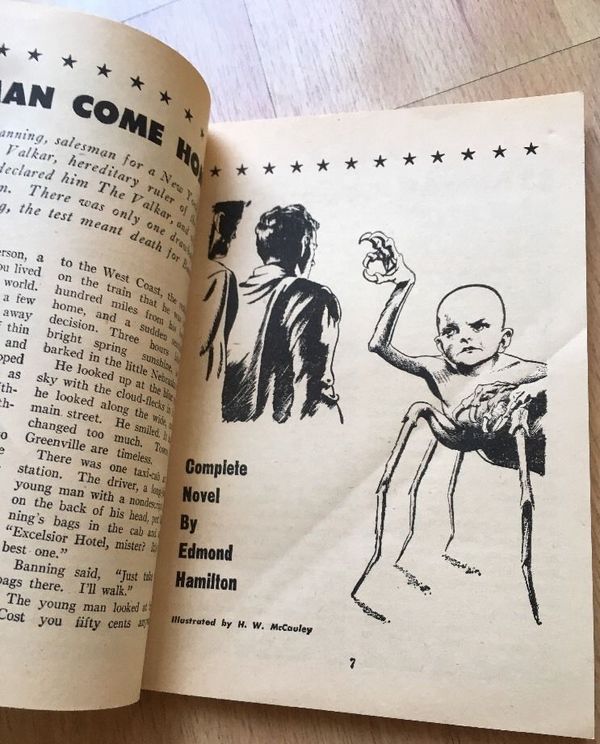 Here's a closer look at the cover art, for Hamilton's "Starman Come Home!" You gotta love how easy it is to throw a girl over your shoulder in zero-g. Also, red capes look damn cool.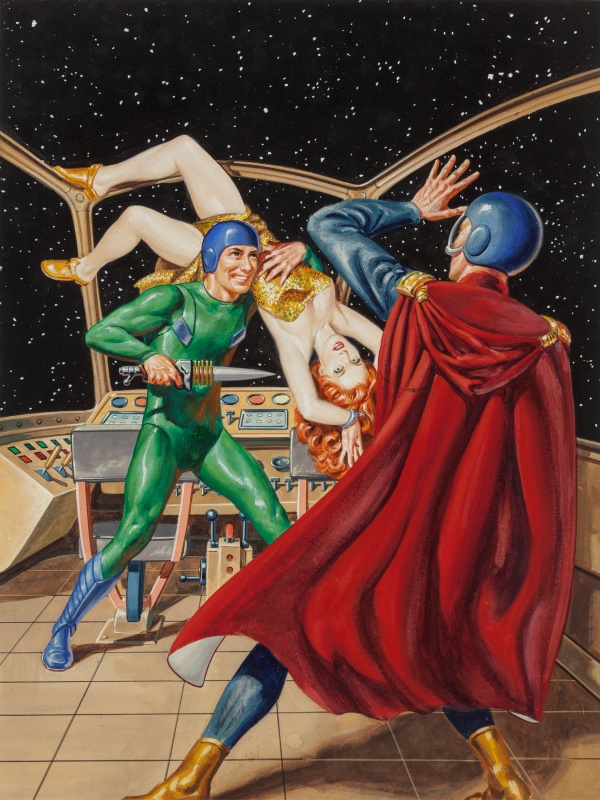 Here's Rich on the novel.
I said Hamilton was best known for his Space Opera, and indeed he was nicknamed "The World Wrecker." So The Sun Smasher seems a very appropriate title! And indeed it is Space Opera, though arranged to come to a slightly more thoughtful (if a bit too easily guessed) resolution than many such stories.

Neil Banning is a reasonably ordinary man working in New York City when he decides, on a whim, to visit his home town in Nebraska. But he is shocked when no one there remembers him or his parents, and his childhood home is gone – seemingly was never there. He is arrested, then rescued from jail by a man name Rolf who claims that Neil's real name is Kyle Valkar, and he is the last remaining member of the line of Valkars, who ruled the Old Empire 90,000 years before. Earth is a forgotten world, and Rolf tells him that a villainous scientist of the usurping New Empire erased his memory and dumped him there. Soon Neil – or Kyle, though Neil refuses to believe Rolf's story – is on his way to the ancient world where his family's capitol had been.

Rolf's plan is to kidnap Thoranya, the Empress, and to use her as a hostage to make the scientist Jommor restore Neil's memory. Then Neil – or Kyle – will remember where to find "The Hammer," a secret weapon which will allow him – and a small band of loyalists led by Rolf – to retake the throne…
As Rich mentioned, Starhaven also appeared first in a magazine, this time the October 1957 issue of Science Fiction Adventures, an issue which is also memorable for the Robbie the Robot clone on the cover. The cover art, illustrating "Thunder over Starhaven," is by Barry Waldman.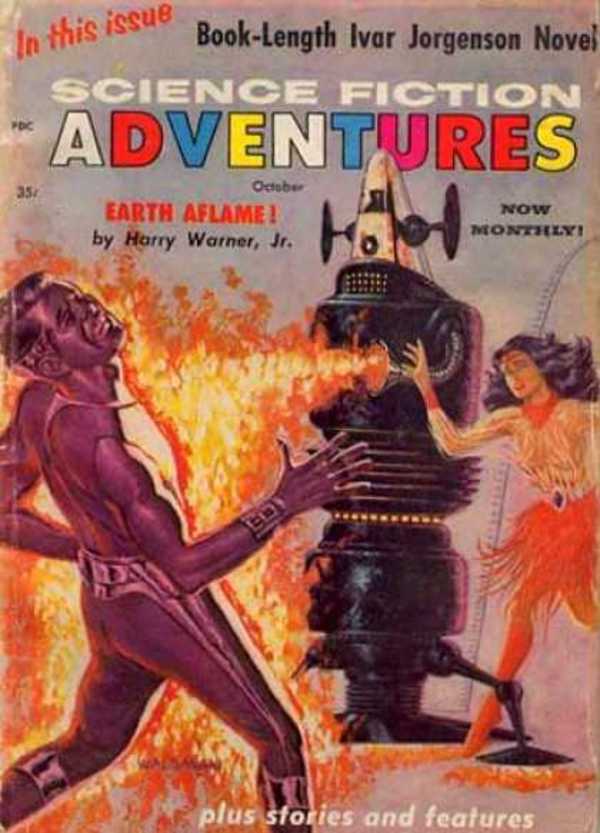 Here's Rich again.
Starhaven is one of Robert Silverberg's earliest novels. It was one of a rush of short novels that appeared between about 1957 and 1960, as part of his early prolific period, before his first "retirement" and later return with much more interesting and mature work. Silverberg's early stories are reliably competent work, smoothly written, efficiently plotted, and often at least attempting to engage with interesting ideas…

Johnny Mantell is a former armaments engineer who, frustrated by the failure of his company to support his ambitious designs, lost his job and turned to drink, and ended up a beachcomber living a subsistence life on a tourist planet. One day a tourist accuses him of stealing some jewelry, and one thing leads to another and the tourist ends up dead, and Johnny is on the run. He heads for Starhaven, an armored planet where criminals are welcome, and the Space Patrol is not.

Once there he meets the leader of Starhaven, Ben Thurdan, who rules as a somewhat benevolent tyrant, with only two rules: expect to be treated the way you treat others, and always obey Ben Thurdan. He is also intrigued by Myra Butler, Thurdan's secretary and perhaps girlfriend. Johnny is happy to be back doing productive work, but he is not sure how he feels about Ben's rule, especially when Ben kills a man who challenges him. But what can he do? He's a wanted man in the rest of space. And this is a pleasant place, especially when you consider the alluring Myra…
One of the fascinating aspects of this story is Silverberg's choice of pseudonym, "Ivar Jorgenson," a name more closely associated with Amazing Stories writer Paul W. Fairman, who created it in 1953. What's the story there?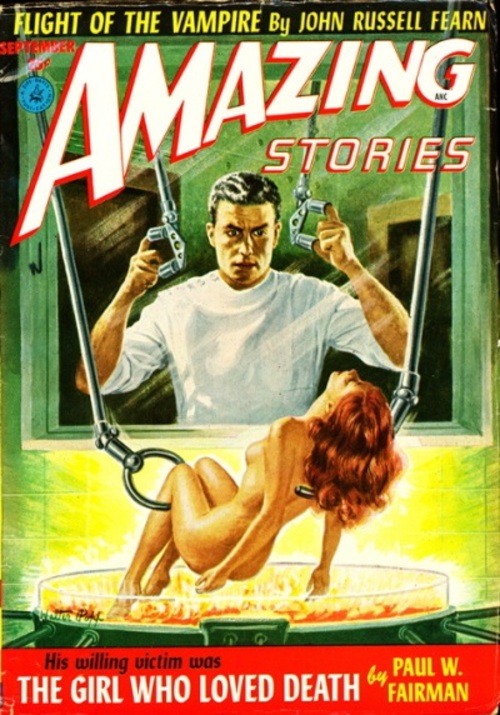 Rich does a splendid bit of literary research here, reaching out to Silverberg to get the facts. Bob's response is fascinating, not just a clear-eyed remembrance of publishing details from more than half a century ago, but also a terrific capsule history of how these magazines were packaged and filled pages in the fast-paced publishing world of the 50s. I found this the most interesting part of the review. Rich shares an extensive quote from Robert Silverberg; here's as much as I dared crib.
Paul Fairman was the original Ivar Jorgensen, and note the spelling of the name, the Danish form ending in "-sen." Fairman was a journeyman writer with no particular interest in SF, who did mainly western stories for the Ziff-Davis pulps… In 1956 Bill Hamling, a former Z-D editor who had declined to follow Z-D from Chicago to New York and instead had begun his own SF magazines, decided to shift those magazines to the Ziff-Davis formula of pulp action fiction written to order by a small staff of pros. Edmond Hamilton and Dwight V. Swain were the kingpins if this staff, and Randall Garrett and I, who were already part of Browne's Ziff-Davis stable, were hired to contribute 50,000 words a month of short fiction. Hamling stuck whatever pseudonyms he felt like on these stories, mainly old Ziff-Davis house names, and in the mistaken notion that Jorgensen was a house name put that byline on some of our stuff, in one case spelling the byline "-sen" on the contents page and "-son" on the story itself.

Also in 1956 Larry T. Shaw, who was editing the excellent new magazine Infinity, launched a space-opera magazine called Science Fiction Adventures, with stories modeled after the old Planet Stories. There would be two novellas per issue plus a few short stories. Though he was open to free-lance submissions, and bought some novellas by Jim Blish, Harry Harrison, and John Brunner, the bulk of the magazine was staff-written by the ubiquitous me. I had at least one long story in almost every issue, sometimes more.

When Shaw's Science Fiction Adventures had been going for a year or so, he decided to vary the two-novella formula by putting out an issue that contained one 40,000-word story, and commissioned me to write it. I gave him "Shadow on the Stars," later published by Ace as Stepsons of Terra. "Thunder Over Starhaven," however, was one of the shorter novellas (28,000 words). I thought that Ivar Jorgensen was a house name that anybody could use, and stuck that byline on it. Shaw used the "-son" spelling. At this point Paul Fairman, who had already voiced his annoyance at Hamling's appropriation of what had been his exclusive penname, complained more strongly, both to Shaw and to me. But the damage was done — Jorgensen/Jorgenson no longer could be considered Fairman's property alone.

I never wrote as Jorgensen again. Fairman did, and had three or four paperbacks published under that name, which are occasionally proffered to me for autographs at worldcons. I don't sign them.
Read the complete details at Rich's blog here.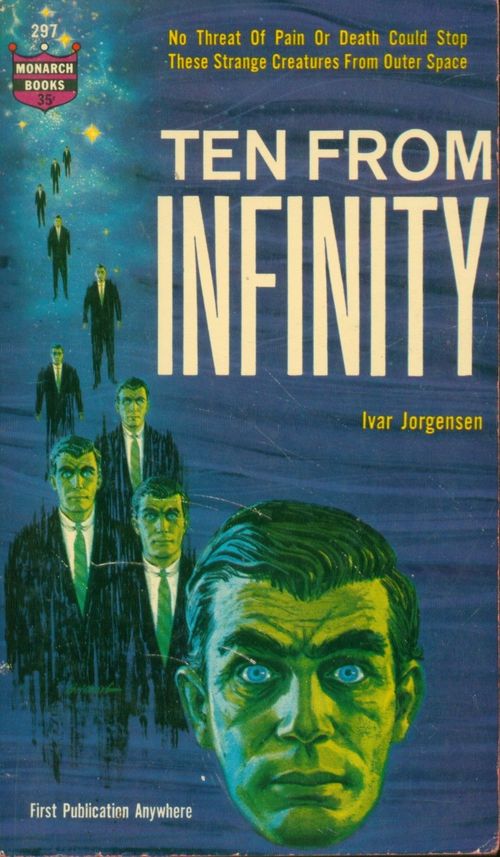 Silverberg says he "never wrote as Jorgensen again" after the October 1957 issue of Science Fiction Adventures, but I'm not sure that's correct. I count at least two additional appearances of Silverberg/Jorgenson, in Infinity Science Fiction, November 1958, with the short story "Ozymandias," and the novella "Hunt the Space Witch!" in the January 1958 Science Fiction Adventures (with an early cover by the great John Schoenherr).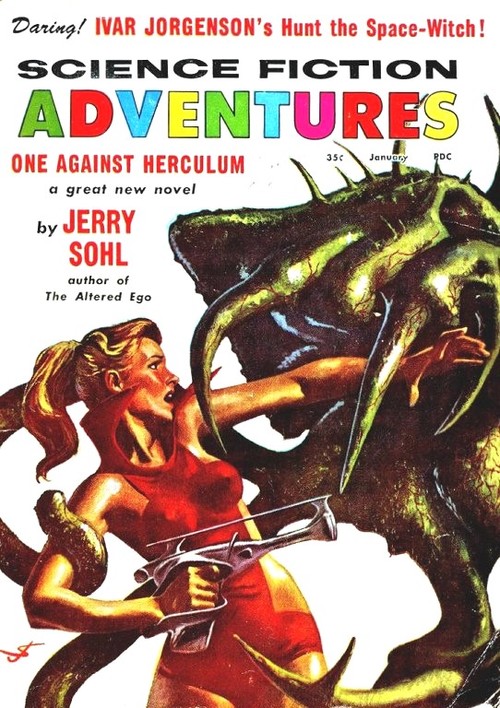 Rich's article is his 99th Ace Double review; his next, Alien Sea by John Rackham/C.O.D. Mars, by E. C. Tubb (1968) is his 100th! Stay tuned next month and we'll bring you the highlights (and maybe some cake).
The Sun Smashers/ Starhaven was published in 1959 by Ace Books. It is 110/146 pages, priced at 35 cents in paperback. The covers are by Ed Valigursky and Ed Emshwiller. The Sun Smashers has never returned to print, but Baen did produce two e-versions in September 2008, both a standalone digital edition and King of Stars, an omnibus volume collecting eight Edmond Hamilton novels that originally appeared between 1941-1966. Starhaven was published in a hardcover edition by Avalon Books in 1958, it has not been reprinted in any format since 1959.
Our recent coverage of Ace Doubles includes:
Star Kings, Virtual Reality, and Genetic Monsters: Rich Horton on Crown of Infinity by John M. Faucette/ The Prism by Emil Petaja
Invasion Fleets and Rogue Stars: Rich Horton on Who Speaks of Conquest by Lan Wright & The Earth in Peril, edited by Donald A. Wollheim
Generation Ships and Martian Rebels: Rich Horton on 200 Years to Christmas by J. T. McIntosh and Rebels of the Red Planet by Charles L. Fontenay
Rebellion Worlds, Rocklike Aliens, and Cubes from Space: Rich Horton on The Rebellious Stars by Isaac Asimov & An Earth Gone Mad by Roger Dee
Assassins, Mad Robots, and an Alien Hunt: Rich Horton on The Man With Nine Lives and A Touch of Infinity by Harlan Ellison
Star Pirates and Cyborg Games: Rich Horton on The Star Virus by Barrington J. Bayley and Mask of Chaos by John Jakes
Invaders of Pluto, and Brain Stealers of Mars: Rich Horton on The Ultimate Weapon and The Planeteers by John W. Campbell
Space Barbarians and Uranium Mining on Mars: Rich Horton on Empire of the Atom by A. E. Van Vogt and Space Station #1 by Frank Belknap Long
Dorsai and Secret Psi Powers: Rich Horton on The Genetic General/Time to Teleport by Gordon R. Dickson
Space Stations With Secret Passages, and Snow White in Space: Rich Horton on Sanctuary in the Sky by John Brunner/The Secret Martians by John Sharkey
Parallel Universes and Space Marines: Rich Horton on The Games of Neith by Margaret St. Clair/The Earth Gods are Coming by Kenneth Bulmer
The Problem With Marion Zimmer Bradley: Rich Horton on Falcons of Narabedla/The Dark Intruder
King of the Fourth Planet/Cosmic Checkmate by Robert Moore Williams and Charles V. De Vet & Katherine MacLean
See all of our recent Vintage Treasures here.