Ave Atque Vale: Celebrating the Life and Work of Michael Shea
Ave Atque Vale: Celebrating the Life and Work of Michael Shea
Michael Shea was one of the most distinguished and loved figures in the field of speculative fiction. He twice won The World Fantasy Award, and his work also received nominations for the Hugo, Nebula, Locus, August Derleth and International Horror Guild awards. Ranging from wildly baroque dark fantasy to cosmic horror and grimly humorous parodies of contemporary "reality" culture, his writing conveys the sense of wonder and awe that imaginative readers crave and appreciate, and one can develop an insatiable appetite for his work.
But since Shea's unexpected passing in 2014, many of us have been unable to slake that. That is, until the recent release of And Death Shall Have No Dominion: A Tribute to Michael Shea, which among many other things, contains three previously unpublished works of his fiction.
Briefly, and without spoilers: "In Memory Drive Slow" is a weird tale inspired by a handwritten sign the author once saw on a Sonoma Country back road. Then there is "King Gil Gomez and Monkey-Do," a novella Shea penned in the early 1980s inspired by the ancient Sumerian Epic of Gilgamesh. The longest piece is another novella called "Credit Card," which features the main character from Shea's Mythos tale "Copping Squid." "The Growlimb," a classic tale of supernatural horror, is also reprinted here.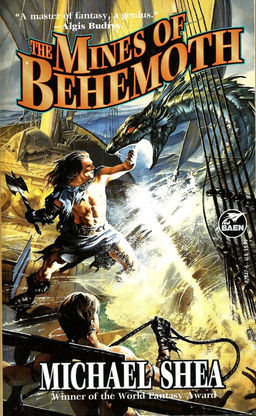 For a fan of Shea's work, the chance to read three unpublished works was very satisfying indeed. But what I found especially exciting was that this collection also offers glimpses of two unpublished novels.
The first is Epistle to Lebanoi, the fourth Nifft novel, in which "We find Nifft in the port town of Lebanoi where he goes to seek out demon spices from the infamous spice swamp. Nifft is quickly swept up in a pending demon war waged by the narn-son Gothol and his father, the mage Zan-Kirk, against the warlock's lover of yore, the witch Hylanais." What is provided here in full are the poems Shea included in the novel, and the editors have also skilfully summarized the parts of the manuscript surrounding the poems, providing context. What emerges through the reading of poems and summaries is a very interesting picture of how this new Nifft tale was meant to unfold.
The editors have done the same with poems from the unpublished novel Mr. Cannyharme, which features a San Francisco hotel dweller who is also "the immortal ghoul whose predations H. P. Lovecraft first revealed to the world in "The Hound."
A huge assortment of Shea's weird and fantastic poetry has been assembled here, published and unpublished, including verses that appeared in his novels and stories. One of the most magnificent pieces was the result of Shea first having published The Mines of Behemoth in serial form. Needing to provide brief summaries for each instalment, Shea, herculean imagineer that he was, went above and beyond the call of duty and compressed the entire novel into heroic couplets — leaving us with an epic, rhymed poem in which every line explodes with weird dark fantasy. It's a stunningly vivid piece in the narrative poetry tradition.
With such a large array of Shea's writing here collected, there is a lot to love about And Death Shall Have No Dominion. The book also includes a section of essays, in which Laird Barron, Jason V Brock, Cody Goodfellow, Sam Hamm, Maya Khosla (whose contribution is given in verse), Marc Laidlaw, John O'Neill, W. H. Pugmire, Jessica Amanda Salmonson and Jerad Walters pay tribute to Shea. Some of the more personal anecdotes clearly reveal why Shea was one of the most respected and beloved figures in the field of fantasy, horror, and science fiction.
The book also contains a portfolio of artwork illustrating Shea's stories by artists Michael Whelan, Alan Clark, John Stewart, Allen Koszowski and Steve Gilbert. A brief philosophical reflection on Horror written by Shea serves as an Afterward, and a comprehensive bibliography of his work is also provided.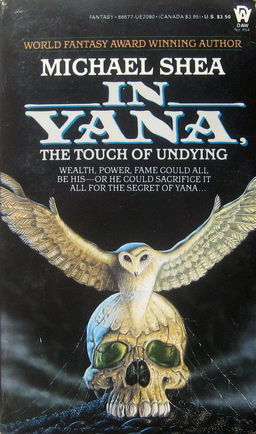 Edited by Linda Shea, who was Michael's wife for more than 30 years, and by weird fiction scholar S. T. Joshi, And Death Shall Have No Dominion: A Tribute to Michael Shea was published by Hippocampus Press in October of 2016. It's 277 pages and listed at $20.00 on the publisher's website. All in, it's a wonderful tribute to an even more wonderful fantasist who left us too soon.
Our previous coverage of Michael Shea at Black Gate includes:
The Color Out of Time: Michael Shea Takes a Dip Into Lovecraftian Horror by Nick Ozment
Vintage Treasures: The Color Out Of Time by Douglas Draa
What Price Immortality? In Yana, the Touch of Undying by Fletcher Vredenburgh
Black Gate Online Fiction: "Tsathoggua" by Michael Shea
Michael Shea, July 3, 1946 – February 16, 2014
And our survey of his published works, which appeared in the weeks after his death, included:
Nifft the Lean (1982)
The Color Out Of Time (1984)
In Yana, the Touch of Undying (1985)
The Mines of Behemoth (1997)
The Incompleat Nifft (2000)
The A'rak (2000)
The Extra (2010)
Assault on Sunrise (2013)
Polyphemus (1987)
---
Wade German's poetry has appeared in Spectral Realms, Dreams and Nightmares, Weird Fiction Review, Nameless, Black Petals, Space and Time, and many other books and periodicals. His collection Dreams from a Black Nebula was published in 2014 by Hippocampus Press.