Why I Went Old School — or Swords & Wizardry vs. Pathfinder
Why I Went Old School — or Swords & Wizardry vs. Pathfinder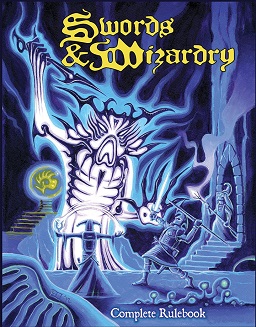 When I got back into playing RPGs, I chose Pathfinder over 4th Edition D&D (as a whole lot of people seemed to do). I was familiar with 3rd Edition and the plethora of rules, skill checks, etc… I'm still pretty well versed in Pathfinder, which is a great product, and I'm a big fan both of Golarion, the campaign world, and of the company, Paizo.
Two members of my gaming group have never played an actual pen and paper RPG. One (she) is a hardcore World of Warcraft player, and the other (he) is a veteran PC gamer, with a lot of hours on Baldur's Gate and Oblivion (among others). Both have also played the Pathfinder Adventure Card Game: Rise of the Runelords (which I LOVE!) with me. So, they get the skill check concept.
I decided to run them through a dice-rolling, paper mapping, minis on said paper, character-sheet adventure.
I initially considered Pathfinder. I have a lot of resources available, and I definitely know the system well enough to teach it to them. I even have a Beginner's Box, still in the plastic (how about that, John O'Neill!).  But I quickly discarded that system.
Pathfinder is extremely rules heavy. I've seen it grow over the years and, as seems inevitable for any ongoing, lively edition, suffer from rules bloat and options bloat. The last game I ran, I limited players to the core rulebook just because I didn't want to deal with so much "stuff." Also, I'm not particularly interested in half-angel, half-goblin mammoth-riding gunslingers.
BTW – Gary Gygax had some very specific thoughts related to the expansion of the game (presumably through options), in his book, Role Playing Mastery:
Too often, new material purporting to add to a game system is nothing more than a veiled attempt to dominate the game milieu through power, not skill. Such creativity, if it can be called that, amounts to a perversion of the game. It is much like cheating at solitaire. Understanding the scope of opportunity offered to PCs by the game system will certainly discourage the intelligent player  from such useless activity.
The only other system I've looked into over the past few years is Swords and Wizardry (S&W). S&W is a retroclone. I talked about retroclones in Part Two of my history of the RPG companies, Necromancer and Frog God Games:
The OGL (Open Gaming License: see Part One of this essay) resulted in whole new competing RPGs, like Mongoose's Conan: The Roleplaying Game, and Pathfinder, from Paizo. But another group emerged, for those who wanted to recreate prior editions of Dungeons and Dragons using the OGL. OSRIC (1st AD&D) and Labyrinth Lord (Tom Moldvay's Original Basic D&D) are two of the better-known retroclones.

S&W, created by Matt Finch (and who was also involved in the creation of OSRIC) is a streamlined and moderately expanded version of the original D&D (0 Edition). Players of original D&D may remember how inconsistent (and undeveloped) the rules were. S&W brought all that together, added some options (like the Ranger class), and presented a coherent version of that system.

In the aforementioned post, fantasy author and Black Gate Managing Editor Howard Andrew Jones described the retroclone movement as, "A real backlash against the rules-heavy material that bogs down games."
So, I decided to essentially run a scaled down game that is less rules heavy and more in the style of a game from the seventies. Now, don't think I'm talking about "this is how we did it back when I was growing up" and shaking my fist at those young whippersnappers on my front lawn. There's a pretty fair chance that my Pathfinder library is at least equal to yours. I just wanted to give them a different experience. "So, different how?" you say. Well, I'll tell you.
Finch wrote a thirteen page tract, A Quick Primer for Old School Gaming, which you can download free. He makes the following statement:
Playing an old-school game is very different from modern games where rules cover many specific situations. The 0e rules don't give you much specific guidance, and that's not because they left out the answers to save space. Treat it like a game you've never seen before, a game where the rules give guidelines and the referee interprets those guidelines.
Then he lists what he calls "Four Zen Moments." The Moments are a pretty good way of highlighting the differences between an old school game and a game with a more modern rule set.
I – Rulings, Not Rules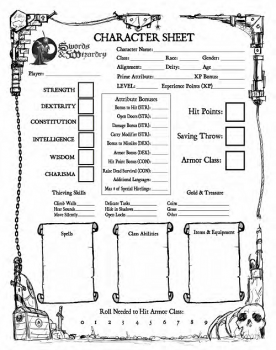 Pathfinder has a rule for just about everything. What you can and cannot do is likely somewhere in some rule book. S&W, like the early version of D&D, leaves a lot of open space where you can't answer a question with the rule book.
In essence, a player tells the Referee (Game Master, Dungeon Master, Judge) what they want to do and how. The Referee then decides if they can do it – in some form or fashion. The result may be exactly what the player intended. Or, it may be something different, requiring a new response. As Finch says in the Primer:
Many of the things that are "die roll" challenges in modern gaming (disarming a trap, for example) are handled by observation, thinking, and experimentation in old-style games. Getting through obstacles is more "hands-on" than you're probably used to. Rules are a resource for the referee, not for the players. Players use observation and description as their tools and resources: rules are for the referee only.
Here's a look at an S&W character sheet. It's pretty similar to the 1st Edition sheet, which is the one I began playing with.
Now below, we've got a Pathfinder character sheet. Bit more going on, eh? The player 'goes to the sheet' more in a rules heavy game. In S&W, play is more verbal-centric. The Referee uses the extant rules as a guide, but will need to make subjective rulings throughout the adventure.
As in any game, it's up to the Referee to run things fairly. A less heavy rules system would seem more prone to abuse, but really, a Referee has almost all the power, no matter what rule set is used.
So, game play uses a more verbal, descriptive approach, rather than an 'every situation is covered by a rule, roll the dice' one. Which leads to the second Moment.
II – Player Skill, Not Character Abilities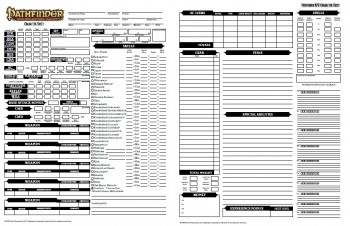 I used this when explaining S&W to one of my new players. Now, in Baldur's Gate, he would click on the 'Find Traps' skill and if a trap was nearby, it would be outlined on screen in a red box if detected. And he is aware that in a modern game (like Pathfinder), you would roll a 20-sided dice against your Find Trap skill.
But I explained it won't work that way in S&W. After I described the environment, he would have to tell me how he goes about looking for traps. Does he examine the ceiling? Does he roll a round stone across the floor? Does he put his fingers in the mouth of the idol (always a dangerous move!)?
To try and bluff your way past the guard at the city gate, you don't simply roll against your Bluff skill. You have to tell the same story to the Referee that your character is telling to the guard. With appropriate gestures (heh heh).
The Referee may simply determine whether it worked or not. Or if the try was plausible, they may roll a dice against the character's Charisma score, with a bonus or penalty, depending on how good the story was. So, even though there is a version of a skill check involved, it's driven by the player action, not the character sheet.
And player skill involves running away. I remember running a lot in my early playing years. And sometimes you would run from one thing into something worse (more on that in Moment Four). Staying alive wasn't always easy, but it was the goal. And also, because you earned experience for treasure, not just monster killing, simply fighting everything you ran into in every room was not the smart way to go. You got better as a player, not as a dice roller.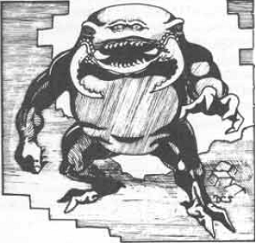 And as I recall, we talked with monsters a lot more frequently in my early gaming than we do in Pathfinder. Now, that's a function of the Referee, and a modern Ref can certainly play monsters that way. But modern gaming certainly seems to be built more on killing the room than in negotiating with monsters.
And my two players, with their MMO/PC gaming background, are going to have to adjust their gaming style. Just moving room to room expecting to kill everything they encounter, is going to lead to a lot of new character rolling. Which is another aspect: death.
Death in video gaming is easy. You either respawn (like in Age of Conan which I play) or simply load a saved game and try again (I did a lot of that in Neverwinter Nights). Death is common and barely an inconvenience. That's not gonna be the case with pen and paper. Not a lot of raising of the dead going on at first level. If you're fond of your character, you better work hard to keep it alive.
III – Heroic, Not Superhero
I started with Basic and Expert D&D, then moved fairly quickly into AD&D (still my favorite experiences). I read a lot of 3rd Edition but didn't play it much (I was pretty much a PC gamer by then). And then I got pretty deep into Pathfinder. As the game evolved over the years, power creep became very obvious. A 2nd level Pathfinder character is a much tougher opponent than a comparable 2nd level S&W one.
Finch makes the comparison to being like Batman, not Superman. And you don't start out as Batman – that's what you work your way towards. You start out as Bruce Wayne and become Batman. You're not Superman, jumping buildings from the start.
Getting to eighth level in old D&D was a major accomplishment. That's just a waypoint in Pathfinder. Characters are superheroes by 5th or 6th level and still are going a long way. 1st Edition Basic D&D was levels 1-3. The Expert Set expanded the game to cover levels 4-14. Not mega-power stuff.
So, in S&W, the aforementioned player skill is going to be a huge part of keeping your character alive. Because the game itself isn't going to load it up with skills, feats and bonus attributes (the 'To Hit' Strength bonus is capped at +2 – and it's only for Fighters!). And we're used to spell casters struggling along for a level or two before they really get going. A first level Cleric doesn't even have a spell, unless their wisdom is exceptional! Since levels come harder, keeping non-melee characters alive takes talent.
Of course, along with abilities and skills, player love magic items. And a part of power creep has been the proliferation of magic items. A +1 dagger is barely worth noticing these days. But that's a notable treasure for a lower level character in old school gaming.
I get it. Upgrading armor, weapons and other magic gee-gaws is a huge part of the video gaming experience. Recently, my Age of Conan Barbarian got a sweet off-hand sword, which let me switch my main combat from a massive two-handed axe to dual wield. That doesn't happen without the cool magic item. But dungeons aren't basically magic item shops in S&W.
All this combined means the player isn't going to have a super-human character in a hurry; or maybe not at all. But they'll still have a competent hero that should be up to the challenges coming. If the player is good enough.
IV – Forget "Game Balance"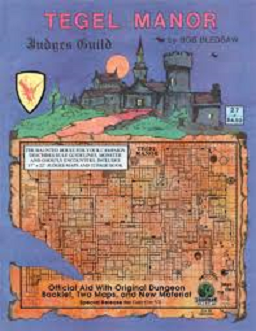 I like a structured adventure. I don't even mind being railroaded (am I allowed to say that? 'Railroading' seems to be viewed as a cardinal sin). So, the aspect of linear modules, with the monsters arranged in a certain way, doesn't bother me.
But in old school D&D, 'level appropriate' was pretty irrelevant. I was a Judges Guild fan (they've tried my patience with their massively overdue City State of the Invincible Overlord Kickstarter) and enjoyed Tegel Manor. Tegel was a giant mishmash of rooms and monsters. There was no plot or storyline. You were just exploring a MASSIVE manor house, running into encounters all over the place. Many parties carved out an area of the house and made it their adventuring base.
But you could fight orcs in one room and run into a 5 HD monster in the next. Or worse. It wasn't intended that you fight everything you discovered. The Black Monastery, from Frog God Games (makers of S&W), is a tribute to Tegel Manor and while it can have something of an over-arching storyline, it's very much a random dungeon crawl in a very unbalanced setting. It's a true throwback.
Which means the players have to be less reckless, more creative and maybe more tolerant of getting killed. And with less reliance on dice and rules for the players, as I mentioned earlier, the Referee has an even greater responsibility to be fair. That's balance on both sides.
An Example of the Difference
So, I had to choose a method for rolling up a character. I've done that many different ways over the years. I considered a couple and went with letting the player roll three sets of six 3D6. They picked which set they wanted to use, then assigned the scores to the six attributes (Strength, Dexterity, Constitution, Intelligence, Wisdom and Charisma).
This gave them some flexibility, but still put some constraints on them. The Baldur's Gate player grumbled a bit that he just wanted to reroll until he got a set he wanted, which is how PC games work. Then, you can add and subtract from the rolls to get the attribute scores you want. Nope.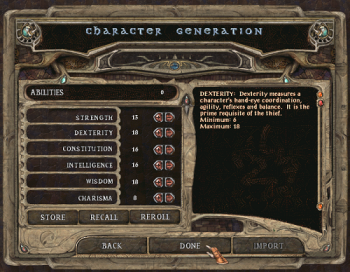 He also downloaded a dice rolling app on his phone, but I disallowed it. I told him there's something to the sound of those dice bouncing on the table (or off the table onto the floor…).
Since this is their first game and I want them to enjoy the experience, after they picked which set to use, I let them reroll the lowest value. That helped one player (to no real effect), while the other player rolled the same number.
Each player will be running two characters, with me running an NPC. The Baldur's Gate veteran took a Fighter and a Thief. For going through the Hall of Bones, that is a pretty good combo, as they could see traps, and as you'll agree in the next paragraph, a tank is going to be huge.
The MMOer chose a Druid and a Magic User. I think those reflect her gaming background. In an MMO, those are classes that can become powerful quickly. Especially if the Druid is some kind of shaman class that can shapeshift.
But both characters will both have only one spell at first level; have 1d4 hit points; and the Magic User can't wear armor, while the Druid can only wear leather. In a dungeon. To get that outdoors feel, a Ranger would probably have been a better choice. I see a lot of "I ready my sling" from her characters.
Looking at the party balance, I rolled up a dwarven Fighter/Cleric. His wisdom was high enough that he scored two spells, instead of the usual none for first level. So, bit of a tank and a healer, which the party needed.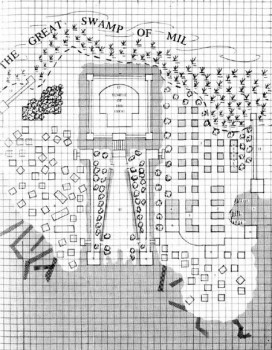 Hall of Bones (a nine room dungeon) is going to be an introductory adventure for them to get the feel of things. After that, they're going to be given the option to roll new characters, then we'll be tackling two of the earliest 3rd Edition modules (from Necromancer Games), The Wizard's Amulet and The Crucible of Freya, followed by some time in The Tomb of Abysthor, which is my all-time favorite module. [Unless I switch to The Lost City of Barakus, which is another favorite.]
Finch's Primer also includes some helpful tips for players and Referees. All in all, it's a valuable little gem for the Old School Renaissance movement. The best I've seen of its kind. And it's free! Speaking of free…
The Swords & Wizardry Complete Rulebook is and always will be free, due to a goal being met during the Sword of Air Kickstarter. And there are many adventures available, from small to epic, because most of the Frog God Games products are made for S&W as well as Pathfinder. This includes additional material, like the massive Complete Tome of Horrors.
If we had more players, I might even try running Dave Arneson's 'Temple of the Frog', which is, I believe, the first Original D&D adventure published (in the Blackmoor supplement), barely beating out Palace of the Vampire Queen.
We'll see how the initial adventure goes, possibly with a post after Hall of Bones is done to analyze things. I've already pondered a similar post to this one, but looking at the Pathfinder side of the argument, because I fully understand the 'better because it's more complex' approach as well.
And if you're interesting in more of Gary Gygax' own thoughts on playing, there's a thread over on the Paizo boards about his book, Role Playing Mastery. I run it and there is some excellent commentary from various posters. The guy who created the Thief class even jumped in! I posted about the thread here at Black Gate: it's got a link over to the Paizo boards. That post includes Gygax' '17 Rules For Rule Playing Mastery'. They're worth checking out.
UPDATE 9/9/16
– The third member of our gaming group, a veteran of AD&D and Pathfinder, is joining. So, he's grounded in pen and paper (with PC game experience). And a fourth member passed, preferring hack and slash, character optimization and minimal role playing. So, this experiment in RPGing has already provided some interesting data.
UPDATE 9/15/16
– We had our first session. The third member's wife is a veteran fantasy reader but had never RPGed before. She decided to play, so we added another element into the mix. The original two players forgot their characters, so they re-rolled one each, giving us four players and four characters. We ended up with Crom, a dwarven fighter (RPG veteran), Honest the Thief (PC gamer), Danger the Ranger (WoWer) and Polgara, a cleric (newbie). The WoWer dropped the Druid in favor of the more useful Ranger (2d8 HP is huge at first level). And the newbie passed on a Magic User after discussion of how they can't really do much at first level.
Equipment purchasing was fun (they debated but passed on a 10′ pole) and they astutely grabbed a few holy waters. The mayor of the village approached the party and offered them 50 gold each, plus any treasure they find, to go into the valley and look for a necromancer who was causing some problems. Honest wanted to negotiate for more money. The rest of the players, who wanted to get things going after the rather long process of character creation and gearing up, wanted to get things going. So, they talked him down and the Ranger jumped in and took over, agreeing to terms. Though Honor's player did point out that the mayor had no right to offer to let the party keep what they found. It would be theirs anyways!
I started them on the overland trek portion of Bill Webb's MCXLMMV (1975). If they stick to the road through the valley, there are various encounters. For the mini-dungeon necromancer lair at the end, I'm going to switch to Matt Finch's Hall of Bones module. I don't think this is really a campaign group, so they'll likely end up in Finch's Grimmsgate for the finale, as opposed to Frog God's Stoneheart Valley or Lost City of Barakus.
They spent some time checking out an obelisk (there's nothing to it). I moved things along by having some thunder clouds start rolling in towards the obelisk, then dissipating when the party moved on.
Next up they had a brief look at a suit of armor by the roadside, but nothing there. Already, a pattern had been established. The Thief and the Ranger keep telling the other one to investigate, move ahead, etc. They are coworkers and I think it's a social thing, rather than an RPG thing.
Then, as the party approached a dilapidated building with only two walls up, some arrows came flying at them but completely missed. They were under attack from bandits! Using the first alternate combat rules, the party advanced with a flanking approach. The Ranger put an arrow through one bandit's knee, while the fighter bashed another bandit to the ground, unconscious and bleeding a lot. The cleric advanced and wanted to "double tap" the unmoving bandit. Out of game discussion encouraged her to go after the one still awake. Even her 12 year old daughter, who had come in and was having fun watching and commenting, urged her to do so. The cleric stood resolute. I should have let her smack the (dead) bandit. But I had her roll. A 2! So I had her miss, narrowly avoiding smacking the fighter (her husband) instead. That got a LOT of laughs.
The Thief threw a dagger and killed the first bandit. No one had looked up and the third bandit, crouching on the top of a wall, shot at the lightly armored Thief. And missed. They quickly killed him as well. It was an action-packed encounter with the bandits going 0 for 3 with their bow shots. And there was a lot of fun at the table.
The final part of the evening involved following the trail up along the side of a cliff wall, with  door, covered by vines, in it. After much discussion (and more "You go Ranger – no, you go, Thief"), the Ranger walked up to the door, with the Fighter beside her, and…..knocked on it! I did NOT expect this. If he had looked, the Thief almost certainly would have detected the bells hidden in the vines. So, the bells go off and the Ranger and Fighter scurry up the path a bit. The Thief and Cleric had stayed further down the trail, not moving up to the door. An Ogre comes out, followed by a bear! Remember that bit in this post about game balance?
The Fighter and Ranger take off running further up the path. The other two run back the way they'd come. The party was split! Unfortunately, we had to wrap up due to time so I had the Ogre and Bear end up retreating back into their lair. The Thief and Cleric hurried past and rejoined the others.
We'll probably do a little more overland next session (we meet less than once a month) and then I'll put them in the dungeon.
Some thoughts: The WoWer commented that her experience is that if you see something, you go up to it and do something (attack, knock, whatever). So, she is already recognizing the difference in playing a pen and paper game. Also, the first time player had a good time. So, a convert has been made. Even her teen daughter, who probably started the evening dubious about her parents and some other old people sitting in the dining room playing some kind of dice game, had fun watching and commenting.
I definitely had to remind them to role play a lot, not just say what action their character was taking. That will get better with repetition. I planned on experimenting with two combat styles: the first alternate which I used (the simplest) and the base rule, which is a bit more complex but essentially lets each side move and use ranged attacks before melee starts. This keeps one side from pretty much wiping out the other before they get to do anything. Which is essentially what happened in the bandit attack.
But a successful first session that everybody enjoyed. We'll get much more play in next time with no character creation needed.
UPDATE 10/05/16
-We managed a second session less than a month after the first one! That's unusual for my group. The party continued their overland party, coming upon a group of goblins holed up in the tumbled ruins of a temple. Only one goblin was awake and the party got the drop on him. However, the Ranger and the Thief failed to dispatch him silently with simultaneous bow shots and he cried out in alarm, waking up the other goblins.
Regarding game balance – the goblin Shaman had a Sleep spell – no save! He could have put the entire party out with almost no trouble. I had him cast Charm Person on the fighter instead. He failed and was chopped up shortly thereafter. But that is one powerful first level spell!
The party couldn't identify the dagger they took from the goblins and advanced to the cave, which provided entrance to the Necromancer's lair. The Thief (who had TERRIBLE rolls) detected the  pit trap and the party descended to the first room. They found their way to the Chapel of Muir (we've now switched from MCMLXXV to Hall of Bones) and loaded up on holy water. The Thief wanted to bathe in the water to get some beneficial effect. I was actually at a loss. Had he been Chaotic, I would have had some fun with that.
The dwarf yanked open a door covered in purple mold and was immediately rendered unconscious. The party pulled him out via a grappling hook and chipped off the mold before he was suffocated. They set a barrel on fire and rolled it into the room, burning off much of the mold. That was pretty creative.
They then ambushed a pair of ghouls without too much trouble. The session ended when they opened a door to a huge cavern, festooned with giants spider webs. There's a cage about 20 yards into the room. They were split on whether to run to the cage or not and settled for throwing a torch into the cavern. Some webs caught on fire and a whole lot of loud scuttling and web vibrations went on. They closed the door, still in the room. Session ended.
Clearly, pulling open doors is something this group does instinctively. The first time, it was the World of Warcrafter at the Ogre's lair. This time it was the AD&D/Pathfinder veteran, so it's not attributable to 'old vs. new' school.
We'll see what they decide to do in session three.
Other Game/RPG-related posts I've done here at Black Gate:
The Lost Lands for Pathfinder
The Northlands Saga – Complete
The Warlords of the Accordlands
Judges Guild Premium Editions
Gary Gygax's Role Playing Mastery
Munchkin!
Runebound
Runebound – The Sands of Al-Kalim
Runebound – The Mists of Zangara
Necromancer Games (Part One of two)
Frog God Games (Part Two of two)
Dungeons and Dragons Adventure Game System
D&D Adventure Game System – Temple of Elemental Evil
Dungeon! Board Game
Sherlock Holmes: Consulting Detective
221B Baker Street: The Master Detective Game
Conan: Age of Exiles
Steve Russell of Rite Publishing – RIP
---
You can read Bob Byrne's 'The Public Life of Sherlock Holmes' column here at Black Gate every Monday morning.
He founded www.SolarPons.com, the only website dedicated to the 'Sherlock Holmes of Praed Street' and blogs about Holmes and other mystery matters at Almost Holmes.
He is an ongoing contributor to The MX Book of New Sherlock Stories series of anthologies, with stories in Volumes III, IV and the upcoming V.