Alan Moore's Jerusalem Arrives Next Week
Alan Moore's Jerusalem Arrives Next Week
Alan Moore is one of the most celebrated writers of the last 30 years. His most famous work — including Watchmen, V for Vendetta, From Hell, Batman: The Killing Joke, and The League of Extraordinary Gentlemen — is arguably the canonical literature of modern comics. And let's face it, whether you're a comics reader or not, the most valuable media properties on the planet today (Batman, Iron Man, Superman, X-Men, Spider-Man, Captain America, and Deadpool, just to name a handful) all trace their first seminal steps into the world of adult literature directly to the early comics of Alan Moore.
Jerusalem is — by far — Moore's most ambitious work. Among comics fans it has acquired an almost legendary status, as Moore has been working on it — and dropping cryptic hints about it — for roughly a decade. In his 2012 review of Moore's first novel, Voice of the Fire, Matthew David Surridge summarized some of the anticipation surrounding Jerusalem.
How do you follow a book like this? Moore's currently working on his second novel, Jerusalem. It's scheduled for publication in autumn of 2013; reports suggest it'll be 750,000 words long (about the length of two volumes of A Song of Ice and Fire put together), be set entirely in an area of a few city blocks in Moore's home of Northampton, and, according to Moore, disprove the existence of death. It'll be concerned with time, different chapters set in different eras; like Voice of the Fire, it seems. What transformations will we see in it? How different will it be? Voice of the Fire's a strong book that, in its ellipses, promises more. Now that we shall have. What spirits shall we see? What work shall it accomplish?
At 1280 pages, one thing's for certain: Jerusalem certainly delivers more. What's it about, then? Well, that's sort of hard to describe.
Based on Moore's past descriptions of the novel, I rather expect there will be far more copies sold than actually read. Unlike most of his comic work, Jerusalem doesn't sound like a fast-paced read. Reportedly, the author challenged himself to write each chapter in a totally different style. Here's his 3-sentence description from 2014:
I've done a chapter that's like a mid-sixties New Wave, New Worlds Michael Moorcock-era science fiction story. There's one that's like a piece of noir fiction. It's all these different styles…
The early reviews are now starting to trickle in, and they're tantalizing and enigmatic… much like the man himself. In her article "No, Alan Moore Isn't a Recluse" for Publisher's Weekly, ex-Vertigo editor Heidi MacDonald does a fine job summarizing a book that may be unsummarizable.
Jerusalem is an astonishing collection of words and ideas that weaves a hypnotic spell… Jerusalem is Northampton as well. A map of the center of town is printed in the endpapers, like the map in many a fantasy novel, but instead of tracking the journey through a Narnia or Westeros, it's a world of common alleys and sordid churchyards where ordinary humans play out the intricate art of living, dying, and remembering, and an occasional dark menace — human or otherwise — appears fleetingly just beyond a garden wall…

The novel's origin lies in Moore's contemplation of his own mortality. He found various conceptions of the afterlife lacking… He realized that the afterlife he'd like most was simply "my lovely, untidy house, all of my books, my wife and my children, and my friends, and my childhood, and all of my experience — but just forever." Moore found a solution that was "startlingly easy": he wrote an immense novel that encompasses all of his feelings for home and family…

His empathy for his characters took a dangerous turn when he wrote the chapter based on Lucia Joyce (daughter of James Joyce), who died in a mental institution in Northampton, which is written in a complex invented language. Moore had to take over a year off from working on the book when he finished this section… Yet "the torturous mind-bending part of it was actually the part that I enjoyed the most. It took me almost two years to recuperate from it. But it was ecstatic and probably the most enjoyable thing I've ever written."
As his long-time fans are aware, Moore has never been one to shirk from a challenge. And for Jerusalem, he pulled out all the stops. He even painted the cover. (Which looks hideous, in my opinion, but I'll reserve final judgment until I see it up close.)
So is this massive, ambitious, crazy patchwork of a novel readable?
In his glowing review for Entertainment Weekly, Darren Franich seems to think so. Although he's rather free with his comparisons to the notoriously difficult (translation: famously unreadble) Finnegans Wake, which might give you pause.
James Joyce, much? Yes, yes, very much. Many of Jerusalem's chapters follow the life-in-a-day structure of Ulysses, with characters thoughtfully perambulating around a few square blocks in Northampton, England… Jerusalem is Moore's apotheosis, a fourth-dimensional symphony of his own beloved city. Drawing on his own history as a lifelong resident of Northampton, Moore mixes together macro-historical figures with local personalities and characters based on Moore's own family. In the first millennium, a monk travels from the Holy City. In 2006, a local artist plans a new exhibition. As Moore's narrative shifts through time, it also shifts upwards, into an eternal life-beyond-life, where four angels decide the fate of the universe in a never-ending game of snooker. (No, even Moore can't really explain snooker.)

There are demons, escaped slaves, a gang of dead kids, enough drunken poets to fill a freshman English course. Philosophical fights are picked with Margaret Thatcher, Oliver Cromwell, Tony Blair, Isaac Newton, quantum physicists, and the modern comic book industry… Jerusalem is a love song for a vanished neighborhood, and a battle cry for an embattled class left behind by centuries of powermongers and tyrants and corporations and New Labour. It took a decade to write this book, but it feels uncannily well-timed for this Brexit year: In his native city, Moore discovers untold generations of working-class people quite literally incinerated by history. But he also takes a great, goofy joy in experimenting, writing one chapter as a play, one as a mock-noir. Jerusalem is split into three Books, and the second one is by far the most coherent, a Little Nemo in Wonderland riff about a recently-deceased little boy on a fairy-tale adventure across time and space…

Who will read this thing? Well, I did. And although Jerusalem is a very strange text – maybe unfinished by its very nature, frequently weighed down with self-importance – Jerusalem soars high on the wings of the author's psychedelic imagination.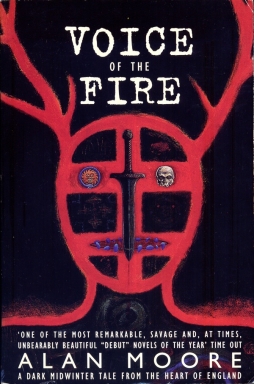 Like Matthew, Heidi MacDonald also made the connection to Moore's first novel, Voice of the Fire, which is also an ambitious and stylistically challenging exploration of Moore's hometown of Northampton.
Moore has no qualms about putting readers through their paces. He admits that the concept of literary difficulty was on his mind. "An author will take on a difficult literary approach, knowing it will alienate a certain section of the audience, but which he or she also knows will force the remaining members of the audience to engage with the work upon a more strenuous level." It's an approach that Moore used for the notoriously difficult first chapter of Voice of the Fire, and he says, "It's probably what I'm trying to do in general with a lot of my work."

This sort of difficulty is what Moore enjoys most as a reader himself. "I don't like this passive response to art and entertainment that seems to typify the modern era… I want that audience to get out of their seats," he says. "I don't want them to do as much work as I've done, but I want them to do more work than they're used to…"

For those who admire Moore, Jerusalem will be the ultimate vindication of his love of technique and allusions. For those who don't — well, they won't get far. "Very often I am writing about writing," he says. "Not to the exclusion of the story. Jerusalem does have a plot. In fact it has several."
Our previous coverage of Alan Moore's work includes:
Alan Moore Completes 1 Million+ Word Historical Fantasy Novel, Jerusalem
The Clothes Make the Mage: Alan Moore's Fashion Beast by Matthew David Surridge
Speaking in Tongues: Alan Moore's Voice of the Fire by Matthew David Surridge
Goth Chick News: From Hell Gets the Small Screen Treatment from FX by Sue Granquist
Kimota! and Marvelman by Matthew David Surridge
Miracles Happen by Matthew David Surridge
What Would it Look Like to Pull a Watchmen on Planetary Romance? by Derek Kunsken
Jerusalem will be published by Liveright on September 13, 2016. It is 1280 pages, priced at $35 in hardcover and $29.73 for the digital edition. The cover is by Alan Moore.
See all of our coverage of the best in upcoming fantasy in our Future Treasures section.