Goth Chick News: From Hell Gets the Small Screen Treatment from FX
Goth Chick News: From Hell Gets the Small Screen Treatment from FX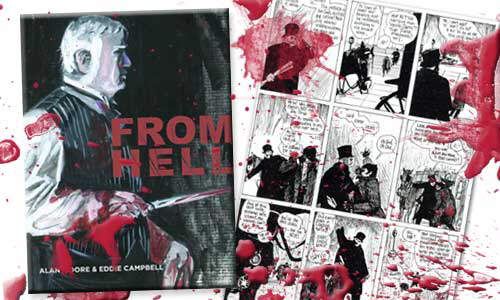 The FX Network is making bank giving us the creeps.
Earlier this week, IMDB reported the network responsible for the nightmare-inducing American Horror Story is developing a TV series based on Alan Moore and Eddie Campbell's critically acclaimed graphic novel From Hell.
From Hell was published in comic form from 1989 to 1996. It totals 572 pages and I own every one, having purchased the entire series in mint condition at a flea market.
Do not underestimate the opportunities at a flea market.
The comic book series depicts a fictional account of the gory Jack the Ripper killings in Whitechapel, London as part of a conspiracy by the Freemasons and the royal family. The series also used some historical facts and actual people involved with the case to create a narrative for the story.
From Hell tells the tale of Jack the Ripper with the killer himself as the main character. Detailing the events leading up to the Whitechapel killings and the cover-up that followed, the 572-page graphic novel is a meditation on the mind of a madman whose savagery and violence gave birth to the 20th century.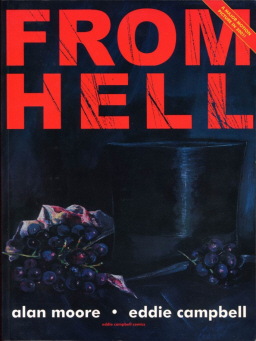 From Hell was made into a feature film by 20th Century Fox in 2001. Directed by Albert and Allen Hughes, it starred Johnny Depp, Heather Graham, and Robbie Coltrane and was considered a box office flop that even Depp's presence could not save.
General consensus is the graphic novel was just too rich in content and plot elements to successfully be confined to a 2-hour film. A television series could provide the space needed for the entire story to unfold in a more cohesive way.
For his part, Don Murphy, who produced the 2001 film and is executive producing for FX, had always envisioned From Hell as a TV series and labels it a chance "do [the graphic novel] justice," while David Arata (Children Of Men) will write the adaptation.
Original From Hell writer Alan Moore is not mentioned as being involved, but a statement on how much he hates the idea is presumably forthcoming. Last week saw the announcement that Fox is adapting Moore's League Of Extraordinary Gentlemen as a TV show, officially starting the countdown clock on when someone would phone Moore for a quote disparaging yet another attempt to adapt one of his works.
That someone was Entertainment Weekly and Moore's reaction is what you'd expect.
---
So what are your thoughts?  Is Moore right to be irked and From Hell should be left alone?  For my part, I didn't hate the movie and might have even liked it if I wasn't familiar with the source material.  Post a comment or drop a line to sue@blackgate.com.