Cover Reveal: The Forgetting Moon by Brian Lee Durfee
Cover Reveal: The Forgetting Moon by Brian Lee Durfee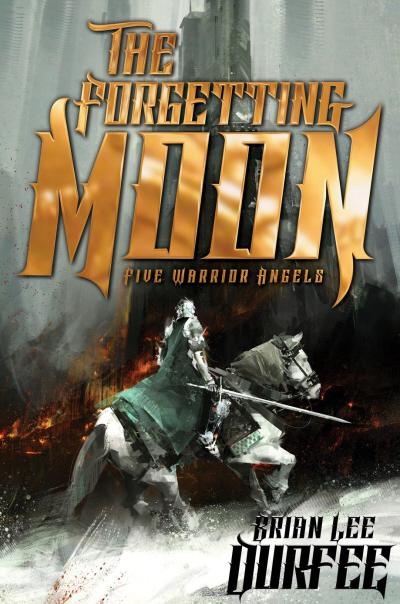 Saga Press' 2016 line up promises to be stellar, with titles from Kat Howard, A. Lee Martinez, Genevieve Valentine, and many others. In the past few weeks we've given you peeks at upcoming books such as Mike Brooks' "Firefly-like" space opera Dark Run, Joe Zieja's military SF novel Mechanical Failure, and Black Gate author Frederic S. Durbin's A Green and Ancient Light.
This week we take a look at Brian Lee Durfee's debut fantasy novel The Forgetting Moon, the opening book in The Five Warrior Angels series, on sale from Saga Press July 5, 2016.
Here's the book description:
A massive army on the brink of conquest looms large in a world where prophecies are lies, magic is believed in but never seen, and hope is where you least expect to find it.

Welcome to the Five Isles, where war has come in the name of the invading army of Sør Sevier, a merciless host driven by the prophetic fervor of the Angel Prince, Aeros, toward the last unconquered kingdom of Gul Kana. Yet Gault, one of the elite Knights Archaic of Sør Sevier, is growing disillusioned by the crusade he is at the vanguard of just as it embarks on his Lord Aeros' greatest triumph.

While the eldest son of the fallen king of Gul Kana now reigns in ever increasing paranoid isolationism, his two sisters seek their own paths. Jondralyn, the older sister, renowned for her beauty, only desires to prove her worth as a warrior, while Tala, the younger sister, has uncovered a secret that may not only destroy her family but the entire kingdom. Then there's Hawkwood, the assassin sent to kill Jondralyn who has instead fallen in love with her and trains her in his deadly art. All are led further into dangerous conspiracies within the court.

And hidden at the edge of Gul Kana is Nail, the orphan taken by the enigmatic Shawcroft to the remote whaling village of Gallows Haven, a young man who may hold the link to the salvation of the entire Five Isles.

You may think you know this story, but everyone is not who they seem, nor do they fit the roles you expect. Durfee has created an epic fantasy full of hope in a world based on lies.
Click on the image above for a bigger version. Here's author Author Brian Durfee with his take on the cover art:
As a professional wildlife painter, I'm very picky about art (you can visit my website at www.brianleedurfee.com). So it was a huge relief when Joe Monti told me of his plan to use illustrator Richard Anderson. He's the one artist who can capture both gritty and ethereal at the same time. His illustration not only portrays a character in my novel faithfully, but also fits the tone of the story perfectly.

I was doubly excited when I saw the typeface Joe Monti had chosen; it matched how I signed my own paintings in my college years. Any time you can stumble on those personal connections, it makes the project all the sweeter. Nowadays there are so many great illustrators and designers there's really no excuse for poorly done book covers. And the design team at SAGA Press hit a gorgeous home run with this cover. Readers will be proud to hold this book in their hands!
Our previous Saga Press coverage includes:
Give a Warm Welcome to Saga Press, Launching This Spring
Loosed upon the World: The Saga Anthology of Climate Fiction edited by John Joseph Adams
The Sea of Trolls Trilogy by Nancy Farmer
The Miriam Black Series by Chuck Wendig
The Grace of Kings by Ken Liu
Cover Reveal: Dark Run by Mike Brooks
Cover Reveal: Mechanical Failure by Joe Zieja
Cover Reveal: A Green and Ancient Light by Frederic S. Durbin
The Forgetting Moon will be published by Saga Press on July 5, 2016. It is 576 pages, priced at $25.99 in hardcover and $13.99 for the digital edition.
See Saga Press' complete catalog here, and our coverage of all the best in upcoming fantasy here.