Future Treasures: Loosed upon the World: The Saga Anthology of Climate Fiction edited by John Joseph Adams
Future Treasures: Loosed upon the World: The Saga Anthology of Climate Fiction edited by John Joseph Adams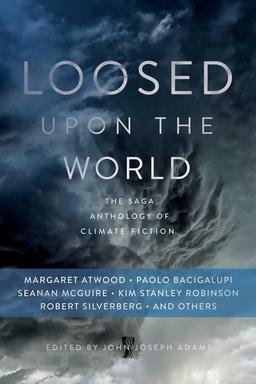 There have been few aspects of our planet's future as hotly debated as climate change. And regardless of your opinion on the matter, you have to admit: it's a fascinating topic, and one ideally suited for exploration in fiction. Editor John Joseph Adams, who just took home his second Hugo award for Lightspeed magazine, has assembled a stellar line-up of writers — including Kim Stanley Robinson, Paolo Bacigalupi, Tobias S. Buckell, Alan Dean Foster, Margaret Atwood, Seanan McGuire, and Jean-Louis Trudel — with a massive, 565-page anthology that looks at our changing planet through the unique lens of science fiction.
This is the definitive collection of climate fiction from John Joseph Adams, the acclaimed editor of The Best American Science Fiction and Fantasy and Wastelands. These provocative stories explore our present and speculate about all of our tomorrows through terrifying struggle, and hope.

Join the bestselling authors Margaret Atwood, Paolo Bacigalupi, Nancy Kress, Kim Stanley Robinson, Jim Shepard, and over twenty others as they presciently explore the greatest threat to our future.

This is a collection that will challenge readers to look at the world they live in as if for the first time.
See the complete table of contents here.
Loosed upon the World: The Saga Anthology of Climate Fiction will be published by Saga Press on September 15, 2015. It is 565 pages, priced at $16.99 in trade paperback and $11.99 for the digital edition.