Vintage Treasures: Dinosaur Beach by Keith Laumer
Vintage Treasures: Dinosaur Beach by Keith Laumer
It's a pretty popular time for dinosaur novels, what with Victor Milán's upcoming The Dinosaur Lords, and the biggest movie of the summer being Jurassic World. What many people don't realize is that dinosaur stories weren't created by the makers of Jurassic World. They weren't even created by Steven Spielberg, director of Jurassic Park, way back in the last century in 1993. Believe it or not, they weren't even created by Michael Crichton, the author of the original 1990 novel. Dinosaur novels were totally created by the science fiction novelist Keith Laumer, in his 1971 novel Dinosaur Beach.
Okay. After doing some, y'know, actual fact checking, it turns out Keith Laumer didn't completely create the dinosaur novel. But it's true enough for our purposes. Which are, to give us an excuse to talk about Dinosaur Beach.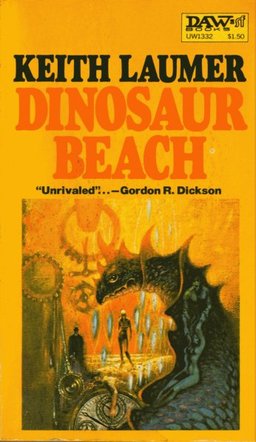 Keith Laumer was well know for his novels featuring Jame Retief, a diplomat in the Corps Diplomatique Terrestrienne, based on Laumer's years as vice consul in Burma in the 1950s in the US Foreign Service, and for his popular Bolo short stories featuring superheavy A.I. tanks. Dinosaur Planet was a standalone novel originally published in hardcover by Charles Scribner's Sons in 1971, and reprinted in paperback in 1972 by DAW with a cover by Kelly Freas. Its paperback publication history is as follows:
DAW, Sept 1972, cover by Kelly Freas (above left)
DAW, June 1975, cover by Michael Whelan (above middle)
DAW, Oct 1977, cover by Kelly Freas (cover at right)
Baen, July 1986, cover by Tom Kidd (above right)
Here's the book description from the 1975 DAW edition:
Appearing from the remote future, Nexx Central agent Ravel is emplaced in America, circa 1936. His mission: to undo successive tamperings of the time stream which threaten the survival of Mankind. He falls in love with a lovely, simple girl, Lisa, but in the midst of his happiness is called away to Dinosaur Beach.

Dinosaur Beach is a Nexx Central station located millions of years in the past, in the Jurassic Age. But shortly after Ravel's arrival, the station is attacked and destroyed, and Ravel begins a terrifying odyssey through time.

For the attackers were another time-tampering team from still a different future era. And Ravel himself is not only in growing danger but the human world as we know it…
Dinosaur Beach is 151 pages in paperback. There is no digital edition, and it is currently out of print.