Grimdark Magazine 4 Now Available
Grimdark Magazine 4 Now Available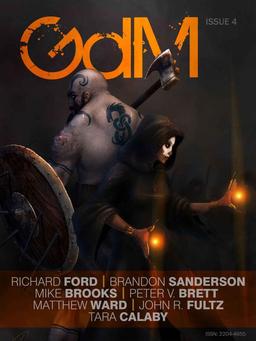 Grimdark is a new quarterly magazine of dark fantasy. It hasn't been around around all that long, but I've been impressed with what it's done in a short period of time. Editor Adrian Collins summarized the 'zine's aesthetic in the first issue:
Grimdark Magazine started out as the identification of a gap in the niche ezine market coupled with an obsession with grim stories told in a dark world by morally ambiguous protagonists.
In his review of the first three issues, Fletcher Vredenburgh seems to like what he sees:
From a swords & sorcery perspective, the biggest — and potentially most interesting — new publication out there is Grimdark Magazine… grimdark fantasy is nihlistic/realistic storytelling that moves the genre forward/destroys the genre, and features characters with realistic motives/who are utterly vile. Whether you like or hate the fiction coming out under the rubric, Grimdark Magazine, by its very nature, is going to feature S&S…

Each issue is packed with original stories, interviews with some of grimdark's leading lights, and reviews… There are scads of other short stories (not all of them fantasy), some of which I enjoyed quite a bit. The author interviews provided nice insights into the hows and whys of what they're doing. The interviews also make obvious that grimdark isn't any sort of cohesive artistic movement, just a bunch of dark stuff by a bunch of grim people.

At only $2.99 a pop, I'll be keeping up with Grimdark Magazine…
The latest issue went on sale on June 28, and contains new fiction by Matthew Ward, Tara Calaby, Mike Brooks, and Richard Ford, as well as novel excerpts from Alex Marshall and Mark Lawrence, a book review, interviews with Peter V. Brett and Brandon Sanderson, and an article by BG author John R. Fultz. Here's the complete Table of Contents.
Short Stories
In "Brazen Dreams" by Matthew Ward shady characters converge on a powerful relic.
Tara Calaby asks "what happens after happily ever after" in "Ashes."
"Redemption Waits" by Mike Brooks set in his Keiko universe (Dark Run).
A Steelhaven short story by Richard Ford, "The Halfwyrd's Burden."
Excerpts
A Crown for Cold Silver by Alex Marshall
The Liar's Key by Mark Lawrence
Reviews
The Vagrant by Peter Newman
Interviews
Peter V. Brett
Brandon Sanderson
Article
"The Mud, the Blood and the Years" by Ragnarok and Orbit author John R. Fultz
Cover Art
A dark and enjoyable piece from Jason Deem named Symbiosis.
Grimdark Magazine is edited by Adrian Collins and Mike Myers, and published quarterly in Mobi, epub, and PDF format; issues are also for sale through Amazon. Individual issues are $2.99, a bundle of their first four issues is just $9.99. Learn more at their website. The cover this issue is "Symbiosis" by Jason Deem.
See our late June Fantasy Magazine Rack here, and all of our recent magazine coverage here.