March Short Story Roundup
March Short Story Roundup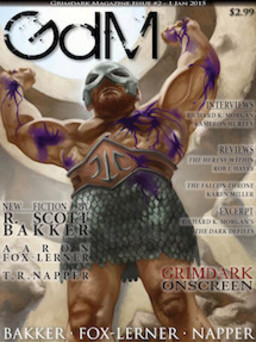 There are a whole lot of new-to-me goings on out there in the world of magazines and short fiction (see John O'Neill's recent posts). So much so that I'm a little behind this month trying to catch up. I haven't gotten to any of Beneath Ceaseless Skies most recent issues yet.
From a swords & sorcery perspective, the biggest — and potentially most interesting — new publication out there is Grimdark Magazine. The first issue, completely unbeknownst to me, appeared last fall. The third issue hit the virtual newsstand on March 25. Like the title says, it's filled with grim and dark stuff.
The term grimdark, lifted from Warhammer 40K, was originally one of opprobrium for a certain type of fantasy, and was later taken up as a badge of honor by its creators. For those who managed to miss all the talk about the subject a few years back, here's a quick definition: grimdark fantasy is nihlistic/realistic storytelling that moves the genre forward/destroys the genre, and features characters with realistic motives/who are utterly vile. Whether you like or hate the fiction coming out under the rubric, Grimdark Magazine, by its very nature, is going to feature S&S.
Each issue is packed with original stories, interviews with some of grimdark's leading lights, and reviews. The magazine has a definite point of view as stated by editor Adrian Collins in the first issue:
Grimdark Magazine started out as the identification of a gap in the niche ezine market coupled with an obsession with grim stories told in a dark world by morally ambiguous protagonists.
As far as I'm concerned, grimdark is just another marketing term, like splatterpunk was for supposedly extra-bloody horror back in the mid-1980s. As much as some writers and fans have claimed that grimdark is both about introducing more realism as well as being a revolt against black-and-white morality that they say saturates much fantasy, I don't think it's all that different from lots of what's gone before (just check out any of Karl Edward Wagner or Michael Moorcock's fantasies).
I haven't read a lot of the big grimdark writers but I have read and loved Mark Lawrence's Prince of Thorns as well as the grimmest and darkest grimdark series, The Second Apocalypse by R. Scott Bakker. So when I saw an original story by each I was eager to jump in.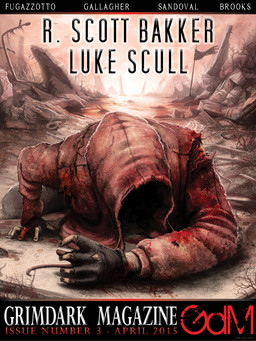 The highlight of Issue #1 is "Bad Seed" by Mark Lawrence. It's an origin story for one of the bloody mercenaries that feature in Lawrence's Broken Empire series. It's about a severely broken man, how he came to be that way, and how he found his place in the world. A bloody, bloody place in a bloody, bloody world.
Across Issues #2 and #3, Bakker's "The Knife of Many Hands" is a Conan homage set centuries before the events of the Second Apocalypse novels. A champion pit-fighter becomes the tool of a college of wizards after he kills one of its members. Interested as I was to return to Bakker's world, Eärwa, I found the story frustrating. Bakker's novels are densely packed with details of cultures, factions, races, etc. He brings that same level of detail to "The Knife of Many Hands" and it's overwhelming in such a comparatively short work.
Other luminaries of grimdark appear as well. Issue #1 has a tale by Adrian Tchaikovsky set in his Shadows of the Apt world; Issue #2 has an excerpt from Richard K. Morgan's recent The Dark Defiles; and Issue #3 has a story by The Grim Company scribe, Luke Scull.
There are scads of other short stories (not all of them fantasy), some of which I enjoyed quite a bit. The author interviews provided nice insights into the hows and whys of what they're doing. The interviews also make obvious that grimdark isn't any sort of cohesive artistic movement, just a bunch of dark stuff by a bunch of grim people.
At only $2.99 a pop, I'll be keeping up with Grimdark Magazine for the next few issues at least. I'm curious to know if there is enough good new writing being done that fits the grimdark bill.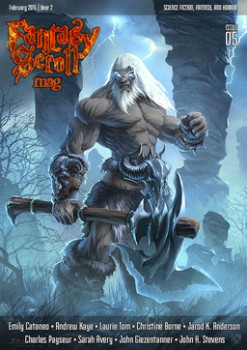 Fantasy Scroll #5 came out in February and it's easily my favorite issue so far. It didn't fulfill my S&S hopes raised by the kickass, side-of-van-worthy cover, but it contained some really good stories.
The first of the standouts was "The City Dreams of Bird-Men" by Emily Cataneo. Once upon an alternate time in Europe, an inventor used astral magic to imbue mechanical bird-men with life in order to save his city. A foolish, evil act by the city's king caused the bird-men to leave. Now, in the face of disaster, a scientist hunts for signs of their return.
"Moksha," by Andrew Kaye, is set in an India-inspired world. It features an interesting system of sorcery (complete with reincarnation), giant airships, and deadly magical vortices in the sky.
Christine Borne's "Tempus Fugit" is a ghost story from the ghost's point of view. The captain and crew, killed in a sea battle centuries ago, are finally beginning to fade away as the city they once saved falls to ruin.
My favorite story from the issue is Sarah Avery's "How the Grail Came to the Fisher King," a tale of impending death and hope mixed up with Arthurian legend. The author invokes the atmosphere of the cancer ward and the fight against despair with equal skill. Avery explains the emotional origin of the story in her interview (each issue of Fantasy Scroll includes interviews with several contributors), but you won't need it to be moved by the story itself.
The March issue of Swords and Sorcery Magazine (#38) packs its usual two new stories, and this time adds a non-fiction essay on Robert E. Howard's Conan stories.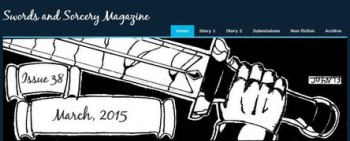 The first story, "Head Games," by Cameron Johnston, suffers a little from the been-there-read-that syndrome that is common to an avid long-time reader such as myself. Walker is a tough-as-nails magical investigator sent to help the watch investigate seven corpses. It's really no fault of Johnston's, but between mundane as well as fantastic hardboiled fiction, I've encountered a lot of characters who walk the mean streets of their respective cities. It's hard to be too surprised by what unfolds here. That said, "Head Games" is well told and Johnston more than competently does what he set out to do.
"To Go on Two Feet" by Jamie Lackey (whose previous S&SM story, "Witch's Intuition," I reviewed favorably last year), is a love story as experienced by a monster. Even if it isn't S&S, I liked this one very much.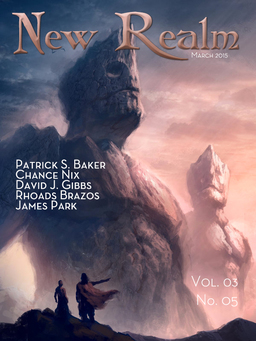 Finally, I checked out New Realm Vol.3 Issue 05. New Realm been around for several years now, and I have no idea how it escaped my attention. Each issue has a beautiful cover (viewable at this link). It's also put together in a unique way: volunteers vote on their choices for which stories to include in each issue.
Out of five stories there was only a single heroic fantasy one, "The Aquailian on the Crimson Reign" by Chance Nix, and I didn't love it. A fierce barbarian is taken prisoner by the fierce pirates of the ship The Crimson Reign. There were some interesting bits of worldbuilding but they were outweighed by a few too many cliches and leaden sentences.
Still, I'm likely to go back to the magazine in the future. It's only $3.99 an issue, and I suspect the voting-for-stories method means there's potential for some real gems to make it into print, which means the next one could be all aces. I'm willing to try it again.
With that another short story roundup comes to a close. There's good stuff out there and it's worth taking the time to check it out.