Grimdark Magazine 5 Now Available
Grimdark Magazine 5 Now Available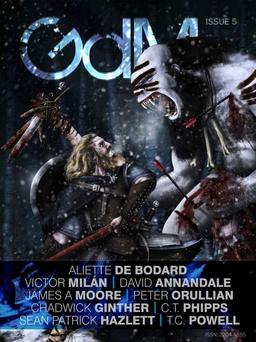 Grimdark is a quarterly magazine of dark fantasy. Editor Adrian Collins summarizes the latest for us nicely in his Issue #5 Line Up post:
Grimdark Magazine issue #5 is chock full of grimdark goodness. We've pushed the genre boundaries of grimdark a bit more in this issue, with zombie apocalypses and cold-hearted near-future sci-fi to go with the three fantasy pieces, which include a Dominion of the Fallen short story by Aliette de Bodard.
The Line Up post even has a nifty teaser trailer. Check it out. In his review of the first few issues, Fletcher Vredenburgh seems to like what he sees:
From a swords & sorcery perspective, the biggest — and potentially most interesting — new publication out there is Grimdark Magazine… grimdark fantasy is nihlistic/realistic storytelling that moves the genre forward/destroys the genre, and features characters with realistic motives/who are utterly vile. Whether you like or hate the fiction coming out under the rubric, Grimdark Magazine, by its very nature, is going to feature S&S… At only $2.99 a pop, I'll be keeping up with Grimdark Magazine…
The latest issue went on sale in October, and contains new fiction by Aliette de Bodard, Chadwick Ginther, Sean Patrick Hazlett, David Annandale, and T.C. Powell, as well as an excerpt from Victor Milan's new novel The Dinosaur Lords, book reviews, interviews with James A. Moore and Peter Orullian, and an article titled 'Who is the Grimdark Hero?' by C.T. Phipps.
Here's the complete Table of Contents.
Short Stories
"Against the Encroaching Darkness" by Aliette de Bodard, a Dominion of the Fallen short story.
"First They Came for the Pigs" by Chadwick Ginther
"Boomer Hunter" by Sean Patrick Hazlett
"The Right Hand of Decay" by David Annandale
"Lessons of Necessity" by T.C. Powell
Excerpts
The Dinosaur Lords by Victor Milan (Chapter 1)
Reviews
The Liar's Key by Mark Lawrence (review by Tom Smith)
The Mechanical by Ian Tregellis (review by Malrubius)
The Witcher 3 (review by C.T. Phipps)
Interviews
James A. Moore
Peter Orullian
Article
Who is the Grimdark Hero? by C.T. Phipps
We previously covered Grimdark with issue #4.
Grimdark Magazine is edited by Adrian Collins and Mike Myers, and published quarterly in Mobi, epub, and PDF format; issues are also for sale through Amazon. Individual issues are $2.99, a bundle of their first four issues is just $9.99. Learn more at their website. The cover this issue is by Jason Deem.
See our October Fantasy Magazine Rack here, and all of our recent magazine coverage here.