Vintage Treasures: Earth's Last Citadel by C.L. Moore and Henry Kuttner
Vintage Treasures: Earth's Last Citadel by C.L. Moore and Henry Kuttner
Last week I talked about The Watcher at the Door, the upcoming second volume in Stephen Haffner's The Early Kuttner. By coincidence, I found a copy of the 1983 Ace reprint edition of C.L. Moore and Henry Kuttner's early novel Earth's Last Citadel — a novel that's been blessed with some really fine cover art over the decades — a few days later in a small collection I'd purchased on eBay, and I thought it would be fun to track down all the various covers it's had over the years.
Earth's Last Citadel first appeared as a four-part serial in Argosy magazine, April-July 1943 (above left, cover artist unknown; click for bigger version.) When I talk about great art, I'm not talking about this cover. But I suppose in 1943, you couldn't go wrong with a square-jawed G.I. clocking a soldier in a Nazi helmet.
The entire thing was reprinted seven years later in Fantastic Novels Magazine, July 1950, with a cover by Lawrence (above, middle). Collecting pulps wasn't easy even in the 40s, and if you were unfortunate enough to stumble on one installments a few years later, and wanted to read the rest… God help you. Trying to track down all four issues was no easy task. Fantastic Novels Magazine is one of my favorite pulps for that reason — it collected countless novels that were originally scattered across 3-4 magazines and reprinted them whole. It also commissioned new artwork, much of it, as in this case, by the great Virgil Finlay. Finlay's full-page pieces for Earth's Last Citadel (below) are gorgeous, and just as famous as the novel is today.
[As always, click for bigger versions.]
The book had three paperback editions, all from Ace. The first, in 1964, had a gorgeous cover by Alex Schomburg (above right). Here's a closer look at the Schomburg artwork.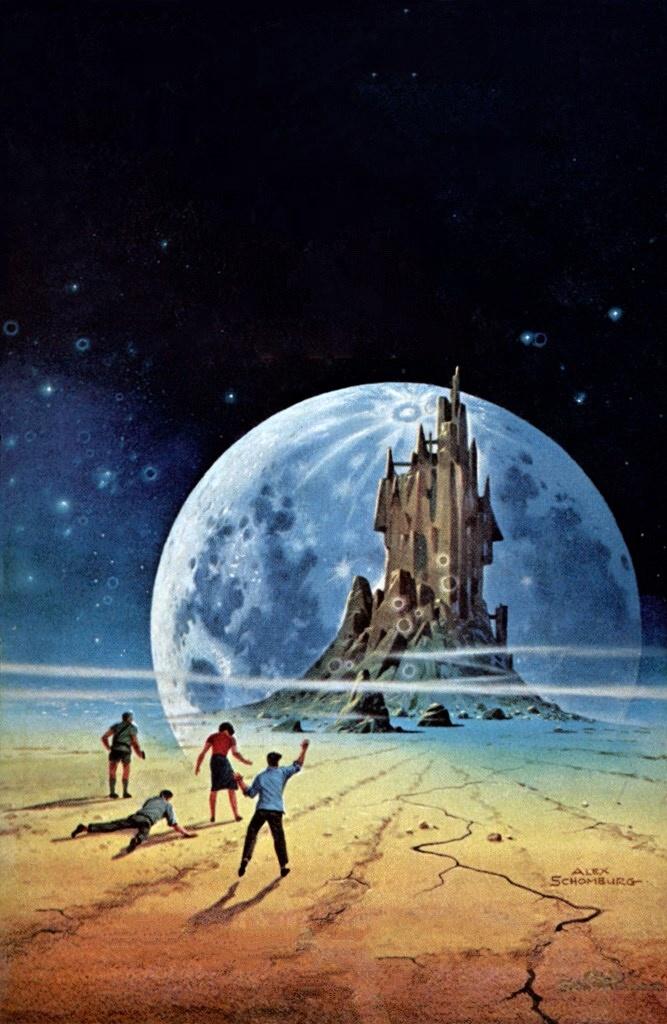 I'm a sucker for castles in space, what can I say.
The novel is not particularly highly regarded today — certainly not in comparison to Moore and Kuttner's short work, anyway. But it still has a pulpy charm. Here's Donald Wollheim's blurb from the back of the Ace edition:
Torn from the Twentieth Century by the super-science of a master being from an alien galaxy, four adventurers find themselves at Carcasilla, EARTH'S LAST CITADEL, a billion years from now. It is there that the mutated remnants of humanity are making their final stand against their dying planet's last monstrous creations… and the four from today must end that terrible deadlock!

Here is a terrific science ficiton novel of brilliant color and vivid scope as could only have been written by C.L. Moore and Henry Kuttner; a novel to be compared favorably with the work of A. Merritt, C.S. Lewis, and Ray Bradbury.
Ace reprinted it twice, keeping the artwork fresh over the years.
I think my favorite cover is probably Tim Hildebrandt's gorgeously moody wraparound piece for the 1977 reprint (above left). Although for some reason the art on the paperback has always seemed a little green and washed out, at least compared to the vivid original art (below).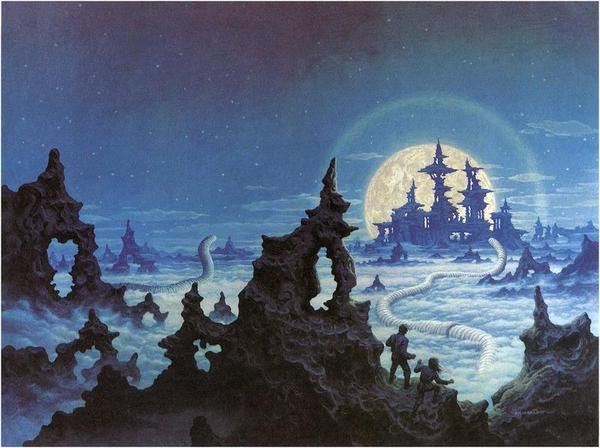 Earth's Last Citadel was reprinted for a final time in the US by Ace in March 1983, with a new cover by Bob Layzell (above right). It has now been out of print in the US for 32 years. It was published in a digital edition by Diversion Books on August 17, 2014.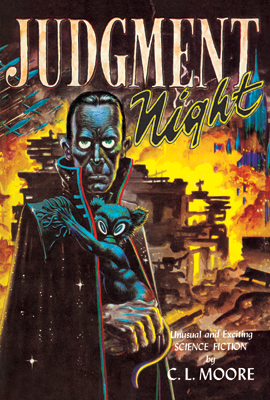 Our recent coverage of C.L. Moore includes:
Happy 100th Birthday, C. L. Moore!
Black God's Kiss by C. L. Moore by Ryan Harvey
More Haffner Goodness: Detour to Otherness
"Jirel, Ma Joie!" (In Which I Encounter My First C.L. Moore) by C.S.E. Cooney
Jirel of Joiry: The Mother of Us All by Ryan Harvey
Judgment Night: Space Opera and More From One of the Female Pioneers of the Genre by Paul Di Filippo
And our recent coverage of Henry Kuttner is here:
The Watcher at the Door: The Early Kuttner, Volume Two, edited by Stephen Haffner
The Best of Henry Kuttner
Fantasy Face-Off: Henry Kuttner's Elak of Atlantis vs. Robert E Howard's Conan the Cimmerian by Connor Gormley
The Startling Worlds of Henry Kuttner
Henry Kuttner's "The Graveyard Rats"
Announcing the Winner of Thunder in the Void from Haffner Press!
Henry Kuttner's Thunder in the Void
Black Gate Kuttner Contest: And the Winners Are…
Terror in the House: The Early Kuttner, Volume One
More Haffner Goodness: Detour to Otherness
Robots Have Tales: Henry Kuttner's Gallagher Stories by James Enge
See all of our recent Vintage Treasures here.