Fantasy Face-Off: Henry Kuttner's Elak of Atlantis vs. Robert E Howard's Conan the Cimmerian
Fantasy Face-Off: Henry Kuttner's Elak of Atlantis vs. Robert E Howard's Conan the Cimmerian
Now, before I start actually looking at these two heroes, I should probably explain why I'm doing what I'm doing.
You see, when Robert E Howard — creator of the sword and sorcery sub-genre, bare-fisted boxer, and all-round amazing writer — killed himself at the age of thirty, he left a pretty substantial gap in the pulp fiction market, one that was very hard to fill, but one that had to be filled. So Henry Kuttner, a fellow writer more famous for his science fiction than his fantasy, was called in to take up the sword and sorcery mantle — and stumbled in doing so.
The blurb describes the Elak stories as "exciting tales that helped establish a genre," and "a major step in the evolution of the genre." (I read Gateways kindle collection.)
Yeah that's… an overstatement, not much more than a writer's hyperbole. To be frank, the Elak tales are most easily comparable to a Saturday morning cartoon or a SyFy B-movie, what with all the hackneyed prose and clichéd characters.
Kuttner makes no attempt to advance the formula that Howard established, no attempt to evolve the genre as the over-enthusiastic blurb suggests. What you get instead is a readable adventure, entertaining, but not much more; it's plot and prose, its action and characters merging with all the other yarns you've read and books you've consumed.
But then perhaps that's the point. Pulp is meant to entertain; it's not The Lord of the Rings or The Game of Thrones, it's not supposed to make you think or take sides, not intended to evolve anything. Just to entertain.
[Click on any of the images in this article for larger versions.]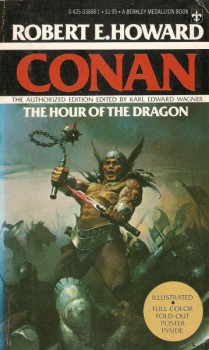 But then, look at Conan; the character and his world have inspired three films, a whole range of comic books, board games, video games, action figures and countless pastiche novels, he's an icon of fantasy, of pop culture.
He doesn't need an introduction, you say Conan and people instantly conjure up an image of ol' Arnie in a loin cloth. Ask someone more knowledgeable and they'll picture the supple tiger Howard envisioned, or the lurid Frazetta paintings of yesteryear.
And he was only designed for entertainment, so there must be something special about Howard's work to warrant all this.
Thankfully, there is.
I don't have to tell you that Robert E. Howard is a masterful writer, that his prose, his pacing, his driving narratives are beyond almost every other author you already know.
But I feel Howard's success in making Conan an icon comes from the way the warrior is presented. The goal here is clear, coherent and excellently achieved: The barbarian is an indomitable force of destruction, a fighting machine who stands head and shoulders above everyone else.
It's so much clearer, so much more effective than Kuttner's delirious and tentative approach, where the hero fades away, pales into nothing more than a run-of the mill protagonist, in a run-of-the-mill story.
We are told he's a powerful, indomitable, indefatigable force, but then shown something entirely different as the man is knocked unconscious time and time again, or lies cowering before some lurid new foe, begging a priest and his god for help. It's annoying, infuriating almost, seeing the hero crumble when all you want is a macho-man fight fest.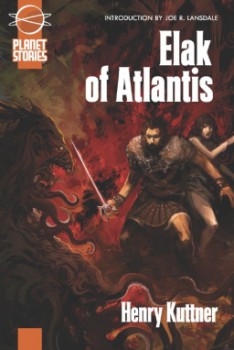 Then there's the way the worlds are presented.
Howard's Hyboria was the original gritty fantasy world, caked in the blood of its races and creatures, ravaged by war, and basking in corruption. It's excellent, fully formed and serving as a fitting, albeit basic world for Conan's adventures, all handed to us by the flawless poetic, powerful prose that Howard is so famous for.
Then turn to Atlantis, the world of Elak, and again Kuttner is betrayed by whoever wrote the blurb. We're told it's a "brutal world of flashing swords and primal magic," but it's not.
It's nowhere near that. It's just the generic, quasi-medieval landscape that features in every other fantasy, every other book, every other story; it's just some disembodied, rather tedious mimic of Howard's creation.
So not that different from a pastiche, really. It lacks the charm of Middle Earth or the personality of Hyboria, it lacks a character of its own, and that's what holds Elak of Atlantis back.
OK, so maybe I'm selling Elak a little short. The stories do have some redeeming qualities; their occasional touches of humor provide a decent counterpoint to those moments when Conan grows painfully po-faced.
The camaraderie between Elak and Lycon can also be found in Fritz Leiber's Fafhrd and the Grey Mouser series, and Elak himself is a more fallible protagonist then Conan, which makes some of his encounters more tense, and thus more effective.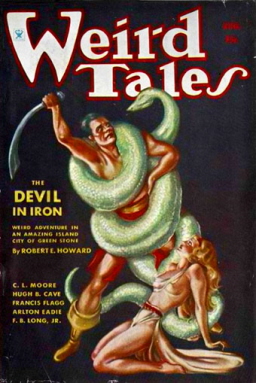 But most of these are only half-formed concepts or rare highlights. The stories have no definable strengths or weaknesses, the humor is so cliché it has no impact, the friendship between Elak and Lycon feels forced and Kuttner manages to eliminate all tension with a rather boring, kind of lazy 'here comes the cavalry' resolution with most battles.
It all feels a little forced, and I know too well what Kuttner is trying to do and how he's trying to do it. These stories they can only be described as mundane, average.
And average is worse than terrible because you don't remember it, it's not unique, it's the same as everything else out there. Average can be summed up with a 'meh.'
If Kuttner had found a focus, he may have been able to emulate the success of Howard. If he had chosen to let his imagination run wild, given Elak crazed and insane behemoths to battle, something unlike any other creature anywhere else, or, much like the 'Keegor' stories, layer on the clichés and tropes knowingly, creating something deliriously imaginative but semi-satirical.
This, whilst it may not have been what the folks at Weird Tales wanted, may have been something successful and unique in its own right, as opposed to the mundane mimic that we got with Elak.