Who Took the Flowers Out of my Prose?
Who Took the Flowers Out of my Prose?
Over here in England, we have a shop called 'Poundland,' which is pretty much what it says on the tin: a shop where everything costs a single pound, and for a boy of about ten, it was a dream come true. All the flimsy toys, dodgy sweets and budget DVDs my little mind could conjure — there was a book section as well, but it mostly consisted of either absolute rubbish or books about Simon Cowell.
But one particular day, when I was about ten, I happened to spot a diamond hidden amongst the rubbish: an anthology of stories by Robert E Howard. I'd never heard of him at the time, but the book had Conan in the title.
I had heard of Conan. My brief experience with the two movies told me I liked big swords, big monsters, and Arnold Schwarzenegger as much as the next ten-year-old, so I decided to buy it. On the train ride home, I found myself introduced to a new, vivid, and lively world, one of blood and savagery, of death and shadow, of lurking devils and skulking gods. I was exposed to a land of witchcraft, sorcerers, devils and demons, nations torn apart by brooding crusaders kings and swashbuckling puritans. It was the best train ride of my life.
"That's all well and good, Connor," you might say, "but what's this got to do with prose?" Show a little patience; I'm getting to that.
What enchanted me most throughout these adventures was the prose; it just had its own nature and flavor, its own distinguished way of presenting things. I'd never encountered anything like it before; it was poetic, haunting, powerful. It lent every blow a sort of impact, made every monster tangible. Even the heroes — too powerful, too fast, too smart to ever be real — it made them come alive.
And in fantasy, where a key aspect is immersion, this is an impressive achievement. I touched upon this not too long ago with my Fantasy Face-off article; noting that prose dictates the way we see the world on the page and, therefore, how vivid and real it is. Prose overshadows flaws when it's successful and highlights them when it's not.
But what I didn't mention was how prose can amplify the tone of the book. Fritz Leiber's prose is rather light, reflecting the comic, satirical feel of his books. Howard's is fast, rip-roaring and powerful, much like the pacing of his books and the characters within them. Tolkien's prose, though it can sometimes be lacking, feels reminiscent of a fairy tale.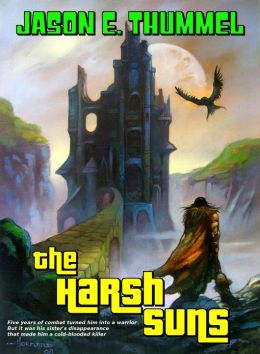 They all impact the experience. Red Nails wouldn't feel quite so turbo-charged if the prose felt like trudging through gravy, would it? And the action wouldn't feel quite so dramatic if the prose were flat.
And sometimes a good line, a powerful line, can send shivers down the spine. And that is pretty damn awesome.
Unfortunately, modern fantasy seems, for the most part, to neglect prose. And that's a shame, because it means all those distinct literary personalities — the whimsy of Leiber, the melancholy of Moorcock, and the fury of Howard — are a thing of the past.
Everyone seems to have adopted the same bland, middle ground style that isn't really anything above functional. That's even the case with recent books I've enjoyed, like James Barclay's Dawnthief and the novels of David Gemmell.
Don't get me wrong — there are a few standouts. I love Jason E. Thummel's prose and I found the Saga of Beowulf by R. Scot Johns (whom no one seems to have heard of but me) really drew me into the fiction.
And don't misunderstand, I love David Gemmell. His characters are excellently done, with believable flaws and sympathetic motivations (yes, even Druss) and I really enjoyed Barclay's Dawnthief.
But I just miss that passion fantasy and prose once shared. For me, at least, that passion is gone.
Now all that's left between them is a bit of fumbling in the dark.