New Treasures: Haxan by Kenneth Mark Hoover
New Treasures: Haxan by Kenneth Mark Hoover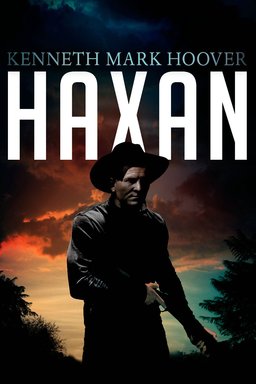 I've written a few times now about the terrific finds I made in the Dealers Room at the World Fantasy Convention. I know I'm probably starting to sound like a broken record, but when you have the opportunity to sample the very best new books from the most dynamic and exciting independent publishers in the industry, the need to share is pretty strong. So you'll have to bear with me a bit until I get this out of my system.
I've already covered the treasures piled high on the Valancourt and Hippocampus Press tables, as well as Daryl Gregory's We Are All Completely Fine and Lois H. Gresh's anthology Dark Fusions – Where Monsters Lurk! But I haven't even mentioned the Chizine table yet, and that's a serious oversight. A catalog of the agonizing choices would take more time than I have tonight, so I'll have to content myself with the first book I bought: Kenneth Mark Hoover's weird western Haxan, the first in a new series.
Thermopylae. Masada. Agincourt. And now, Haxan, New Mexico Territory, circa 1874. Through a sea of time and dust, in places that might never be, or can't become until something is set right, there are people destined to travel. Forever. Marshal John T. Marwood is one of these men. Taken from a place he called home, he is sent to fight an eternal war. It never ends, because the storm itself, this unending conflict, makes the world we know a reality. Along with all the other worlds waiting to be born. Or were born, but died like a guttering candle in eternal night… Haxan is the first in a series of novels. It's Lonesome Dove meets The Punisher… real, gritty, violent, and blatantly uncompromising.
The sequel, Quaternity, will arrive March 31, 2015.
Haxan was published by Chizine Publications on July 1, 2014. It is 250 pages, priced at $16.99 in trade paperback and $9.99 for the digital edition.