Travis McGee: Hard-boiled Detective with a Dystopian Sci-Fi Imagination
Travis McGee: Hard-boiled Detective with a Dystopian Sci-Fi Imagination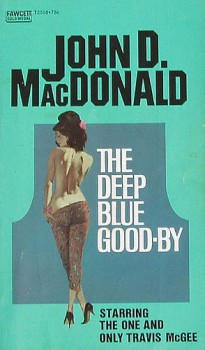 I've recently gotten hooked on the Travis McGee novels of John D. MacDonald (1916-1986), reading The Deep Blue Good-by (1964) and Nightmare in Pink (1964) in quick succession. I'm stoked that there are 19 McGee novels awaiting me, but I can already make one salient observation about the main character based on these first two outings: he has the mind of a science-fiction writer. I was not surprised at all, in fact, to learn that several of his creator's early stories and novels were science fiction.
McGee is a "salvage consultant": basically, he's an unemployed (by choice) beach-bum who makes his home on the Busted Flush, a 52-foot houseboat he won in a poker game, which is mostly docked in slip F-18 at Bahia Mar (a site about as well-known to crime-fiction fans as 221B Baker Street). When the funds get low, he takes on a case. He's a cynical guy; he doesn't want to get emotionally involved with people, but the problem is he does have a strong sense of honor and integrity (much to his own chagrin, since he sees this sort of romantic chivalry as woefully outdated). So he does invariably get involved and, well, I'll let him speak for himself: "This emotional obligation did not fit me. I felt awkward in the uncomfortable role. I wished to be purely McGee, that pale-eyed, wire-haired girl-finder, that big shambling brown boat-bum who walks beaches, slays small fierce fish, busts minor icons, argues, smiles and disbelieves, that knuckly scar-tissued reject from a structured society, who waits until the money gets low, and then goes out and takes it from the taker, keeps half, and gives the rest back to the innocent."
He's an introspective guy, somewhat philosophical in his rejection of industrialized urban society, and for a narrator delivering page-turner suspense, he often digresses into ruminations about society's failings and his own shortcomings and disillusionment. Far from bogging the story down, these imaginative digressions have made McGee one of the most memorable and celebrated characters in twentieth-century American fiction. And in his creative metaphors, he shows a strong streak of the dystopian mind.
To illustrate, here are two passages from the second McGee novel, Nightmare in Pink.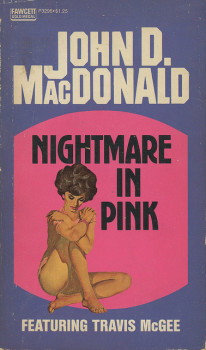 Both are delivered back-to-back shortly after McGee has left the comfort of his relatively secluded life in the Florida yacht basin to come to New York:
New York is where it is going to begin, I think. You can see it coming. The insect experts have learned how it works with locusts. Until locust population reaches a certain density, they all act like any grasshoppers. When the critical point is reached, they turn savage and swarm, and try to eat the world. We're nearing a critical point. One day soon two strangers will bump into each other at high noon in the middle of New York. But this time they won't snarl and go on. They will stop and stare and then leap at each others' throats in a dreadful silence. The infection will spread outward from that point. Old ladies will crack skulls with their deadly handbags. Cars will plunge down the crowded sidewalks. Drivers will be torn out of their cars and stomped. It will spread to all the huge cities of the world, and by dawn of the next day there will be a horrid silence of sprawled bodies and tumbled vehicles, gutted buildings and a few wisps of smoke. And through that silence will prowl a few, a very few of the most powerful ones, ragged and bloody, slowly tracking each other down.
Not far from that to imagining 28 Days Later or World War Z.
Now, here's the second passage, a page later:
I frowned at my sound-proofed ceiling and thought how they could improve the hotel service. Make the rounds — manager, technician and chambermaid. Are you happy enough, sir? Not quite. Gather around the bed, open the little compartment in the headboard, pull out the joy tubes and slip them into the veins, unreel the joy wires and needle them into the happy-making part of the brain. Adjust the volume. Is that better, sir? Enormously. When are you leaving us, sir? Turn me off next Tuesday. Thank you, sir. Enjoy your stay in New York, sir. Happy hallucinations.
Seems McGee was presaging a bit of cyberpunk there.
That's all I wanted to bring up here about the McGee novels. I could add that MacDonald is one helluva writer, but far more heavyweight authorities than me have already been saying that for years.