Bringing Neglected Classics Back Into Print: The Horror Catalog of Valancourt Books
Bringing Neglected Classics Back Into Print: The Horror Catalog of Valancourt Books
One of the many delights of the World Fantasy Convention, as I reported last week, is meeting the small publishers doing marvelous work in the industry. Seeing their catalogs of books spread out before you on a table in the Dealers Room can be quite a revelation. That was certainly the case with Valancourt Books.
As they proclaim proudly on their website, Valancourt Books is an independent small press specializing in the rediscovery of rare, neglected, and out-of-print fiction. They have five major lines: Gothic, Romantic, & Victorian; Literary Fiction; Horror & Supernatural; Gay Interest; and E-Classics. For World Fantasy, they crammed their table with titles from their Horror & Supernatural line. And I do mean crammed: their small table was piled high with dozens of beautifully designed trade paperbacks reprinting long-out-of-print horror paperbacks, chiefly from the 70s and 80s.
All it took was one glance to see that Valancourt Books has two significant strengths. First, their editorial team has excellent taste. They have reprinted work by Stephen Gregory, R. Chetwynd-Hayes, Hugh Walpole, Charles Birkin, Jack Cady, Basil Copper, Russell Thorndike, John Blackburn, Michael McDowell, Bram Stoker, and many, many others. And second, their design team is absolutely top-notch. Their books are gorgeous, with beautiful cover art and striking visual design. I've selected eight to highlight in this article, just to give you a taste of what they have to offer, and replicate (in a small way) what it was like to stand in front of their table gazing appreciatively at their assembled treasures.
[Click on any of the images for bigger versions.]
Valancourt hasn't simply reprinted popular books, and put them in a sharp new package. They've found neglected early works by authors who only became popular years later, as well as gems from authors who are now nearly forgotten. And in many cases they've also commissioned new introductions that give modern readers insight into the importance of these titles in the history of the genre.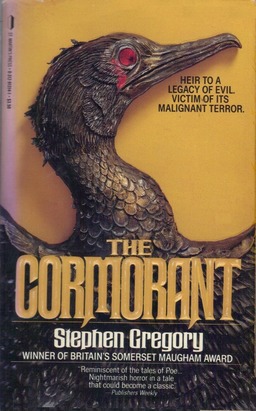 I bought Michael McDowell's The Elementals (originally published as a paperback original by Avon in 1981) to bring home with me, but it was a tough call. I think perhaps my second choice might have been Stephen Gregory's The Cormorant, originally published in hardcover in the UK, and reprinted in paperback in the US by St. Martin's Press in Dec 1988.
Here's the book description, and a pic of the '88 paperback.
The Cormorant
Stephen Gregory
A young family receives a surprise when old Uncle Ian dies and leaves them a cottage in north Wales. For Ian's nephew and his wife Ann, it seems a stroke of incredible good fortune, enabling them to leave their life in the city for a newfound freedom in the remote seaside cottage. There's just one catch. Uncle Ian's will has an unusual condition: the couple must care for his pet cormorant or forfeit the bequest. The will's provision seems harmless enough at first, but when their young son Harry develops a strange fascination for the increasingly sinister and malevolent bird, they soon find that Uncle Ian's gift may not be a blessing, but a curse.

The Cormorant (1986), Stephen Gregory's first novel, received widespread critical acclaim, winning the Somerset Maugham Award and earning comparisons to the works of Poe. This edition includes a new introduction by the author, in which he reveals the inspirations for this bleak and haunting tale.
I'm not sure who did the new cover for Valancourt, but it is gorgeous. Better than the dead bird on the cover of the 1988 paperback, anyway.
Stephen Gregory made quite a splash with this first novel, winning the Somerset Maugham Award and a movie deal. It was adapted by the BBC into a 1993 telefilm directed by Peter Markham and starring a young Ralph Fiennes.
His more recent novels include The Woodwitch (1988), The Blood of Angels (1994), The Perils and Dangers of this Night (2008), and The Waking That Kills (2013). The Woodwitch is scheduled to be reprinted next year by Valancourt.
R. Chetwynd-Hayes is well known as a horror writer, with over two dozen collections to his name. His 1976 collection The Monster Club was originally published in paperback in the UK by New English Library (below left); it was last reprinted in 1992, and until now has never seen a US edition.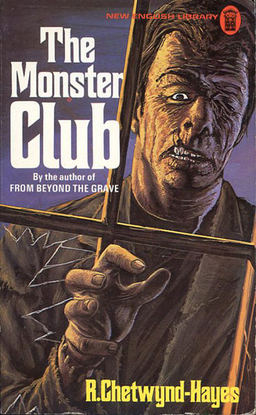 The Monster Club
R. Chetwynd-Hayes
Introduction by Stephen Jones
Cover by John Bolton
Hidden beneath the streets of London is a dark and dreadful establishment known as The Monster Club, where vampires indulge in a rather different kind of Bloody Mary and ghouls tear into their gruesome repasts. Here, along with the usual monsters – vampires, werewolves, ghouls, and some of Dr Frankenstein's more freakish creations – you'll find other, less familiar ones. You'll meet the frightening Fly-by-Night, the hideous shaddy, the horrible mock, and the dreaded shadmock, perhaps the most terrifying of all.

When Donald McCloud offers a starving man a meal, he unexpectedly discovers that the man is a vampire – and he's the main course. Accompanying the vampire, Eramus, to The Monster Club, Donald encounters a whole host of strange monsters, who, in a series of five linked stories, recount to Donald their monstrous exploits. But as Donald is regaled with these terrifying tales, he can't help but wonder: as the only human in a club full of bloodthirsty monsters, when the night's entertainment is over, will it spell the end for him as well?

First published in 1976, R. Chetwynd-Hayes's The Monster Club was adapted for a 1981 film starring Vincent Price, John Carradine, and Donald Pleasence, and both book and film have gone on to become cult classics. Told in a wry, tongue-in-cheek style, the tales in The Monster Club are simultaneously horrific, comical, and curiously moving. This edition is the first in more than twenty years and features a new introduction by Stephen Jones and a reproduction of John Bolton's painting from the rare comic book adaptation of the film.
Chetwynd-Hayes was also an editor, with a dozen volumes of The Fontana Book of Great Ghost Stories to his credit, as well as six volumes of the Armada Monster Book and several of the classic Fontana Tales of Terror volumes. We featured Gaslight Tales of Terror, his 1976 anthology and the last one of the series, as a Vintage Treasure back in January.
I don't know a lot about this Hugh Walpole fellow.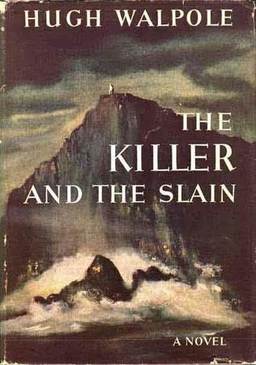 He published over 30 novels between 1911 and 1944; most appear to have been mysteries and thrillers. The Killer and the Slain, a psychological horror novel, was published posthumously in 1942.
The Killer and the Slain
Hugh Walpole
Introduction by John Howard
As boys, Jimmie Tunstall was John Talbot's implacable foe, never ceasing to taunt, torment, and bully him. Years later, John is married and living in a small coastal town when he learns, much to his chagrin, that his old adversary has just moved to the same town. Before long the harassment begins anew until finally, driven to desperation, John murders his tormentor. Soon he starts to suffer from frightening hallucinations and his personality and physical appearance begin to alter, causing him increasingly to resemble the man he killed. Is it merely the psychological effect of his guilt, or is it the manifestation of something supernatural — and evil? The tension builds until the chilling final scene, when the horrifying truth will be revealed about the killer — and the slain.

The works of the prolific and phenomenally popular Sir Hugh Walpole (1884-1941) have been neglected since his death, but his "macabre" tales, of which The Killer and the Slain (1942) is the best, deserve rediscovery. A psychological horror story in the tradition of The Turn of the Screw and The Strange Case of Dr. Jekyll and Mr. Hyde, Walpole's posthumous novel is reprinted for the first time in this new edition, which features an introduction by John Howard.
I have to admit I'm not familiar with Charles Birkin either, but in his case I think I really should be.
He published nine horror collections in the UK between 1936 and his death in 1985, including The Smell of Evil, a very intriguing collection of tales originally published in 1964 and reprinted in paperback by Tandem in 1965. It appeared in the US in a paperback edition from Award Books in 1969.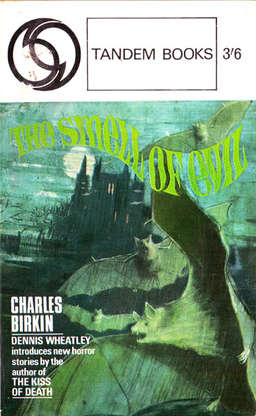 The Smell of Evil
Charles Birkin
Introduction by John Llewellyn Probert
A sinister baron and his wife inflict unimaginable tortures on their young niece to compel her to sign over her fortune. — In the aftermath of World War II, a German woman's garden is lush and beautiful, for an appalling reason. — Missionaries in Africa get a gruesome surprise when their converts take a biblical text too literally. — A child's fantasy becomes a deadly game with a macabre ending for his adult playmate.

These are the plots of just a few of the thirteen stories in The Smell of Evil (1965), a collection that reveals Sir Charles Birkin (1907-1985) at his diabolical best. A master of the conte cruel, Birkin induced chills not with ghosts or the supernatural, but by describing in exquisite prose the sufferings of ordinary, decent people who encounter inexplicable cruelty and evil in their everyday lives. An important and neglected figure in 20th-century British horror, Birkin returns to shock a new generation of readers in this edition, which features a new introduction by John Llewellyn Probert.
If you've been keeping count, we're four books in and Valancourt has already introduced me to three new authors. That's a pretty good batting average.
I consider myself fairly well read in fantastic fiction. Or at least, broadly aware of the most important genre writers on both sides of the Atlantic. Five minutes in front of the Valancourt table at the Dealers Room taught me that these folks may be one of the most valuable small press publishers I've discovered in a long time. They have great taste, they produce beautiful books — and they really know their stuff.
When a publisher does all the hard work to introduce you to terrific new writers (or — even better — terrific writers you've overlooked for decades), you know they're worth paying attention to.
Here's a second batch of handsome volumes I considered buying at the Valancourt table.
I'm a fan of Jack Cady, especially his brilliant short fiction. I bought his collection The Night We Buried Road Dog the year it was published by Dreamhaven Books in 1998, and it introduced me to the talents of this neglected American horror master.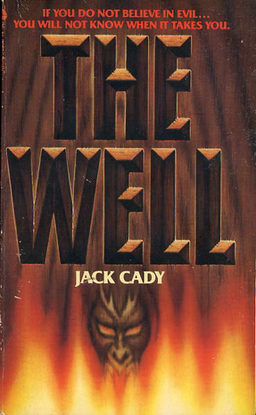 But I'm not at all surprised that I wasn't aware of his 1981 novel The Well. Looking at the cover of the 1982 Avon paperback (right), it's exactly the kind of novel I studiously ignored in 1982.
My loss. I'm glad I have Valancourt around to help me correct a 30-year mistake.
The Well
Jack Cady
Introduction by Tom Piccirilli
Years earlier, John Tracker fled the insanity of his family and their house, a centuries-old monstrosity that his grandfather Theophilus rigged full of hallucinatory tricks and vicious death traps designed to capture the Devil. Now middle-aged, John receives word that the place is to be demolished to make way for a freeway, and he decides to revisit it with his girlfriend Amy Griffith before its destruction. But when a blizzard traps them inside the house, they will be forced to contend with the dangers hidden within: strange time-shifts, murderous traps, and something evil that stalks the halls in the form of John's grandmother Vera. As the terror mounts, John and Amy will make the horrifying discovery that Theophilus's mad ambition to trap the Devil may have worked only too well…

Jack Cady (1932-2004) has been recognized as a master American storyteller and was the recipient of the World Fantasy, Nebula, and Bram Stoker Awards for his novels and short fiction. This edition of The Well (1980), a classic of modern horror fiction, includes an introduction by Tom Piccirilli.
Now at last we come to an author I'm intimately familiar with.
Gerald Kersh was an astonishingly prolific writer, with over 100 short stories published between 1936 and his death in 1968. His first collection, The Horrible Dummy and Other Stories, appeared in 1944. His last, Nightshade & Damnations, appeared in 1968, and may be his most well known book, at least to modern audiences. It was originally published in paperback by Fawcett Gold Medal, with a striking and moody cover by Leo Dillon and Diane Dillon.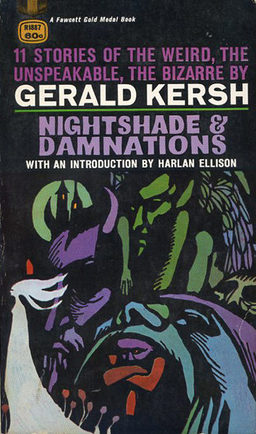 Nightshade and Damnations
Gerald Kersh
Introduction by Harlan Ellison
An expedition in South America uncovers a terrifying race of men without bones who literally suck the life out of their prey. A man in 20th century London makes a horrifying discovery about a monster found off the coast of Brighton in 1745. A sea captain goes ashore on a deserted island and finds what seem to be the bones of a previously unknown species of monster, only to learn that the bones tell a much more tragic tale than he could ever have imagined. A war correspondent, none other than Kersh himself, is sailing to America when he meets a strange man who claims to be 438 years old. These are the plots of just a few of the weird tales you will find in this book.

Gerald Kersh (1911-1968) was a brilliant and inventive writer acclaimed in his time for his gritty novels of London life and his often bizarre short fiction, but he has unfortunately become neglected since his death. This volume includes an introduction by award-winning science fiction author Harlan Ellison, who also selected the eleven stories that appear in this collection and which represent the very best of Kersh's short fiction. Includes: "The Queen of Pig Island," "Frozen Beauty," "The Brighton Monster," "Men Without Bones," "Busto Is a Ghost, Too Mean to Give Us a Fright!", "The Ape and the Mystery," "The King Who Collected Clocks," "Bone for Debunkers," "A Lucky Day for the Boar," "Voices in the Dust of Annan," "Whatever Happened to Corporal Cuckoo?"
John Blackburn is also new to me, but Valancourt is working hard to remedy that.
They've reprinted no less than 14 of his novels, including A Scent of New-Mown Hay (1958), Blue Octavo (1963), A Beastly Business (1982) and The Bad Penny (1985). See the complete list here.
It was a challenge just narrowing it down to one title to talk about here. Here's a snippet from one of the books I didn't choose, just as an example:
With a plot featuring Cold War intrigue, Nazi mad scientists, and a pandemic that threatens to destroy humanity by mutating people into fungoid monsters, it is not hard to see why A Scent of New-Mown Hay (1958) became a bestseller on both sides of the Atlantic and an instant science-fiction classic. After a British ship's crew and a remote Russian village are wiped out in mysterious and horrible fashion, General Charles Kirk of British Foreign Intelligence sets out to investigate. As the plague spreads to England, Kirk's frantic search leads him from the desolate tundra of Russia to the ruins of a Nazi camp, the site of unthinkable wartime atrocities…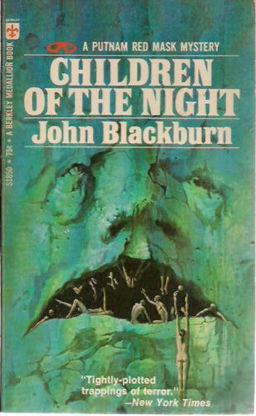 Gonzo stuff like this saw print in 1958? Valancourt Press, you are doing a service to all of mankind by bringing these books back into print.
I eventually chose Blackburn's 1966 novel Children of the Night to showcase here because it's considered one of his finest novels — and because I'm a sucker for tales of subterranean horror.
Children of the Night
John Blackburn
For centuries, the small English village of Dunstonholme has been the scene of mysterious tragedies. Local lore traces these strange events back to the year 1300, when a sect of Christian heretics known as the Children of Paul were involved in a bloody massacre. Since that time, there have been railway disasters, mining accidents, shipwrecks, and other terrible happenings. Now a wave of suspicious deaths has the locals on edge and looking for explanations. Dr. Tom Allen and adventurer J. Moldon Mott think they know what is behind the killings: an ancient evil, dating back seven hundred years, lies hidden underground — and it is preparing to emerge to the surface…

John Blackburn (1923-1993), the author of twenty-eight bestselling thrillers, has been hailed by The Times Literary Supplement as 'today's master of horror.' In his classic Children of the Night (1966), reprinted here for the first time in 40 years, Blackburn updates medieval legends and folklore to create a bone-chilling tale of modern-day horror that is among his very best.
If you've hung around Black Gate for a while, you know we've talked about Basic Copper before. Copper was a prolific British fantasy writer who published 22 collections and half a dozen novels, including The House of the Wolf (1983) and The Black Death (1992). Bob Byrne discussed his Solar Pons stories earlier this month, and we published an obituary when he passed away in 2013.
Copper's gothic mystery novel Necropolis was originally published by Arkham house in 1980; it has been out of print for nearly 30 years.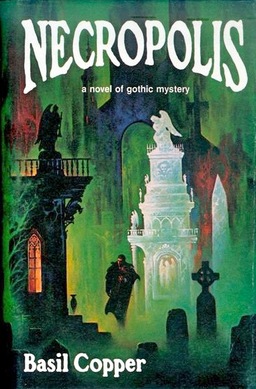 Necropolis
Basil Copper
Introduction by Stephen Jones
Set in an alternate Victorian London, where Sherlock Holmes and Dr. Watson are not just fictional characters, Basil Copper's Necropolis (1980) is a tale of mystery and intrigue worthy of Arthur Conan Doyle or Wilkie Collins.

Private detective Clyde Beatty, a rival of the great Holmes, has been hired by the lovely Angela Meredith to inquire into her father's suspicious death. As Beatty's investigation unfolds, the danger intensifies: more murders ensue, and attempts are made on his life. It is clear there is more to Mr. Meredith's death than meets the eye, and it may have something to do with the brazen robbery of a fortune in gold bullion. The clues lead Beatty to the eerie Brookwood Cemetery, where fatal secrets lie hidden in the catacombs beneath a city of the dead…

This edition of Copper's chilling Victorian Gothic mystery is the first in more than three decades and includes the original illustrations by Stephen E. Fabian and a new introduction by Stephen Jones.
Valancourt Books has also reprinted Copper's highly regarded Lovecraftian novel The Great White Space, originally published in 1974.
The Valancourt website also offers a promising list of Coming Soon titles, including novels and collections by David Case, Michael McDowell, Michael Blumlein, Stephen Gregory, Bernard Taylor, Robert Westall, and Robert Marasco.
Here's the complete list:
AMONG THE WOLVES: THE WEREWOLF STORIES OF DAVID CASE by David Case, edited by Stephen Jones
COLD MOON OVER BABYLON (1980) by Michael McDowell, with a new introduction by Douglas E. Winter
THE BRAINS OF RATS (1989) by Michael Blumlein, introduction by Michael McDowell
THE WOODWITCH (1988) by Stephen Gregory, with a new introduction by Paul Tremblay
SWEETHEART, SWEETHEART (1977) by Bernard Taylor, with a new introduction by Michael Rowe
THE MOORSTONE SICKNESS (1982) by Bernard Taylor, with a new introduction by Mark Morris
THE GODSEND (1976) by Bernard Taylor
ANTIQUE DUST (1989) by Robert Westall
BURNT OFFERINGS (1973) by Robert Marasco
Get all the details on the Valancourt website.
I've showcased six publishers who displayed their products at the World Fantasy Convention and Worldcon so far:
Twenty Years of Smart Science Fiction and Fantasy: The Tachyon Publications Catalog
Bringing Neglected Classics Back Into Print: The Horror Catalog of Valancourt Books
The Best Pulp Horror and Weird Tales: The Fantasy Catalog of Hippocampus Press
Embrace the Odd: The Fantasy Catalog of ChiZine Publications
The Recent Best: The Fantasy Catalog of Prime Books
The Wonders of Fairwood Press