Basil Copper, February 5, 1924 – April 4, 2013
Basil Copper, February 5, 1924 – April 4, 2013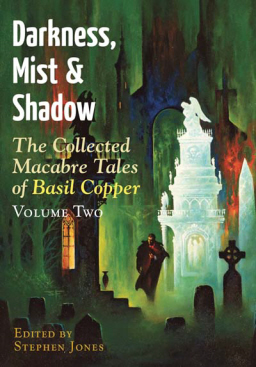 It's been a tough week for the genre. Science Fiction writer Iain M. Banks announced on Monday that he has terminal gall bladder cancer, both Eclipse Online and Night Shade Books packed it in on Thursday, and Roger Ebert died on Friday. And prolific English dark fantasy writer Basil Copper, a World Horror Grandmaster since 2010, also passed away Friday at the age of 89.
Basil Copper was born on February 5, 1924. His first short story, "The Curse," was published when he was only 14; his first novel The Dark Mirror appeared in 1966. His is perhaps best known to genre fans for his popular Solar Pons stories, a character originally created by August Derleth as a tribute to Sherlock Holmes.
Copper wrote many detective books, including 58 novels featuring hard-boiled Los Angeles private detective Mike Faraday, but he is remembered today chiefly for his horror and dark fantasy work. His horror novels include The Great White Space (1974), Necropolis (1980), The House of the Wolf (1983), Into the Silence (1983), and The Black Death (1991).
He had a long-standing relationship with Arkham House, who published Necropolis and his short story collection From Evil's Pillow — nominated for a World Fantasy Award in 1973 — and And Afterward, the Dark (1977).
For modern readers interested in trying some of his best work, I strongly recommend the 1999 Fedogan & Bremer collection Whispers in the Night, and the massive two-volume set Darkness, Mist and Shadow: The Collected Macabre Tales of Basil Copper, edited by Stephen Jones and published by PS Publishing in 2010.