Vintage Treasures: Gaslight Tales of Terror, edited by R. Chetwynd-Hayes
Vintage Treasures: Gaslight Tales of Terror, edited by R. Chetwynd-Hayes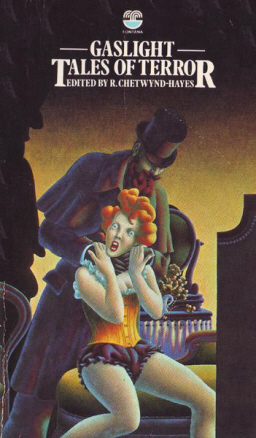 I don't know much about British ghost story writer R. Chetwynd-Hayes. According to his entry at the Internet Speculative Fiction Database, he produced ten novels and two dozen short story collections between 1959 and 2001, the year he died. That's a heck of a lot of ghost stories.
I did know he was a prolific and important anthologist. He took over The Fontana Book of Great Ghost Stories from editor Robert Aickman with number nine in 1973, bringing the series to 20 volumes before it ended in 1984, and he edited six volumes of the Armada Monster Book between 1975 and 1981. He also produced five standalone horror anthologies with Fontana, including Cornish Tales of Terror (1970), Scottish Tales of Terror (1972), Welsh Tales of Terror (1973), and Tales of Terror from Outer Space (1975).
The last in the series was Gaslight Tales of Terror (1976), a marvelous mix of original and classic spooky tales. Here's R., from his introduction:
Here are fourteen Gaslight Tales of Terror, including one or two oil lamps and a few guttering candles. With one exception all the stories have either a Victorian or Edwardian background… But although — if newspaper reports are to be believed — ghosts and other horrors have not been exorcised by the advent of space travel and colour television, one feels they were more at home during the reign of Queen Victoria. And I do mean at home: in pea-souper fogs, on gloomy streets where the lamp-lighter with his long pole trudged wearily from post to post, and a potential Jack the Ripper lurked in dark alleyways.
Eight tales are original to this volume, including contributions from J. Sheridan Le Fanu, Roger Malisson, Dorothy K. Haynes, Rosemary Timperley, and a vampire tale from Chetwynd-Hayes himself.
The reprints range from 1859 to 1956, and include classics like Fitz-James O'Brien's "What Was It?" from 1859, Edmund Mitchell's "The Phantom of the Lake" (1886), and Lady Eleanor Smith's "Mrs. Raeburn's Waxwork" (1931), and tales from M. R. James, R. Thurston Hopkins, and Harold Lawlor.
Here's the complete Table of Contents.
Introduction by R. Chetwynd-Hayes
"The Last Victim" by Roger Malisson
"A Tale of a Gas-light Ghost" by Anonymous
"The Pauper's Feast" by Sydney J. Bounds
"Number 13" by M. R. James (reprint, from 1904)
"Up, Like a Good Girl!" by Dorothy K. Haynes
"An Authentic Narrative of a Haunted House" by Joseph Sheridan Le Fanu
"The Glass Staircase" by R. Thurston Hopkins (reprint,1956)
"The Maid, the Madman and the Knife" by Rosemary Timperley
"What Was It?" by Fitz-James O'Brien (reprint,1859)
"The Veritable Verasco" by James Jauncey
"The Silver Highway" by Harold Lawlor (reprint,1946)
"Mrs. Raeburn's Waxwork" by Lady Eleanor Smith (reprint,1931)
"The Phantom of the Lake" by Edmund Mitchell (reprint, 1886)
"Keep the Gaslight Burning" by R. Chetwynd-Hayes
Gaslight Tales of Terror was published in the UK in 1976 by Fontana. It is 192 pages in paperback, originally priced at $1.50.
See all of our recent Vintage Treasures here.