New Treasures: We Are All Completely Fine by Daryl Gregory
New Treasures: We Are All Completely Fine by Daryl Gregory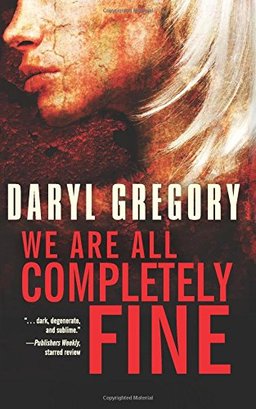 Well, I'm back from the 2014 World Fantasy Convention and I had a terrific time. Matthew Wuertz did a fine job with his daily convention reports… just don't ask me where he found the time to write them. It certainly looks like he had fun, anyway, what with all the sight-seeing, panels, autograph sessions, readings, and whatnot. Me, I headed right for the Dealer's Room, where I spent four days ogling books.
And what marvelous books! You'd think that running a website like Black Gate, I'd be more or less on top of major genre releases, right? Not so, apparently. While wandering the floor, I came across dozens (and dozens) of marvelous new titles from such splendid publishers as Prime, American Fantasy Press, Small Beer Press, Hippocampus, ChiZine, Midnight Books, Tachyon, Fairwood Press, Borderlands Press, and many others. I'll be reporting on the most intriguing books right here over the next few weeks — starting with Daryl Gregory's We Are All Completely Fine, the tale of a support group for people who have survived horror-movie traumas. It's a book that's received a great deal of attention over the past two months, and it went right to the top of my reading pile.
Harrison was the Monster Detective, a storybook hero. Now he's in his mid-thirties and spends most of his time popping pills and not sleeping. Stan became a minor celebrity after being partially eaten by cannibals. Barbara is haunted by unreadable messages carved upon her bones. Greta may or may not be a mass-murdering arsonist. Martin never takes off his sunglasses. Never.

No one believes the extent of their horrific tales, not until they are sought out by psychotherapist Dr. Jan Sayer. What happens when these seemingly-insane outcasts form a support group? Together they must discover which monsters they face are within — and which are lurking in plain sight.
Daryl Gregory is also the author of Pandemonium, Afterparty, and The Devil's Alphabet. We Are All Completely Fine was published by Tachyon Publications on August 12, 2014. It is 192 pages, priced at $14.95 in trade paperback and $9.99 fo the digital edition.