An Interview with Emmy Jackson, Author of Empty Cradle: The Untimely Death of Corey Sanderson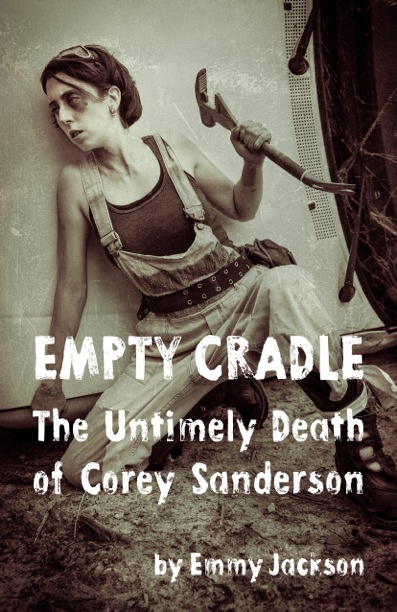 OH MY GAWD. I loved The Untimely Death of Corey Sanderson. Seriously. It's a dusty, road-dog, land-pirate adventure ride reminiscent of Mad Max. Comparing it to the Mad Max franchise may be unfair because The Untimely Death of Corey Sanderson has SO MUCH MORE. There are shapeshifters! And I actually got to see a plethora of women in the world – evil women, good women, women on the road, women in town, women who have guns, women who have families. It sounds silly to crow about women – but a lot of books only have like…eh, maybe two women characters and one is usually a girlfriend. The Untimely Death of Corey Sanderson is a fast-paced, post-apocalyptic road trip full of compelling characters of all ages, genders, and species. And, holy crap, the WORLDBUILDING! There are class issues. There are townies vs. road folk politics. There are gender and conception talks to be had. I want to see more of this world. I want to talk about this world with other people. I am so glad this is a SERIES.
Oh? You want to know more? What's it about, you ask? I'll tell you!
Ivy Anarim is scav. She drives the country delivering packages from one town to the next, scavenging for anything she can sell or trade along the way. She's gotten used to being alone, though she's searching for her twin sister, Holly. What Ivy doesn't need is a bastard gleaner beating the crap out of her, trying to steal her rig.
The man who attacked Ivy did it near Hanson's Home, a small town in the middle of nowhere. Hanson's Home, they'll aid her, but it isn't outta kindness. Ivy is untouched by Empty Cradle – a disease that can hit a woman at any time in her life and leaves her barren. A woman untouched by Empty Cradle, that's hard to find and Hanson's Home wants a baby for their trouble.
Corey Sanderson wants to get the hell outta Hanson's Home. He's a kid who's sick of living in the sticks. He wants to see the world and Ivy and her truck are the only ticket outta town.
Do Ivy and Corey make it out of Hanson's Home? Where would they go if they did? Can a town kid like Corey Sanderson make it on the open road? Will Ivy ever find her twin? What the hell kinda weirdos are they gonna meet on their journey?