Hellraising, Horror, and Whimsy: An Interview With Patty Templeton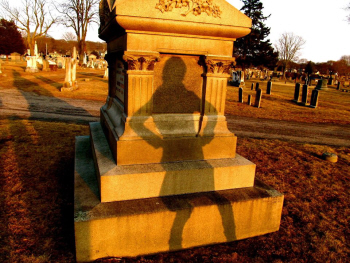 I first met Patty Templeton in a different life. I was a mouse with no tail, and she was a rat wearing an eyepatch. We were both in a dusty attic spying a sizable chunk of cheese that was placed in the middle of a large trap. She spun me a yarn about an adventure to meet the rodent god Capy Bara, and insisted that on her journey she learned a charm that would keep the trap from springing. But she had to concentrate. So while she focused her will, all I had to do was scamper over and snag the cheddar. Her tale was so convincing that I did… and then everything went dark. I trust she enjoyed the cheese.
I met her again in this life outside a Denny's in a suburb somewhere going on 3am. I was leaning against a dumpster smoking, and she shuffled on by. She was dragging a rolled-up carpet towards a nearby drainage ditch. She paused for breath and told me that if I ignored the feet sticking out of the roll and helped her kick it into the ditch, she'd buy me breakfast and tell me a story. A kick and a roll later, I was fork-deep in chili mac and she was telling tales.
I've listened to her stories for the almost ten years since, and have found them thrilling, funny, witty, and completely unique. She went on to win the first Naked Girls Reading Literary Honors Award, which I discovered was a pointy award as she literally rubbed it in my face, as friends do. Now she's gone and published her first novel, There Is No Lovely End, which contains outlaws, ghosts, curses, buildings that live, and a buckshot spray of other ghastly goings-on, all centered around the historical figure of Sarah Winchester. She let me ask her a few questions about it…