Beautiful Women, Alien Landscapes, and Santa Claus: An Ed Emshwiller Gallery
Beautiful Women, Alien Landscapes, and Santa Claus: An Ed Emshwiller Gallery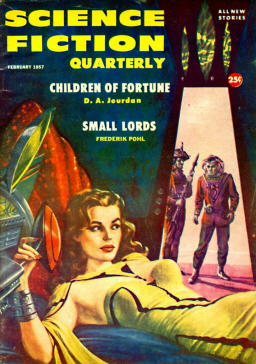 Ed Emshwiller was one of the greatest cover artists our genre has ever known. He painted hundreds of covers for many SF digests and paperbacks, primarily Galaxy, The Magazine of Fantasy and Science Fiction, and the Ace Double line, starting in 1951 and continuing through the late 70s. His covers were filled with beautifully detailed alien settings, sultry and mysterious women, strange technology, and eye-catching fashions — frequently all at once, as in the cover of the February 1957 issue of Science Fiction Quarterly at left (click for bigger version).
The Geeky Nefherder blog has posted a gorgeous gallery of 75 Emsh cover paintings, including some of his very best work. Many of the images are available in high-resolution (click each one to see the high-res pic).
Warning: You could easily waste a lot of time on this site (I know I did).
The gallery includes cover art from Space Stories, Galaxy, Thrilling Wonder Stories, Fantastic Story, The Magazine of Fantasy and Science Fiction, Startling Stories, Planet Stories, Astounding Science Fiction, Infinity, The Original Science Fiction Stories,  Future Science Fiction, Venture, Science Fiction Quarterly, Super-Science Fiction, IF, and Amazing Stories — as well as classic covers for Andre Norton's Daybreak — 2250, Galactic Derelict, and Star Born, Fritz Leiber's The Big Time, Frank Belknap Long's Space Station #1, Murray Leinster's The Black Galaxy, Poul Anderson's Virgin Planet, John Brunner's Threshold of Eternity, and many others.
Even if you're already an Emsh fan, you're sure to appreciate having so much great art by the master together in one place. And if you're not, this site will make you one.
See the complete gallery here. (And thanks to Charlie Jane Anders at io9 for the tip!)