Future Treasures: The Skull Throne by Peter V. Brett
Future Treasures: The Skull Throne by Peter V. Brett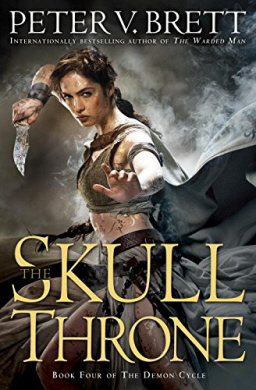 The Warded Man, the first novel in Peter V. Brett's Demon Cycle series, was released in March 2009. His second, The Desert Spear (March 2010), became an international bestseller, and the third, The Daylight War, followed in February 2013.
Now comes word that the fourth book in the series, The Skull Throne, will be released in March of 2015. Here's the scoop from Peter's website:
Ever since I posted a sample chapter from The Skull Throne last week, I've been getting a lot of people asking when it will be out. It's wonderful and gratifying to see so many people interested in the series and excited about the new book…

It's a BIG book, shaping up to be the biggest yet, and that is after the monster 268,000 word Daylight War.
The fifth (and final?) book in the series, The Core, does not yet have a release date. Read the first chapter of The Skull Throne here.
The Skull Throne will be published by Del Rey on March 24, 2015. It is 656 pages, priced at $28 in hardcover and $12.99 for the digital version.
See all of our recent features on upcoming books here.