Win a Copy of Mark Rigney's Check-Out Time
Win a Copy of Mark Rigney's Check-Out Time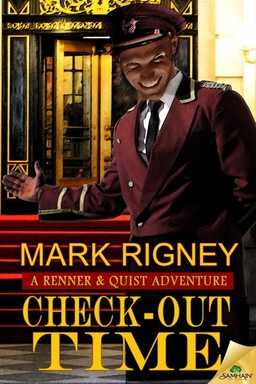 I've been watching this Mark Rigney fellow with a lot of interest.
He first came to my attention through the submissions queue at Black Gate, where he wowed me with his three-part Tales of Gemen, an old-school sword and sorcery story with a very modern spin — and some delightful twists. Readers responded well, too. The tales have consistently hovered near the top of our Fiction charts since we first published them in 2012. Tangent Online called them "Reminiscent of the old sword & sorcery classics," which I found very gratifying.
Mark has had even more success with a new series of thrillers starring the occult investigators Reverend Renner and Dale Quist. Bill Maynard raved about the first, The Skates, in his review for us last year, saying "Rigney can write circles around most of us… Simply put, I love this book." The second, "Sleeping Bear," arrived in February, and anticipation has been building for their first novel-length adventure, Check-Out Time, due October 7th.
But there's no reason for Black Gate readers to have to wait that long to get their hands on a copy. We know people who know people. To celebrate Mark's recent success — and because we can't stop bragging about it — we're giving away two copies of Check-Out Time, compliments of Mark Rigney and Samhain Publishing.
How do you enter? Just send an e-mail to john@blackgate.com with the subject "Check-Out Time" and your return address. Two winners will be drawn at random from all qualifying entries. No purchase necessary. Must be 12 or older. Decisions of the judges (capricious as they may be) are final. Not valid where prohibited by law. Or anywhere postage for a hefty trade paperback is more than, like, 10 bucks.
Check-Out Time will be published by Samhain Publishing on October 7, 2014. It is 250 pages, priced at $15 in trade paperback and $5.50 for the digital edition. Be sure to read Mark's article on the series, The Adventure Continues: the Return of Renner and Quist, published right here in February.