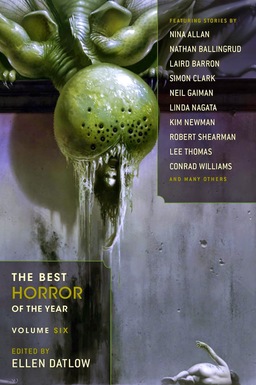 If you haven't heard, we're currently in a golden age of horror fiction, especially for short story fiction.
At least that seems to be the consensus of those "in the know." I personally don't claim to have a comprehensive grasp of the current field. But if Ellen Datlow's The Best Horror of the Year: Volume Six is any indication, I'm in strong agreement that we are indeed in a great time for short horror fiction.
If you're not familiar with Ellen Datlow's editorial work, where have you been? Datlow has a long list of science fiction and fantasy anthologies in her resume. But in recent years, her name is often most associated with some of the best horror anthologies around, such as Lovecraft Unbound and Supernatural Noir.
In addition, Datlow has been publishing The Best Horror of the Year series through Night Shade Books for a few years now. This year marks volume six, and I think this is probably the best one yet. This is a really terrific anthology that makes a strong case that we are definitely living in a golden horror age.
I say this alongside a clear confession of my own personal horror bias. I don't really consider myself a die-hard horror kind of guy. I'm a huge fan of H. P. Lovecraft, T. E. D. Klein, and Laird Barron. I love that flavor of horror — the sort of "cosmic horror" that doesn't leave you depressed, but rather hungry for more. I'm not really into splatter-punk, ghost stories, psychological horror, slasher stories, or whatever.
But even though there is a plurality of horror styles in The Best Horror of the Year: Volume Six, I find that I really love the overwhelming majority of the stories. There are just some excellent writers here who have really mastered the craft of short story horror. Let me highlight a few, and give you a sense of the different kinds of stories within.
---