New Treasures: Robert A. Heinlein: In Dialogue With His Century Volume 2: 1948 – 1988: The Man Who Learned Better, by William H. Patterson
New Treasures: Robert A. Heinlein: In Dialogue With His Century Volume 2: 1948 – 1988: The Man Who Learned Better, by William H. Patterson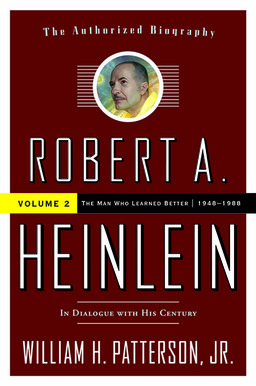 In 2003, I was on a panel on classic SF and fantasy with Charles N. Brown, the esteemed editor of Locus, when the conversation turned to Robert A. Heinlein (as it does).
I don't know much about Heinlein, really. I read a small handful of his books when I was younger, but I was never really a fan. I was more an Asimov guy. Brown however, was a dedicated Heinlein reader, and when Heinlein died in 1988, Brown famously wrote that there had never really been "the Big Three SF writers," (meaning Asimov, Clarke, and Heinlein.) There had only ever been Heinlein, towering over the field.
Heinlein's first novel, For Us, The Living, written in 1939 but unpublished until 2003, would appear later that year. I had received an advance proof, but I hadn't read it. Brown had, however, and the book was major news. The rest of us on the panel deferred to Charles as he smoothly warmed to his topic, lecturing the assembled crowd on the importance of the novel in Heinlein scholarship, and indeed, to literature itself.
"The thing to remember," Charles said, "is that Heinlein never intended the novel to be published –"
"Yes he did," I said.
Charles looked startled. He seemed to have forgotten that there was anyone else on the panel. He looked around, obviously annoyed at the interruption.
I hadn't read For Us, The Living. But I had read the one-page release Scribner had sent with the book. It stated very clearly that Heinlein had sent the book to multiple publishers in 1939 and 1940, with no luck, and after some initial frustration he'd finally set it aside to try his luck with a second book.
The assembled crowd had no way to know that, however… at least, no one who hadn't received an advance proof with that handy release, anyway. Brown was now staring at me, his mouth still open. So was the entire audience.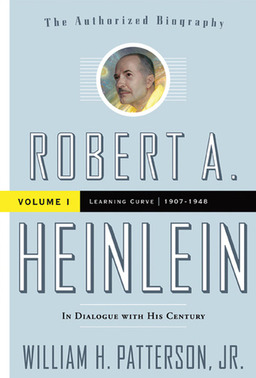 I leaned closer to the mic in front of me on the table. "He tried to sell the book right after he wrote it," I said quietly. "To several publishers."
By now, Brown had recovered his composure. He returned to the crowd, clearing his throat. "The thing to remember," he said, his voice rising a little,  "is that Heinlein never intended the novel to be published." Steadfastly ignoring me, he launched back into his lecture. I leaned back into my chair, properly chastened. I caught the eye of the SF pro next to me, who rolled his eyes.
That little episode nicely encapsulates all my encounters with the Heinlein-worshiping core of the SF field. They are steadfast in their adoration of Robert A. Heinlein, convinced of his rightful place as the beating heart of 20th Century science fiction, and they are entirely immune to facts.
Despite several attempts, I've been unable to finish a Robert A. Heinlein novel since the late 70s. The last one I tried was Friday, which I found to be an adolescent male fantasy. (And considering my usual fondness for adolescent male fantasy novels of all kinds, I consider the fact that I couldn't finish that one to be pretty telling.)
Needless to say, I'm not really the target audience for Robert A. Heinlein: In Dialogue With His Century Volume 2: 1948 – 1988: The Man Who Learned Better. But that's okay. As I've learned over the years, my opinion of Heinlein — and indeed, virtually all Heinlein criticism — is entirely superfluous to core Heinlein fandom.
Good for them. If there's one thing I can respect, it's a group of writers and fans banding together to champion and celebrate an author they ardently believe deserves more attention. I'm guilty of the same thing, seven days a week, right here at Black Gate (albeit with different subjects.) You go, Heinlein fandom. Blow your trumpet, and don't let anyone try and shut you down.
This volumes follows Robert A. Heinlein: In Dialogue With His Century Volume 1: 1907 – 1948: Learning Curve, published by Tor Books in hardcover on June 21, 2011.
Here's the book description for Volume 2.
The real-life story of Robert A. Heinlein in the second volume (1948–1988) of the authorized biography by William H. Patterson Jr.

Robert A. Heinlein (1907–1988) is generally considered the greatest American science fiction author of the twentieth century. His most famous and widely influential works include the Future History series (stories and novels collected in The Past Through Tomorrow and continued in later novels), Starship Troopers, Stranger in a Strange Land, and The Moon is a Harsh Mistress — all published in the years covered by this volume. He was a friend of admirals, bestselling writers, and artists; became committed to defending the United States during the Cold War; and was on the advisory committee that helped Ronald Reagan create the Star Wars Strategic Defense Initiative in the 1980s.

Heinlein was also devoted to space flight and humanity's future in space, and he was a commanding presence to all around him in his lifetime. Given his desire for privacy in the later decades of his life, the revelations in this biography make for riveting reading.
Robert A. Heinlein: In Dialogue With His Century Volume 2: 1948 – 1988: The Man Who Learned Better was published by Tor Books on June 3, 2014. It is 672 pages, priced at $34.99 in hardcover and $16.99 for the digital edition.